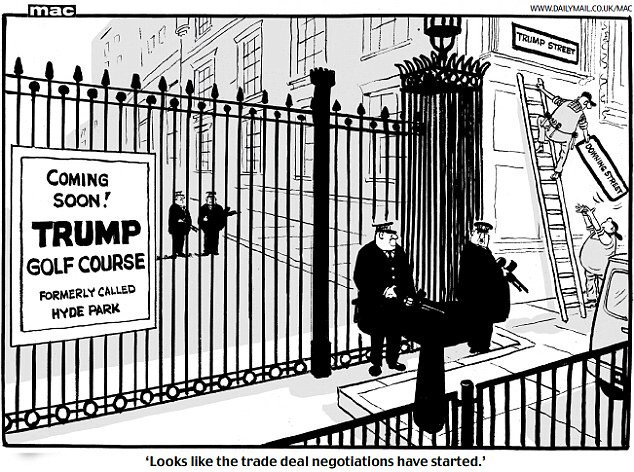 This cartoon from Britain is about the 'special relationship' between United States President Donald Trump and British Conservative Prime Minister Theresa May. Though most people in Britain don't want Trump to come to Britain on a state visit, Theresa May insists he should come. Trump and May are talking about trade deals. The cartoon says that the deals imply that Hyde Park in London would be privatised, becoming Donald Trump's private property, protected from the general public by armed paramilitary guards; and that Downing Street, where the Prime Minister lives, would be renamed Trump Street.
By Lamiat Sabin in Britain:
It's On! MPs Back Vote

Thursday 20th April 2017

Cowardly May faces humiliating TV no-show after ITV takes up Corbyn's debate challenge

THE Commons voted overwhelmingly yesterday in favour of a snap general election hours after PM Theresa May repeatedly refused to answer why she would not defend her claims of Tory achievement in TV debates.

Of the 522 MPs who supported the motion, 325 were Conservatives and 174 Labour.

At Prime Minister's Questions before the vote, Labour leader Jeremy Corbyn told Ms May that she could not be trusted after she made a U-turn on her numerous claims that she would not hold an early election.

This was later echoed by Labour MP Yvette Cooper, who said: "Isn't the truth that we cannot believe a single word the PM says?"

Mr Corbyn repeatedly challenged the Prime Minister to face him in live television debates which she brushed off — and now broadcaster ITV has pledged to "empty chair" her if she continues to refuse.

As a result Ms May has been accused of being "frit" — a word famously used by Margaret Thatcher meaning "frightened".

The Prime Minister claimed that she would rather be campaigning out on the streets, adding: "Every vote for the Conservatives will make me stronger."

Mr Corbyn replied: "She says it's about leadership, yet is refusing to defend her record in television debates and it's not hard to see why.

"The Prime Minister says we have a stronger economy, yet she can't explain why people's wages are lower today than they were 10 years ago or why more households are in debt, six million people earning less than the minimum wage, child poverty is up, pensioner poverty is up.

"Why are so many people getting poorer?"

Ms May said that the Tories have reduced the deficit …

Mr Corbyn shot back: "If she's so proud of her record, why won't she debate it?"

The Labour leader suggested that the Prime Minister is reluctant to take to the stand because her party's crippling austerity policies have failed.

He also pointed to the Tories' record of broken manifesto pledges since coming to power in 2010.

"Over the last seven years the Tories have broken every promise on living standards, the deficit, debt, the National Health Service and schools funding. Why should anyone believe a word they say over the next seven weeks?" he said.

Today, in his first speech of the campaign, Mr Corbyn is expected to say that in this election and in government he won't "play by the rules of the [Tories'] game," but stand up for the British people who "are the true wealth creators, held back by a system rigged for the wealth extractors."

Private owners of Southern Rail, Topshop owner Sir Philip Green, Sports Direct owner Mike Ashley and owners of tax evading corporations would be scared of a Labour government, he will add.

Mr Corbyn is also expected to say: "Much of the media and Establishment are saying this election is a foregone conclusion … But of course those people don't want us to win."
ITV confirmed yesterday that it intends to proceed with a party leaders' television debate in the run-up to polling day – with Tory leader May insisting that she has no intention of participating, opening the door to the prospect of an empty chair in the studio pointing out her refusal to face her opponents: here.
SHOULDN'T a friend have suggested to Theresa May that adapting David Cameron's tired rhetoric about "a strong economy, strong defence and strong, stable leadership" might not be a good idea? Here.
On Tuesday, [Tony] Blair wrote a statement on his newly formed Institute for Global Change web site, calling for voters to support any anti-Brexit party in the election … Blair is clearly identifying himself with the Liberal Democrats, the only party formally committed to reversing last year's vote for Brexit: here.
So, Tony Blair considers that his own view on European Union membership should prevail over the view of the British electorate, as expressed in the referendum; a referendum to which both the pro-Brexit and pro-Remain politicians had agreed. Blair thinks his own view on European Union membership should prevail over the many non-Brexit issues, so important to so many people, in British politics. I am not surprised. Blair has said publicly that the prefers dictatorship over democracy.
So, war criminal Tony Blair, who became rich by the Iraq war, after supporting George W Bush's United States Republicans against the not even that leftist Democrats … after supporting corrupt and racist right-winger Nicolas Sarkozy in a French presidential election against Socialist Party candidate Ségolène Royal, who was not even very much to the left of Blair … after becoming a buddy of racist, sexist, sex scandal mired, corruption linked mafia linked Italian strongman Berlusconi … now calls for voting against the Labour party; officially still his own party. Blair already said that the prefers the Conservatives to Labour. Blair now prefers the Liberal Democrats, abandoned by their voters after becoming junior partners in a Tory government. The Labour party administrative bureaucracy is still full of right-wing Blairites. Usually, they use the slightest sign, including completely nonsensical 'signs' like liking Foo Fighters music, as pretexts to exclude leftist people from Labour. When will they ever exclude Tony Blair and his acolytes for disloyalty?
In the case that the Conservatives will win the June general election, Blairite politicians in Labour will blame party leader Corbyn, pressuring him to resign. Yet, if Labour would lose, then the real culprits would be those Blairite right-wingers themselves. These pro-Iraq war, pro-Big Business, anti-poor people sore losers have tried to wreck Labour, helping the Conservatives and UKIP, ever since the Labour party supporters democratically elected Corbyn, twice, as leader. So, in the case that Labour would lose the June election, it is these Blair-worshipers that should resign their positions as MPs, national executive members, etc.
Related articles