By Steve Sweeney in Britain:
Is Smith pledging more nukes, wars and mayhem?

Wednesday 17th August 2016

We need only to look at Owen Smith's voting record to see the rank hypocricy at the heart of his so-called ethical foreign policy pledge, writes STEVE SWEENEY
'Ethical foreign policy' used to be a slogan of ex-Labour Foreign Secretary Robin Cook. Cook resigned from the Blair government as he opposed the Iraq war.
LABOUR leadership contender Owen Smith has launched his campaign with a pledge for an "ethical foreign policy."

It is unclear what he means by an "ethical foreign policy" but his voting record on international affairs gives an indication of what a Smith leadership may look like.

It is now well known that Smith supported the Iraq war. In a 2006 interview Smith said: "We are making significant inroads in improving what is happening in Iraq. I thought at the time the tradition of the Labour Party and the tradition of left-wing engagement to remove dictators was a noble, valuable tradition, and one that in south Wales, from the Spanish civil war onwards, we have recognised and played a part in."

For Smith the invasion of Iraq and the removal of Saddam Hussein was ethically the right thing.

The Welsh constituency that he represents has a proud tradition and history of fighting fascism. Around 300 people from Wales enlisted as volunteers for the British Battalion of the International Brigades which went to Spain to fight Franco's fascists in a battle for the republic and for democracy. South Wales miners were the largest group that fought in Spain.

It is an insult to their memory and that of the International Brigades that Smith compared the sacrifices they made in fighting fascism to an invasion that flouted international law, caused countless deaths, destabilised the Middle East and sowed the seeds that led to the creation and growth of Isis, turning Iraq into a quagmire.

The International Brigades were hampered by the non-intervention policy of the British government, initially supported by a Labour Party fearful of communist influence, as opposed to the war on Iraq which was waged by major imperialist powers as part of a neoliberal plan for regime change and access to oil and Middle East supremacy.

The Chilcot report was damning in its criticism of Tony Blair and those who took us to war, against public opinion and without the backing of UN resolutions. It is clear that lies were told and evidence was manipulated in stating the case for supporting the invasion of Iraq.

Many current members of the PLP are tainted by virtue of their support for the war and voting in favour when it was put to Parliament.

Chilcot put paid to any plans they had to challenge Jeremy Corbyn. As Smith was not an MP at the time, he was seen as safe and untarnished. He was however working as a spad for Paul Murphy, who did vote for invading Iraq.

Although Smith supported Corbyn's position over Syria, he has voted for bombing Iraq and Libya.

The bombing of Libya and subsequent regime change has cost many lives and plunged the country into civil war.

It has led to the rapid growth and spread of Isis and recent attempts to install a pro-UN, pro-business prime minister have been met with opposition. British warships are now poised along the Libyan coastline.

The consequences of the war and bombing of Iraq are well documented. Two million have fled the country, another 1.9 million are internally displaced and a there is a continually rising death toll. The country has seen the growth of Isis, sectarian war and frequent attacks including the Baghdad bombings earlier this year.

Smith's "ethical policy" regarding the use of nuclear weapons is more chilling.

…

Smith claims to have been a member of CND, however, he now takes what he describes as a more pragmatic approach.

Quite when Smith had his Damascene moment is unclear. But Smith's position on Trident is not around the issue of jobs, but is that it is right to develop and potentially use nuclear weapons.

On the evening of the vote, I was outside at Parliament Square speaking at a rally opposing Trident as former CND member Smith voted in favour of its renewal.

This is the same Owen Smith who abstained over the Welfare Bill yet sees fit to vote for £205 billion to be spent on a weapon of mass destruction.

Further than that, dancing to Theresa May's tune, Smith says that he is prepared to "press the button." In an astonishing interview with Good Morning Britain, Smith said that he would launch a nuclear attack if necessary.

"If you are serious about defence and serious about having a nuclear deterrent then you have to be prepared to do that."

Smith's ethical foreign policy seems to be one of the threat of annihilation and of bombing of countries for imperialist gain. A return to the gunboat diplomacy of old.

Corbyn has dedicated his political career to fighting against the wars that Smith so eagerly supported.

He spoke at a CND rally at Trafalgar Square earlier this year when 60,000 marched against Trident. His long-held opposition to nuclear weapons and his refusal to "press the button" that would cause untold death and destruction does not make him an extremist. It makes him human.

He steadfastly stood up against the war in Iraq and he was proved right in his convictions.

The war on Iraq was not a noble cause as Smith claims, but one which leaves a country in tatters, millions dead or displaced and the world a less safe place.

When it comes to an ethical foreign policy there is only one choice for Labour leader.

The other would be a return to the pro-war, pro-imperialist, neoliberal foreign policy of the past. Don't fall for Owen's myth.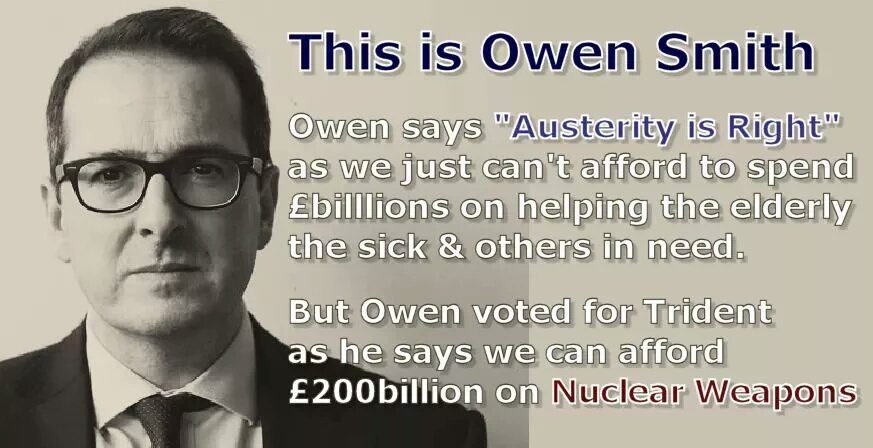 From daily The Morning Star in Britain:
Smith forced to face Pfizer past

Tuesday 16th August 2016

OWEN SMITH had to confront claims dogging his Labour leadership campaign that he supported private involvement in the NHS yesterday.

Mr Smith gave a speech in Salford in which he said that government spending on healthcare privateers has doubled from £4 billion a year in 2010 under Labour to £8bn a year under the Conservatives. And he said a "100 per cent publicly funded NHS" was an "absolute red line" should he become Labour leader. But appearing on ITV's Good Morning Britain ahead of the speech, he was accused of having "changed his tune" since working as head of policy at the drugs giant Pfizer, when he is accused of supporting private-sector involvement.

Keep Our NHS Public spokesman Dr John Lister said: "So far he's said nothing on Labour's role in government, which created a new state-funded growth in the private sector."

He added that it was "disappointing" that Mr Smith wasn't supporting the work of shadow Labour health ministers in scrutinising Tory plans to privatise the NHS.
Pfizer gives money to Progress, Blairite party within Labour: here.
Drugmaker Pfizer is set to acquire the biotech company Medivation for $14 billion. The primary aim of the deal was to secure Medivation's cancer drug Xtandi in order to better position Pfizer within the lucrative market for oncology medications: here.
Related articles