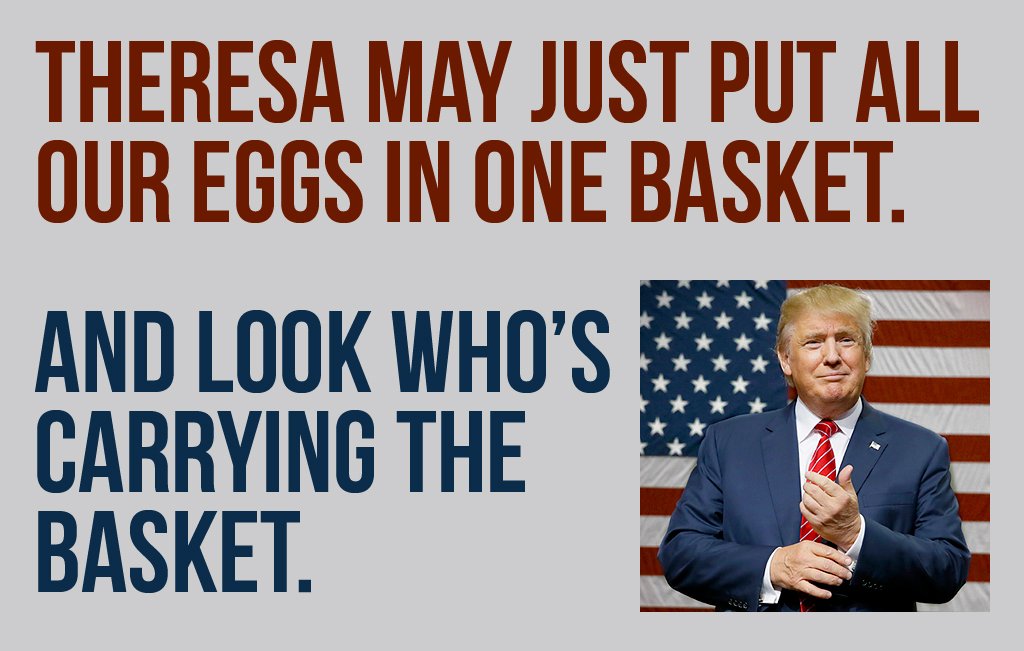 From daily The Morning Star in Britain:
PM kowtows to Trump

Saturday 3rd June 2017

THE future of our planet should be more important to a British prime minister than loyalty to the US president, but that hasn't registered with Theresa May.

When Chinese and European Union leaders felt driven to sign a joint declaration criticising Donald Trump's decision to pull the US out of the 2015 Paris climate agreement, May wouldn't join them.

She boasts now of telling Trump, when he phoned her to explain his reasons, that she was "disappointed" by his decision and points out that neither Japan
with its far-right governnment
nor Canada
where the government is involved in anti-climate tar sands oil popeline lobbying, contrary to its pro-environment election promises
signed the joint declaration.

The fact that two other G7 states don't wish to risk upsetting the US president does not minimise May's cowardice in ducking the opportunity to demonstrate strength and stability.

She has displayed a pusillanimity that has become all too apparent as the general election campaign has played out.

Her refusal, born out of fear, to engage in head-to-head political debate with Jeremy Corbyn bears witness to a personal weakness that could be exploited ruthlessly by Brussels bureaucrats [in Brexit negotiations] if the electorate made the mistake of returning the Tories to government.

May's Washington hero insists that he will negotiate a new "fairer" climate deal, but that's not his call. Paris is part of a United Nations process.

Just two countries did not sign up to Paris — Syria, which was and remains embroiled in a war to thwart regime change directed from outside the country, and Nicaragua, which felt that the accord didn't go far enough.
Most corporate media reports I read mentioned that Nicaragua had not signed; but 'forgot' to mention it was because Nicaragua did not think it went far enough.
Managua [capital of Nicaragua] is undoubtedly correct in its assessment, but the value of Paris lies in its quasi-universal nature, building on the false start of the 2009 Copenhagen climate change agreement to which neither of the planet's main polluters — the US and China — had subscribed.

There are still those who deny mankind's role in stoking global warming, but scientific opinion overwhelmingly backs this thesis and recognises the disastrous consequences of failing to take action to reduce and, in time, reverse it.

When a member of that tiny minority is elected to executive leadership in the most powerful country in the world and carries through his unscientific and dangerous notion, it has consequences for us all.

But our Prime Minister pursues a deferential relationship with Trump because of her limited ambition of seeing a post-Brexit Britain's principal role as Washington's bag-carrier-in-chief.

It would be wrong to see Trump's decision as representing widespread US public opinion.

The US president is careful to couch his disregard for the environment in terms of US workers' jobs, but, in reality, he is repaying the campaign backing received from the US transnational corporations that run the energy industries, especially the cut-throat coal companies that despoil the countryside as they destroy the atmosphere.

His backwards-looking approach will delight Big Energy shareholders
in the short term but do nothing for long-term employment hopes for workers in the US.

Just as the Tories in Britain have failed to invest adequately in jobs-rich green energy, Trump believes that reliance on old technology will secure US capitalism.

China is already making giant strides towards replacing with solar panels old power-generating infrastructure that has polluted the atmosphere in major cities.

Germany has invested heavily for decades in renewables in pursuit of a carbon-free energy production.

These and other like-thinkers are giving a global lead while our PM kow-tows to a pompous ignoramus, providing further evidence of her unsuitability to lead the country.
WORLD leaders condemned US President Donald Trump's withdrawal from the Paris climate change accord yesterday. The World Meteorological Organisation's Deon Terblanche said he had not run any new scientific models since the announcement but the "worst-case scenario" would be a 0.3°C average global temperature rise by 2100: here.
Trump's decision to withdraw from the Paris climate change agreement is another in a growing list of actions that exemplify the thoroughly reactionary character of his administration: here.
A new rule by the Trump administration will revise a mandate under the Affordable Care Act (ACA), denying birth control benefits to hundreds of thousands of women. Under the legislation popularly known as Obamacare, women with health insurance can presently receive contraceptives at no cost, with some notable exceptions: here.
Related articles