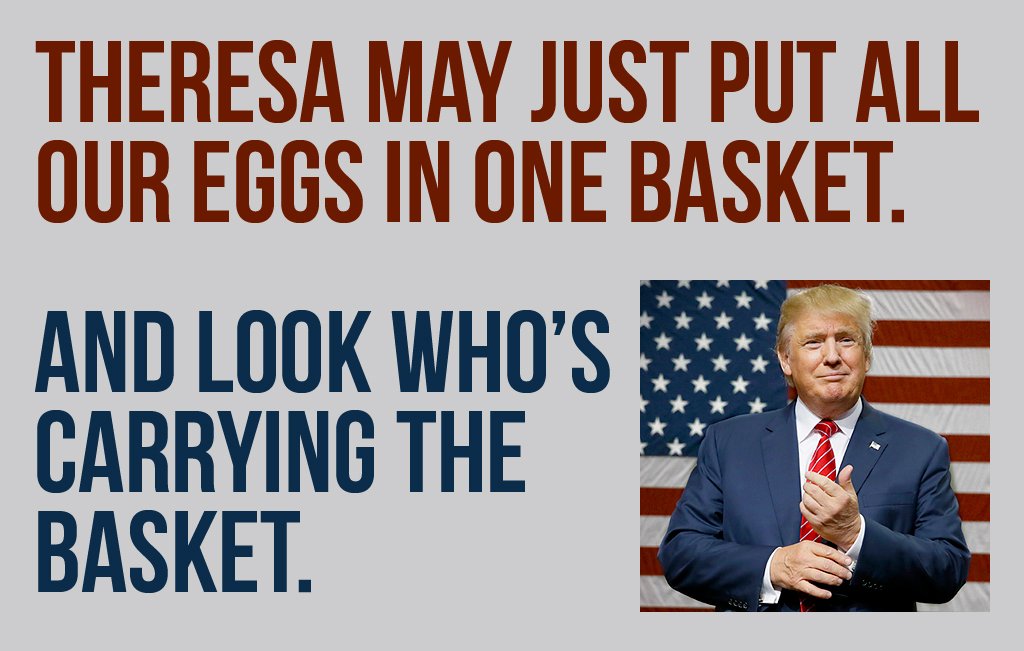 After British Prime Minister May's love affair with the Saudi absolute monarchy and similar regimes …
Brits Slam Theresa 'The Appeaser' May For Refusal To Condemn Trump's Refugee Ban: here.
From daily The Morning Star in Britain:
Theresa May: The dictator's dream

Monday 30th January 2017

The PM could have used her meeting with Erdogan to flag up Turkey's appalling human rights record – but instead she struck a £100m arms deal of shame

THE weekend exposed the Prime Minister as weak, opportunistic and desperate.

Theresa May is someone who is clearly prepared to do a deal with the Devil as she once again showed her willingness to sacrifice human rights on the altar of capitalism.

Fresh from her Washington trade talks with the misogynistic, racist, homophobic, ablist disaster that is US President Donald Trump and her refusal to condemn his ban on Muslims entering the country, she flew in to Ankara to meet the tyrant of Turkey, President Recep Tayyip Erdogan.

She should have used the visit to isolate Turkey as a pariah state and threaten Erdogan with a refusal to provide military aid and support until he stops the brutal oppression and all-out war against Kurds and releases all political prisoners.

She could have raised concerns over the sackings of over 100,000 government workers, the closure of hundreds of TV stations and newspapers, the jailing of academics, the imprisonment of over 150 journalists and the silencing of all forms of opposition.

She could have raised the nighttime raids and arrest of opposition politicians including the co-leaders of the Peoples' Democratic Party (HDP) Selahattin Demirtas and Figen Yuksekdag who face hundreds of years in jail.

She could have raised the case of 74-year-old mayor of Mardin, veteran politician Ahmet Turk, described as "the most peaceful, most inclusive, most anti-violence, most moderate and wisest figure of the Kurdish political movement," who joined the long and growing list of those arrested on charges of support for terrorism.

She could have raised the destruction of Sirnak, a city that once had a population of 300,000 which has been reduced to rubble by Turkish tanks and, according to people I met during my last visit to the country, it has now dwindled to 3,000 — or 6,000 if security forces are included.

She could have raised the massacres in Cizre, in which over 150 men, women and children were burned alive after harrowing recordings heard people pleading for their lives as they described how Turkish security forces poured petrol into three basements before setting them on fire.

Bodies were reportedly found without heads and Turkey blocked the United Nations from investigating.

She could have raised the drones and fighter planes that are a constant presence in the largely Kurdish areas of south-east Turkey, where an entire population is placed under martial law and children are shot on the streets by Turkish security forces.

She could have raised concerns over undemocratic constitutional changes that will give Erdogan unprecedented powers and move the country closer to one-person rule.

But instead she struck a £100 million deal of shame by agreeing the sale of arms to a brutal authoritarian bully who is attacking freedom and democracy at home and waging an all-out war against the Kurds not only in Turkey but also in Syria and Iraq.

The deal will include British engineers helping to design and build 250 fighter jets and is seen as a "gateway" agreement worth billions to the British economy.

However it is not clear who would fly the fighter jets as most of the Turkish air force has been either locked up or sacked following the post-coup attempt purges.

A Downing Street spokeswoman made the astonishing claim that the two issues — human rights and trade — were distinct.

She said: "I think those are separate issues; Turkey is an important Nato partner, so our co-operation on both security and defence is in line with that. The PM's approach is quite clear: she thinks it is important and in the UK's interests to engage with Turkey."

Engaging with Turkey is one thing. But it is entirely meaningless unless Erdogan is confronted over widescale repression.

For all May's claims that human rights and trade are distinct, we are not talking about the sale of rice or of medical supplies.

This is a deal that will provide Erdogan with the weapons he needs to launch further attacks on the Kurdish community both in Turkey and across the border in Syria and Iraq.

But here's the rub. Figures from the International Monetary Fund show Britain was the second-largest destination for Turkish exports in 2015, buying more than £8 billion in goods.

And by striking the deal Britain becomes Turkey's key defence partner.

It is investment that Erdogan desperately craved as Turkey seeks to become self-sufficient in developing its own weapons, particularly more sophisticated drones than the Anka, which is reportedly able to fly at an altitude of up to 30,000 feet for up to 24 hours and has limited line of sight capability.

He has already used fighter jets to bomb Kurds in the Rojava region of Syria and it was only when he was reminded by Russian President Vladimir Putin that he remembered that regime change in Damascus and the removal of Assad was not the aim of the current mission.

Further grandiose proclamations by Erdogan have seen him position himself as a new Caliph, citing Ottoman decrees to claim that the Iraqi city of Mosul belonged to Turkey.

The Roboski massacre is a reminder of how Turkey uses fighter jets and drones on its own people.

In 2011 38 people were killed after information from a US Predator drone led Turkish authorities to authorise an air strike on a convoy of people travelling back from the Iraqi border in the Uldere district of Sirnak Province.

The convoy however were not terrorists smuggling arms but a group of villagers who were trekking back through the mountains with supplies of oil and food.

The massacre caused an outcry with protests across Turkey, however despite promises from the government, nobody has been held responsible. May has proved to be a dictator's dream.

Her silence makes her complicit with the crackdown on democracy and freedom in Turkey and has served to legitimise Erdogan's rule.

A golden opportunity to hold Erdogan to account has been squandered and in a country where everyone is a suspect.

May's visit sends a chilling message: not only will we tolerate your actions but we will supply you with the weapons needed to suppress the people of Turkey and to fuel your foreign adventures.

But it is entirely consistent with British arms sales across the globe to human rights abusers.

Despite what she says, human rights and trade deals are linked. We must demand that May scrap the deal of shame with Turkey and stand up to Erdogan, stopping arms sales until he releases all political prisoners including politicians, academics and journalists, and demand he restores democracy in the country.

Failure to do so will mean blood on her hands.
Related articles