This video from the USA says about itself:
#StopTrump: Protests Erupt Across Britain as Lawmakers Debate Canceling Trump's State Visit

8 March 2017

Nearly 2 million Brits have signed a petition calling on President Trump's official state visit to be canceled. On Monday, thousands of protesters gathered outside Parliament in London as British lawmakers debated whether to deny Trump a formal state visit. We speak to Asad Rehman of Friends of the Earth International. He spoke at the protest in London yesterday.
Translated from Dutch NOS TV:
British government in denial that Trump will not yet visit Britain

Today, 15:00

The British government denies that Donald Trump's state visit to Britain will not go ahead. British newspaper The Guardian reports that Trump told British Prime Minister Theresa May a few weeks ago in a telephone conversation that he would not want to come if large protests were expected around his visit.

The British government says, however, that the visit will go ahead. A spokesman refuses to talk further on speculations.

May was the first head of state that invited him seven days after his inauguration as US president. The invitation caused very much criticism of her. Many diplomats thought that May was very early with her gesture. Eg, the speaker of the House of Commons, John Bercow, did not support the visit. He said he did not want Trump to be welcomed in parliament.

A petition against Trump's state visit was signed by hundreds of thousands of Britons. After Trump started the entry ban from seven mainly Islamic countries, tens of thousands of people took to the streets in several British cities.

Silence

The newspaper bases itself on an anonymous adviser of Theresa May, who is said to be surprised by Trump's request. According to The Guardian, the delay explains the silence in government circles around the controversial visit.

Premier May visited Trump in January in the US. There she said that she wants to strengthen ties between the US and Britain. "Together we are a beacon of prosperity and justice. The future of our two countries is rosy," she said.

Trump collided recently with the United States ambassador to London, Lewis Lukens, who was approved under his predecessor Obama. Lukens praised London's mayor Sadiq Khan for his performance after the London Bridge and Borough Market attacks. Trump himself had then just criticized Khan harshly. His own candidate for the embassy job has not yet been approved.
This video from the USA says about itself:
Theresa May in Coalition with Extremist Irish Party, the DUP

9 June 2017

Theresa May has formed a coalition with the Democratic Unionist Party of Ireland, an extremist, right-wing party with ties to racist paramilitaries during the Irish "troubles". Sectarian, ultra conservative and against women's rights, abortion, immigrants, etc., this union badly weakens May's negotiating ability in Brexit and will alienate moderates all over Britain.
From the BBC today:
Overnight there was confusion over the status of an agreement [by May's Conservative party] with the DUP, with Downing Street initially saying the principles had been agreed before issuing another statement saying negotiations continued.

The DUP were as "surprised as anybody" by Downing Street's original announcement, the BBC understands.

"It would be very, very surprising if something as important and complex as this was stitched together in a single day of talks in Belfast," Sir Michael said.

Ms Foster told Sky News "discussions continue" about forming a "national government" to bring stability to the nation. …

The DUP, which has 10 MPs after the election, has garnered a reputation for its strong and controversial views on a number of social issues.

It opposes same-sex marriage and is anti-abortion – with abortion remaining illegal in Northern Ireland, except in specific medical cases. …

Political sources in Belfast say the DUP manifesto and a document they published in 2015 give a guide to what they will want from any deal.

The 2015 Northern Ireland Plan was specifically designed for a hung parliament situation. …

At its heart is a financial package: real terms increases in health and education spending over five years, more money for infrastructure and help with transforming public services.

Those could all come with hefty price tags.

There are other more specific measures in the 2017 manifesto such as the abolition of air passenger duty (APD) in Northern Ireland.

One senior source also put it to me, with some hyperbole, that the DUP could "kill austerity".

By that they meant that DUP manifesto opposes the ending of the "triple lock" on state pensions and the means testing of winter fuel allowance. Whether they want to see the roll-back of benefit cuts announced, but not yet implemented remains to be seen.

On Brexit the DUP does not like the idea that "no deal is better than a bad deal".

Crashing out of the EU with no transitional arrangements could be hugely damaging to Northern Ireland's trade with the Republic of Ireland.
Irish PM expresses 'concern' over DUP deal": here.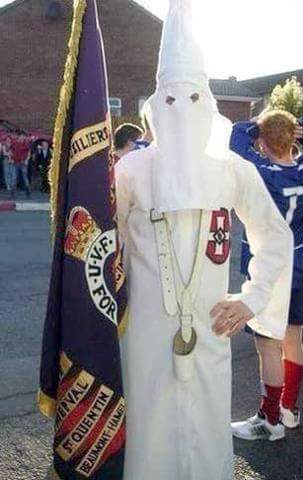 This photo shows a religious fundamentalist Northern Irishman, in Ku Klux Klan robe, with in his hand a flag of the UVF=Ulster Volunteer Force, a sectarian paramilitary group with links to the DUP, with whom British Conservative May tries to have a coalition government.
The person who put this picture on Twitter today added as caption: 'I will not be ruled by these fuckers.'
Jeremy Corbyn Is Leading the Left Out of the Wilderness and Toward Power: here.
Related articles