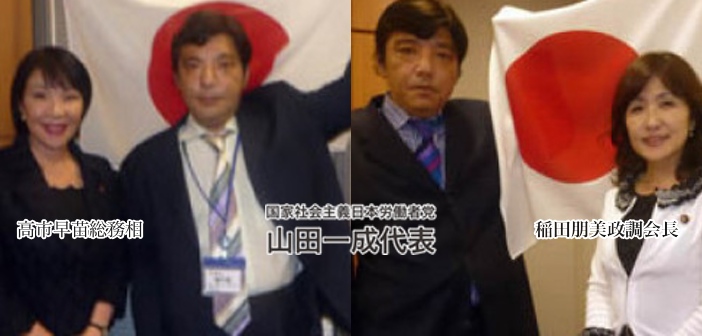 From daily The Morning Star in Britain:
Japan: Abe gives military brief to war crimes apologist

Thursday 4th August 2016

JAPANESE Prime Minister Shinzo Abe risked upsetting regional neighbours yesterday by naming as defence minister Tomomi Inada, who has excused her country's war crimes.

Ms Inada, a former minister for regulatory reform who most recently held one of the top posts in the ruling Liberal Democratic Party, replaced Gen Nakatani as defence minister.

Mr Nakatani was notorious for pressing for Japan to have a pre-emptive strike capability.

The new defence minister is a regular at Tokyo's Yasukuni Shrine, which honours war dead, including convicted war criminals.

Ms Inada has excused Japan's wartime atrocities, including forcing many Asian women into sexual slavery in military-run brothels, and has headed a party committee to re-evaluate the judgement of Allied war tribunals.

Her link to a notorious anti-Korean group was acknowledged by a court this year in a defamation case she lost.

She was also seen posing with neonazi group leader Kazunari Yamada in a 2011 photo that surfaced in the media in 2014.
With ministers like Ms Inada, 'defence minister' sounds more than ever like an euphemism for war minister.
In the wake of the ruling Liberal Democratic Party's (LDP) gains in last month's upper house election, Japanese Prime Minister Shinzo Abe reshuffled his cabinet on Wednesday in a move that presages further steps towards remilitarisation and pro-market restructuring. The most significant promotion was that of Tomomi Inada to the post of defence minister. Inada, a protégé of Abe, is well known for her extreme right-wing nationalist views. Although in parliament for just 11 years, she has already been mentioned as a possible future prime minister: here.
Emperor Akihito suggested he be allowed to abdicate and indirectly implied opposition to remilitarization and constitutional revision: here.
Related articles