This video says about itself:
Labour's Jeremy Corbyn Rides Leftist Tide in U.K. Election in Rebuke of Austerity & Conservatives

9 June 2017

British Prime Minister Theresa May suffered a major setback Thursday in an election that saw her Conservative Party lose its majority in Parliament less than two weeks before the country is scheduled to begin talks over exiting from the European Union.

May called the snap election three years early, expecting to win a large mandate to negotiate with European leaders over the terms of the so-called Brexit. Instead, Conservatives were left without a clear majority and a hung Parliament.

Labour Party leader Jeremy Corbyn, who ran on a platform of "For the many, not the few," said Thursday's election results show voters are "turning their backs on austerity." We're joined by Paul Mason, columnist for The Guardian, and Mehdi Hasan, award-winning British journalist and broadcaster at Al Jazeera English. He is host of the Al Jazeera interview program "UpFront" and a columnist for The Intercept.
This video says about itself:
Theresa May in Election Jitters Caught Lying About Tory Plans to Cut The National Health Service

9 June 2017

Kam Sandhu of Real Media says there is evidence that Tories plan to sell off assets [of the] NHS; this is the first sign of distress and it will lead to privatization.
Theresa May, in spite of losing the election, now plans to cling to Downing Street 10 by patching together a wafer thin coalition with the fundamentalist religious Democratic Unionist Party.
The BBC writes today about that:
Can a Conservative and DUP pact possibly govern for the life of this Parliament? They face a long, precarious high wire act if they attempt to do so, and they – and any alternative alliance – will be beset by troubles and entanglements at every turn.

Armed with a combined majority of three MPs, their pact would also be bolstered by the absence of the seven Sinn Fein MPs who continue to refuse to take their seats, and probably by the support of the independent unionist, Lady Sylvia Hermon.

But those numbers assume all MPs toe the party line in every vote. And that looks unlikely.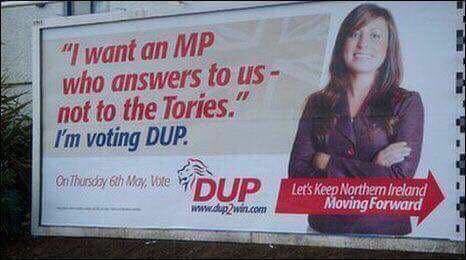 Not so likely, if one looks at DUP election propaganda like this.
The DUP are homophobic and anti-women's reproductive rights and are climate denialists. Will this new coalition government bring back the bad old Margaret Thatcher days for LGBTQ people to Britain?
Related articles