This photo shows the fuehrer of the German racist Pegida movement Lutz Bachmann, trying hard to look like Adolf Hitler.
Lutz Bachmann was one of the speakers on 11 October 2015, at an anti refugee demonstration by the Dutch branch of Pegida, in Utrecht, the Netherlands. Bachmann's followers violently attacked anti-nazi counter-demonstrators at that demonstration; as this video shows.
This photo shows Peter Bieleveld and Simone Magretti, representatives of the Dutch neo-nazi party Nederlandse Volksunie (NVU) at an Islamophobic demonstration of the Dutch Defence League (sister organisation of the violent neo-nazis of the English Defence League).
The demonstration was on 24 May 2015 in Rotterdam.
Mr Bieleveld and Ms Magretti have with them the official Nederlandse Volksunie party banner. They had also brought a smaller banner saying 'Islam go back', and depicting one of the infamous Danish Mohamed cartoons; depicting the 7th century prophet of Islam as a 21st century bomb terrorist.
This photo shows Peter Bieleveld with the same Islamophobic sign at a Nederlandse Volksunie demonstration in The Hague on 20 September 2014.
And this photo shows Peter Bieleveld of the Nederlandse Volksunie with that same Islamophobic sign at the anti-refugee demonstration of the Pegida racists in Utrecht on 11 October 2015.
Besides Peter Bieleveld, there were lots of well-known neo-nazis at the Pegida demonstration.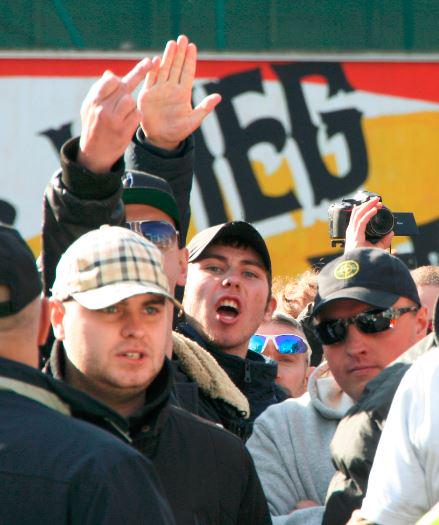 On this photo from the Utrecht Pegida demonstration, NVU activist Owen Koenekoop does the nazi salute. Next to him is fellow Nederlandse Volksunie member Barry Kluft.
Pegida public relations lies of supposedly 'not being extreme right' prove to be just lies, again and again.
The Dutch public prosecutor has meanwhile announced they will investigate one of the Pegida speeches in Utrecht for possible violation of anti-discrimination laws. That speech accused Muslims of 'massive inbreeding' and said Muslims should be 'hated and despised because of their insane ideology'.
English EDL founder Tommy Robinson addresses Pegida anti-Islam rally in Holland: here.
German Pegida advocates hanging politicians: here.
Finally, a happier image from Utrecht on 11 October 2015. An anti-nazi, pro-refugee demonstrator with a sign saying 'Welcome stranger'.
Against Pegida in Antwerp, Belgium on 9 January 2016: here.
Related articles