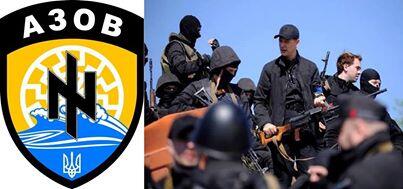 This picture (also reproduced on the Facebook page of the Dutch NVU nazi party) shows the symbol of the Ukrainian Kiev government's Azov battalion; source: here. It is the wolfsangel, or wolf's hook. Also the symbol of the Dutch nazi party NSB in the 1930s and 1940s.
On the Dutch NSB 1930s-1940s nazi flag for their paramilitary organisation, the WA, the same wolfsangel, in a different direction.
The Dutch nazis of the Nederlandse Volksunie report on their Facebook page about the September issue of their magazine Wij Europa.
In that Wij Europa issue, they announce a report by NVU nazi Frank Folkerts about his trip to Ukraine; for coordination with Ukrainian fellow nazis, like the Svoboda party and the Right Sector. Maybe to prepare for Dutch mercenaries fighting in the war in eastern Ukraine in the Azov battalion, like nazis from Sweden and other countries already do, and which the NVU applauds?
Frank Folkerts used to be NVU party leader for Utrecht province; with the title 'kringleider', district leader; the same title as in the NSB, the 1930-1940s Dutch nazi party. Folkerts was main NVU candidate for the 2010 elections in Overbetuwe local authority.
Related articles