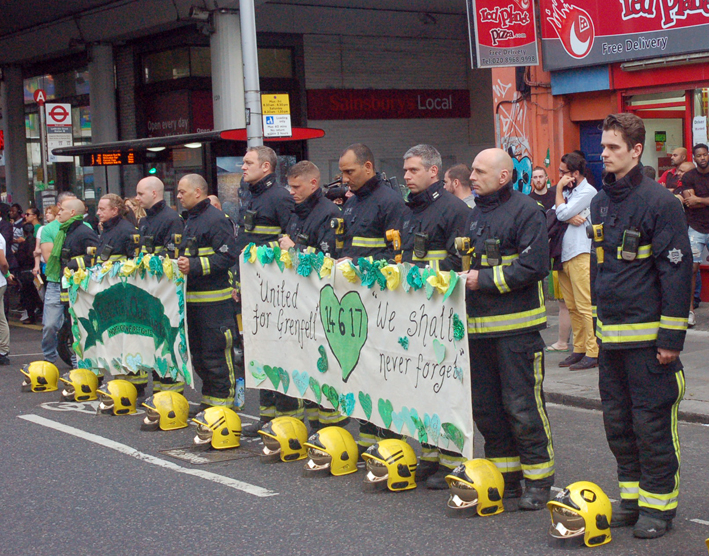 From daily News Line in Britain:
'Sleepwalking towards another catastrophe' – FBU statement marking 2 years since Grenfell fire

14th June 2019

'WE RISK sleepwalking into another catastrophic loss of life. We demand urgent action from the government to ensure that the events of Grenfell Tower can never happen again', Matt Wrack, Fire Brigades' Union (FBU) general secretary, said in a special statement released today to mark the second anniversary of the horrific fire.

Wrack warned that because of savage Tory cuts to the fire service, if a similar fire broke out, they would not have the resources to deal with it.

Wrack said: 'The second anniversary of Grenfell must be a moment of both heartfelt reflection and determined action.

'We have seen 72 lives tragically lost, in a wholly preventable blaze, all while desperately firefighters risked their own lives to save others in a fire nobody had planned for.

'Firefighters and emergency fire control staff never want to see a fire like that again, and are calling on the government to take immediate action.

'In the time since the fire, the government's facile approach has utterly failed all those involved that night and the thousands of people who are at risk across the country.

'After two years, the Grenfell Tower Inquiry has delivered no answers and we are no closer to tackling any of the underlying causes of the tragedy.

'Countless homes are still wrapped in flammable materials, while warnings from tenants about risks to their safety go ignored.

'Fire and rescue services are, in the face of continued cuts, unable to prepare for a similar incident, with no national structures or coordination from government.'

Meanwhile, tower blocks across England have been lit up in a series of guerrilla projections highlighting a national fire safety crisis that appears to be getting worse rather than better.

As night fell on Wednesday, buildings in London, Greater Manchester and Newcastle were illuminated with messages up to 12 storeys high warning that two years after the fire that killed 72 people, they are still not fitted with sprinklers, have defective fire doors or are wrapped in dangerous cladding.

Luxury apartments, NV Buildings in Salford were illuminated with a message that read: '2 years after Grenfell and this building is still covered in dangerous cladding. #DemandChange.'

In London at Frinstead House on the Silchester estate, which neighbours Grenfell, the projection highlighted its lack of sprinklers.

Frinstead is just a stone's throw from Whitstable House. The tower block was subject to a bin fire only a few weeks ago, and as smoke rose through the bin shaft and started to fill the landings all the way up to the 16th floor, no fire alarm or smoke alarm sounded.

This evening thousands are expected to join the silent walk through the streets of North Kensington, and on Saturday there is a march through central London to Parliament demanding justice for Grenfell.
THE Fire Brigades Union (FBU) called today for urgent action on a range of fire and building safety issues to prevent another Grenfell: here.
The Grenfell Tower fire of June 14, 2017 is an event seared into the consciousness of working people across London and around the world. 72 men, women and children perished in their homes. As part of its "regeneration" plans, the Royal Borough of Kensington and Chelsea Council and its tenant management organisation (KCTMO) encased Grenfell in cheap, flammable cladding causing a small kitchen fire to engulf the building in minutes: here.