This video says about itself:
Many Casualties In London High-Rise Fire

14 June 2017

British officials said several people have died in a huge fire that raged through a high-rise building in London. Flames engulfed the tower block on June 14 trapping many people inside including children.
'Forgive me, goodbye': Harrowing final Snapchat messages sent from desperate residents trapped inside Grenfell Tower. The terrified woman sent the video to her friend at 2.54am but hasn't been since the burning building went up in flames: here.
AT LEAST 6 ARE DEAD AND OVER 50 INJURED IN LONDON APARTMENT FIRE The number of fatalities is expected to rise. The London fire commissioner said she had "never ever seen anything of this scale." And residents described their terrifying escapes from the inferno. [HuffPost]
Twelve people have died in a west London tower block fire and the number of deaths are expected to rise, police have said: here.
Hundreds of residents were trapped in this Grenfell Tower high-rise fire inferno. We don't know yet how many died, how many were injured, how many survived.
Last year, the Grenfell Action Group, of inhabitants of the Grenfell Tower high-rise building, so horribly destroyed by fire today, wrote on their web log:
November 20, 2016

It is a truly terrifying thought but the Grenfell Action Group firmly believe that only a catastrophic event will expose the ineptitude and incompetence of our landlord, the KCTMO, and bring an end to the dangerous living conditions and neglect of health and safety legislation that they inflict upon their tenants and leaseholders. We believe that the KCTMO are an evil, unprincipled, mini-mafia who have no business to be charged with the responsibility of looking after the every day management of large scale social housing estates and that their sordid collusion with the RBKC Council
RBKC=Royal Borough of Kensington and Chelsea. They have a Conservative party council.
Until the recent general election, Kensington always voted Conservative (Tory) in general elections. Then, last week, Labour won for the first time ever.
Kensington's new Labour MP Emma Dent Coad, who is a local councillor and a member of the London Fire and Emergency Planning Authority, said she had raised concerns with the authority about fire safety at tower blocks in the area. "There have been a lot of concerns over the past few years on various fire issues," Ms Dent Coad told BBC Radio 4's Today programme.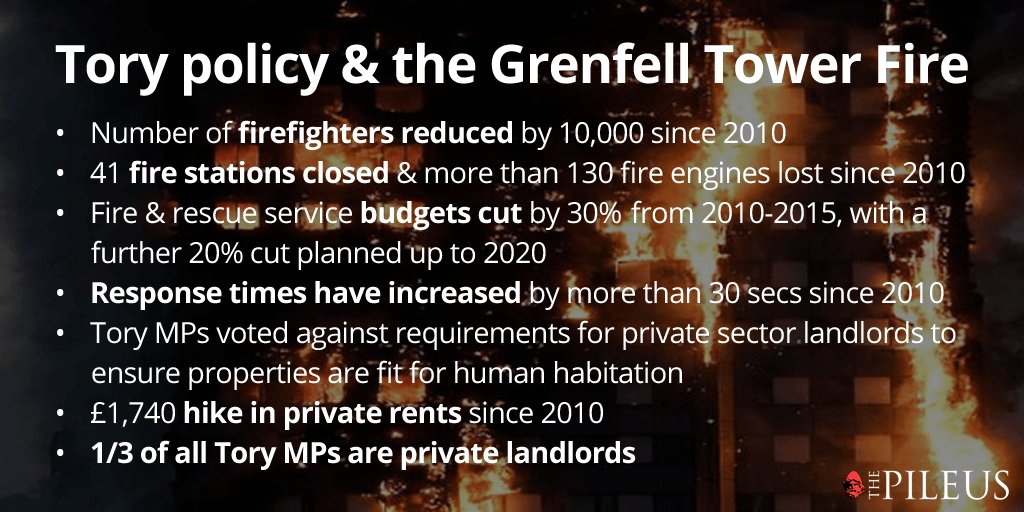 Tory minister warned against beefing up fire safety rules to include sprinklers because it could discourage house building. Former Housing Minister Brandon Lewis admitted fitting sprinklers saves lives, but said it was not the government's responsibility to insist on them: here.
Revealed: UK Fire Brigade Slashed By Cuts And Failed Privatisation: here.
The Labour leader [Corbyn] told the BBC: "At this stage, let's save life, let's bring safety to people at Grenfell Tower. I think tomorrow is a day for searching questions – the searching questions on the provision of fire safety equipment, the provision of sprinklers and the support the emergency services need and must have in all circumstances. You can never compromise on safety where fire is concerned": here.
Notting Hill Pastor blames 'disgusting' divide between rich and poor for Grenfell tower fire: here.
is a recipe for a future major disaster.

Unfortunately, the Grenfell Action Group have reached the conclusion that only an incident that results in serious loss of life of KCTMO residents will allow the external scrutiny to occur that will shine a light on the practices that characterise the malign governance of this non-functioning organisation. …

It is our conviction that a serious fire in a tower block or similar high density residential property is the most likely reason that those who wield power at the KCTMO will be found out and brought to justice! The Grenfell Action Group believe that the KCTMO narrowly averted a major fire disaster at Grenfell Tower in 2013 when residents experienced a period of terrifying power surges that were subsequently found to have been caused by faulty wiring. We believe that our attempts to highlight the seriousness of this event were covered up by the KCTMO with the help of the RBKC Scrutiny Committee who refused to investigate the legitimate concerns of tenants and leaseholders.

We have blogged many times on the subject of fire safety at Grenfell Tower and we believe that these investigations will become part of damning evidence of the poor safety record of the KCTMO should a fire affect any other of their properties and cause the loss of life that we are predicting:

https://grenfellactiongroup.wordpress.com/2013/01/28/fire-safety-scandal-at-lancaster-west/

https://grenfellactiongroup.wordpress.com/2013/01/30/more-on-fire-safety/

https://grenfellactiongroup.wordpress.com/2013/02/21/another-fire-safety-scandal/

https://grenfellactiongroup.wordpress.com/2016/01/24/grenfell-tower-still-a-fire-risk/

In October 2015 a fire ripped through another KCTMO property, the 14 storey Adair Tower in North Kensington, causing mass panic and resulting in a number of residents taken to hospital suffering from smoke inhalation. It is reported that had it not been for the swift actions of the London Fire Brigade the consequences of this fire and potential loss of life could have been much worse.

http://www.telegraph.co.uk/news/uknews/law-and-order/11967592/50-rescued-from-burning-flats-in-Kensington.html

In the aftermath of the Adair Tower fire the London Fire Brigade found that the KCTMO had not been looking after the safety of residents properly and issued an Enforcement Order compelling them to improve the fire safety in the escape staircases and to provide self closing devices to all the tower block's front doors. A further audit by the London Fire Brigade of the neighbouring Hazelwood Tower (located alongside Adair Tower) found similar breaches of health and safety legislation and an Enforcement Order was also issued for this property forcing the TMO to address the serious concerns of the Fire Brigade's inspectors. What is shocking is that a decade ago a fatality occurred due to a fire at Hazelwood Tower and the Fire Investigation Team ordered that the grills on the fire escape staircase be covered over. This never happened and it is believed that the uncovered grills at Adair House (Hazelwood Tower's twin block) acted like a chimney and were responsible for the accelerated spread of the fire and smoke damage.

In the last twenty years and despite the terrifying power surge incident in 2013 and recent fire at Adair Tower, the residents of Grenfell Tower have received no proper fire safety instructions from the KCTMO. Residents were informed by a temporary notice stuck in the lift and one announcement in a recent regeneration newsletter that they should remain in their flats in the event of fire. There are not and never have been any instructions posted in the Grenfell Tower noticeboard or on individual floor as to how residents should act in event of a fire. Anyone who witnessed the recent tower block fire at Shepherds Court, in nearby Shepherd's Bush, will know that the advice to remain in our properties would have led to certain fatalities and we are calling on our landlord to re-consider the advice that they have so badly circulated.

The Grenfell Action Group predict that it won't be long before the words of this blog come back to haunt the KCTMO management and we will do everything in our power to ensure that those in authority know how long and how appallingly our landlord has ignored their responsibility to ensure the heath and safety of their tenants and leaseholders. They can't say that they haven't been warned!
Who live, or now: lived, in Grenfell Tower; and in Kensington? It has a reputation of being a rich area. However, the Grenfell Action Group writes:
We were, and still are, committed to defending the rights of the residents of Lancaster West Estate, a sprawling, inner-city, social housing complex of nearly a thousand dwellings, mostly working class, multi-cultural and multi-ethnic. Our community is located in North Kensington in the Royal Borough of Kensington and Chelsea. Our blog has recorded, and continues to record, our struggle and we hope will remain as evidence for future generations of how our community has been mis-treated by RBKC and its social housing management agents the Kensington & Chelsea TMO (KCTMO).
Horribly, what they predicted happened, as they write today.
People in tower blocks don't matter to politicians until they're dead: here.
Geoff Wilkinson, a fire and building inspector, told the BBC that the Grenfell Tower block "didn't perform in the way you'd expect a building to perform" once it caught fire as "you'd expect it to be contained to an individual apartment". "Something has gone dramatically wrong here," he said.
It is not just the KCTMO landlords.
From London daily Metro today:
Witnesses to the towerblock inferno claimed the fire spread so fast because of the newly fitted insulation cladding, with panels which caught light as if they were 'matchsticks'.

Jack Monroe, a former fire fighter, tweeted about the incident and said: 'Whoever signed off on that cladding needs to be hauled before a court and held fully accountable for every single fatality and injury.'

Construction firm Rydon, which completed the £8.6 million refurbishment said it is 'shocked to hear of the devastating fire'. …

On their website, they had described the project saying: 'Externally, rain screen cladding, curtain wall façade and replacement windows were fitted, improving thermal insulation and modernising the exterior of the building.'

The company which supplied the cladding fell into administration shortly after finishing the project.

Contractor Harley Curtain Wall folded shortly after completing the £3 million segment of the £10 million project, but was bought by Harley Facades.

A spokesperson for Harley Facades today said: 'There's not really anyone who can speak to you at the moment.'
Director of company responsible for Grenfell Tower refurbishment admits he is clueless over what cladding was made from: here.
How to help those affected by the Grenfell Tower fire in London: here.