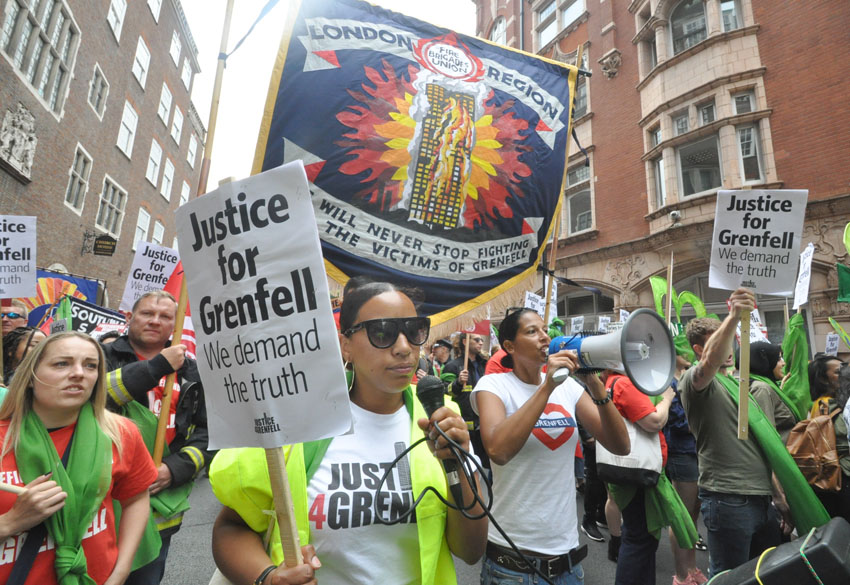 From daily News Line in England:
FBU criticises 'serious shortcomings' of Grenfell Tower Inquiry

29th January 2020

BELOW is the introduction to the Fire Brigades Union's 64-page 'Response to the Grenfell Tower Inquiry Phase 1 Report', containing scathing criticism of its 'significant shortcomings'.

'The Fire Brigades Union (FBU) is the democratic, professional voice of firefighters and other workers within fire and rescue services across the UK.

'We represent the vast majority of whole-time (full-time) and retained (part-time, on-call) operational firefighters and operational fire control staff across the UK.

'The FBU welcomes the publication of the Grenfell Tower Inquiry (GTI) Phase 1 report. The bereaved, survivors and residents (BSRs) – as well as firefighters – have waited too long for an official report into the fire.

'The union commends the GTI for the dignified treatment of those who died or who lost loved ones.

'The FBU welcomes the recommendations and will work together with other interested parties to ensure they are implemented swiftly.

'There are many practical matters to be resolved, which the union is committed to assist with.

'The GTI has published a great deal of written evidence from those who lived in and around Grenfell Tower, which sheds light on
the events of 14 June 2017.

'It has also heard oral testimony from those directly affected.

'Similarly, firefighters attending on the night have given their written statements and some also gave testimony to the inquiry.

'A range of expert reports have been produced, which also provide much insight into the fire at Grenfell Tower.

'Despite the merits of the GTI's investigation so far, the FBU cannot ignore significant shortcomings in the Phase 1 report.

'The GTI has produced a forensic examination of the events of 14 June 2017 at Grenfell Tower and made a number of scathing criticisms of the actions of firefighters on the night of the fire.

'The report comes to a very harsh verdict on the London Fire Brigade (LFB), particularly its principal management.

'The Phase 1 Report states that the public inquiry is intended to be "an investigative, rather than an adversarial, process" (1.25).

'Yet firefighters feel aggrieved when they are subjected to harsh criticism, while those responsible for the failures that led to a disaster on this scale have so far not faced serious cross-examination.
Firefighters demand Grenfell inquiry probe 'decades of deregulation' by ministers and officials: here.
THE Fire Brigades Union has criticised the "endless delays" to the inquiry and said that it "must finally learn what led to Grenfell becoming such a death trap": here.