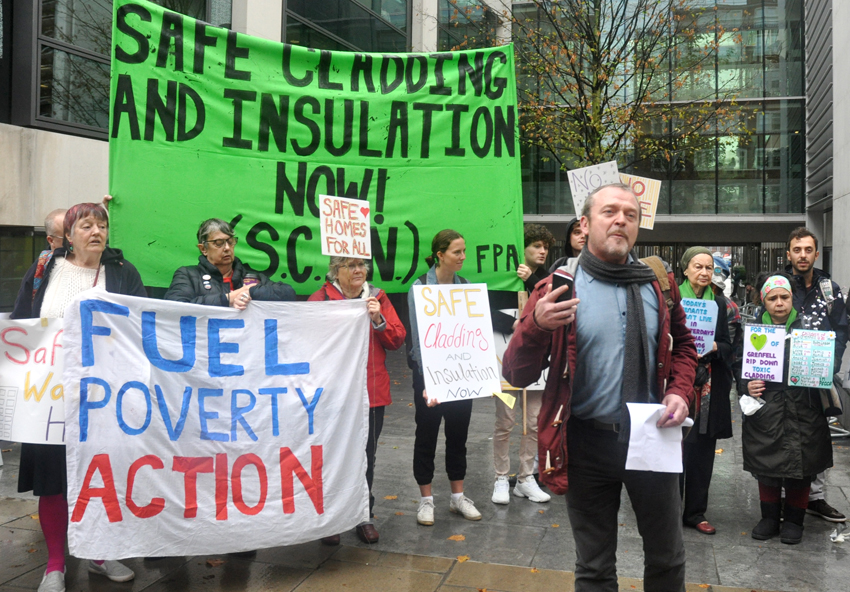 From daily News Line in Britain:
Flammable wooden cladding found on 20 blocks

25th June 2019

AN URGENT investigation has found that there are at least 20 housing blocks using the same wooden cladding and wooden structure as the block in the Barking blaze – where two weeks ago fire engulfed six floors and residents were forced to flee for their lives.

The material used on the balconies and cladding at Samuel Garside House which was responsible for the rapid spread of the fire is called ThermoWood.

It is possible to treat ThermoWood to give it a higher fire rating and upgrading it to a Class B 'Limited contribution to fire'. However, without being treated, ThermoWood is classed as D 'Medium contribution to fire'.

Only class A1 is considered non-combustible with 'No contribution to fire'.

The Barking fire damaged 47 flats, including eight that will take six months to make habitable again, and it was extraordinarily fortunate that no one was severely burned or killed.

Following a ban on combustibles on high rises, brought in last November, official government guidance does not permit the material to be used on new-build blocks of over 18m.

However, it was and is permitted on buildings below 18m, and Samuel Garside House is understood to be under that height.

The investigation carried out by campaigners Inside Housing found that more than 20 blocks, mostly in London, are using ThermoWood as either cladding or decking for balconies.

This includes a six-storey development in Lewisham which is owned by Clarion.

The firm insisted: 'We are working alongside our partners to investigate the issue as a matter of urgency and will carry out any improvement works that are required.'

However, it is now two years since the horrific Grenfell fire where Aluminium Composite Material (ACM) was identified as rapidly spreading the blaze, and there are still over 300 tower blocks with the same flammable cladding.

To make matters worse, after the Grenfell tragedy it was discovered that fire doors did not perform correctly.

The doors are meant to stop fire from spreading for at least thirty minutes, however in the case of the Grenfell Tower fire they failed, and only withstood fire for 15 minutes.

Kensington and Chelsea council, the authority responsible for Grenfell Tower, has pushed back plans to replace all 4,000 fire doors in its entire social housing stock because of a 'lack of reliable products on the market', they claim.

There are tens of thousands of these defective fire doors still affixed to council blocks up and down the country.

Meanwhile, a resident in the next-door borough of Westminster, who was left traumatised by his view of Grenfell Tower, carried out a safety test in his own block of flats which he claims shows fire doors are not working properly.

Paul Croucher ignited smoke pellets on the 11th floor which sent smoke up to the top of his 17-storey block in just 90 seconds.

Westminster Council criticised Croucher's DIY test and claimed 'it was in the process of replacing all fire doors on the estate'.
This 25 April 2019 video from Britain says about itself:
End Our Cladding Scandal

Our campaign for the government to fund cladding removal costs for leaseholders
London: Residents and campaigners protest outside Housing Ministry over delay in removing flammable cladding: here.