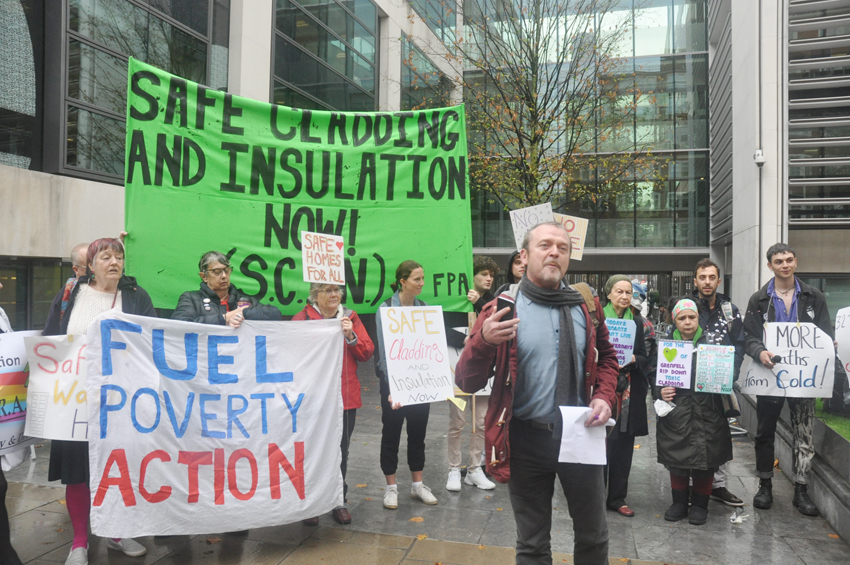 From daily News Line in Britain:
Residents charged £3.5m to remove flammable cladding – plus £5.4m to pay for fire safety

7th May 2019

LEASEHOLDERS in the Paddington Walk development in West London have already paid nearly £3.5m in service charges for the removal of dangerous, flammable Grenfell-style cladding, it emerged yesterday.

This is despite the Tory government pledging time and again that residents and leaseholders would not be made responsible for the costs of removal, and the bill would be picked up by the owners of the buildings.

Paddington Walk is covered in the same Aluminium Composite Material (ACM) that was responsible for the rapid spread of the fire up the side of Grenfell Tower on 14 June 2017, which claimed the lives of 72 men, women and children.

In the weeks after the blaze, hundreds of blocks, both social and private, were identified as having the same ACM cladding.

However, almost two years later, only a handful have been stripped, the cladding removed and a safe alternative installed.

One of the main 'stumbling blocks' is who is going to foot the bill.

This has left residents in fear for the last two years, knowing that they are going to sleep in a building which is wrapped in flammable cladding making the tower a fire trap.

Not only have the Paddington Walk residents already forked out £3.5m in service charges for the removal, they now face an additional bill of £5.4m to cover fire safety work, which could mean paying out tens of thousands of pounds each.

They have been told by the development's building management company, Paddington Walk Management, that work cannot begin until it receives all the money to fund the work.

Paddington Walk was built in 2005 by European Land and Property, a joint venture development company owned by the billionaire Reuben Brothers and fellow developers the Jarvis family.

Contractor Carillion was chosen as the builder but famously went into liquidation in January last year, owing an estimated £7bn to its supply chain.

Fire stations across the country sounded their sirens on Saturday for Firefighters Memorial Day 2019, and then fell silent for one minute to honour the more than 2,300 firefighters who have lost their lives.

Matt Wrack, FBU general secretary, said: 'The sacrifice of our fallen firefighters will not be forgotten. We often remember firefighters with a saying: "When all others were running out, they were running in".

'Each day, firefighters risk, and in some circumstances sacrifice, their lives to save others from danger. The names and memories of our fallen comrades stay with us always, as we hope that no more names join the firefighters' memorial'.

Savage cuts to the fire service include ten stations closed, 13 engines taken out of action and hundreds of firefighters' jobs axed in London alone.

Firefighters' lives are being put at risk every day because of substandard, or even lack of, basic firefighting equipment.

Only last Tuesday in Teesside, three firefighters were hurt when the Scania fire engine they were travelling in overturned at a roundabout as it made its way to an emergency incident in Middlesbrough.

Three of the five-member crew were injured, one suffering a broken wrist, another a broken collar bone and a third a broken wrist.

But it has emerged that questions had been asked about the sort of fire engine they were travelling in.

The Scania P310, which has a roof mounted aerial platform and ladder to reach high rise incidents, was brought to Cleveland in 2014, having originally been based in Kent.

However, several online forums have questioned the suitability of such 'CARP' machines (Combined Aerial Rescue Pumps) to take corners at any speed, given the extra weight and possible balance issues – and the Cleveland Fire Brigade Union says it 'expressed its concern when the machine was bought'.