This 4 October 2017 video says about itself:
Comedian pranks UK's Theresa May with resignation stunt

A prankster and comedian has humiliated British Prime Minister Theresa May, offering her a resignation form as she took the podium to deliver a speech at an annual party conference. Lee Nelson, in an apparent security breach, rose up to the Conservative Party leader to hand her a P45, the tax form issued by an employer when an employee leaves.

Al Jazeera's Barnaby Phillips reports from Manchester.
Today, Theresa May has at last resigned. After her colleague and rival Boris Johnson and many other Conservative politicians have resigned in disgrace. Johnson is against British European Union membership; May is for it. But, in their different ways, they are equally right-wing. Not only Theresa May should resign. Her whole government should follow May's example and resign in disgrace today. There should be a general election now.
From the Left Foot Forward site in Britain today:
On the steps of Downing Street this morning, Theresa May has announced her resignation as Prime Minister.

The PM will step down as leader of the Conservative party on 7th June, with the process to select a new leader starting the following week.

A Prime Minister … who pledged to tackle the 'burning injustices' of society but failed, her immediate legacy will be of disastrous inertia. …

10:47 – full reaction from Labour:

Jeremy Corbyn, Leader of the Labour Party, said:

"The Prime Minister is right to have resigned. She has now accepted what the country has known for months: she cannot govern, and nor can her divided and disintegrating party.

"The burning injustices she promised to tackle three years ago are even starker today.

"The Conservative Party has utterly failed the country over Brexit and is unable to improve people's lives or deal with their most pressing needs.

"Parliament is deadlocked and the Conservatives offer no solutions to the other major challenges facing our country.

"The last thing the country needs is weeks of more Conservative infighting followed by yet another unelected Prime Minister.

"Whoever becomes the new Conservative Leader must let the people decide our country's future, through an immediate General Election." …

10:20 – UNISON general secretary Dave Prentis said:

"Theresa May will go down in history as one of the worst prime ministers. She has done nothing to repair our broken public services, forgotten all about families struggling to get by, brutally mistreated the Windrush generation and woefully mismanaged the aftermath of the Brexit vote.

"However, working people should fear what comes next. Her replacement will be chosen by the hard right of the Tory Party, who want more austerity, increased privatisation and fewer rights for working people.

"That's why there must now be a general election. The decision about who leads the country must be taken in every community, not by the … boys' club in the tea rooms and bars of Westminster."

10:07 – speedy work from the GMB union. Britain's general union has called for a general election.

Tim Roache, GMB General Secretary, said:

"This Government has given us more farcical scenes than The Thick Of It and more brutal beheadings than Game of Thrones.

"But no one is going to be sorry when this series ends, working people are sick of the Tories focusing on who is going to take Theresa May's job when thousands across the country are losing theirs.

"We cannot let Britain's workers, industries and communities become the casualties of the next round of Tory internal wars. Let's have a general election and let the people decide."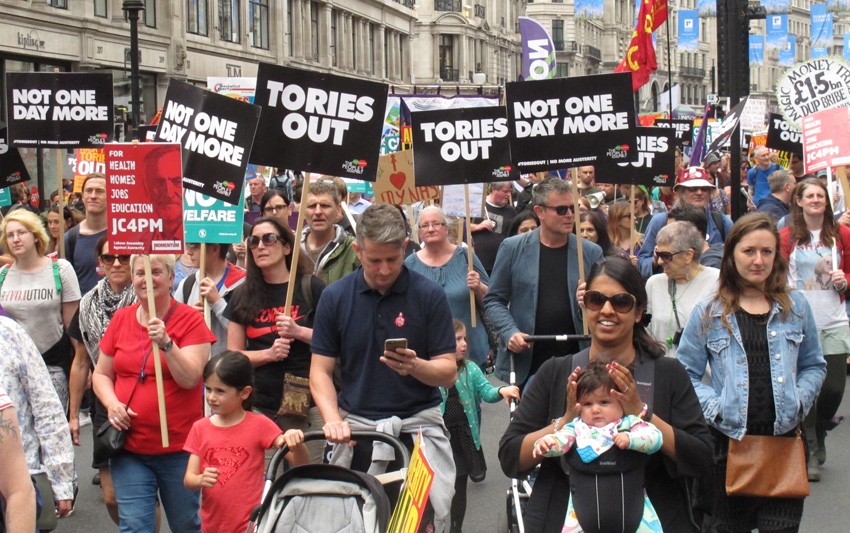 This photo shows a London demonstration demanding the resignation of Theresa May's Conservative government.
British child homeless statistics rose by 80 per cent since Theresa May's Conservatives took power: here.
From daily News Line in Britain today:
Earlier, [Conservative] Foreign Secretary Jeremy Hunt had insisted that May would still be PM when President Trump visits the UK in early June.

Responding to a question after a speech at the National Cyber Security Centre, he said: 'Theresa May will be prime minister to welcome him and rightly so.'

However, May may quit [meanwhile: has quit] as Conservative leader before Trump's visit, and it is not certain that he would be prepared to see her as a caretaker PM.