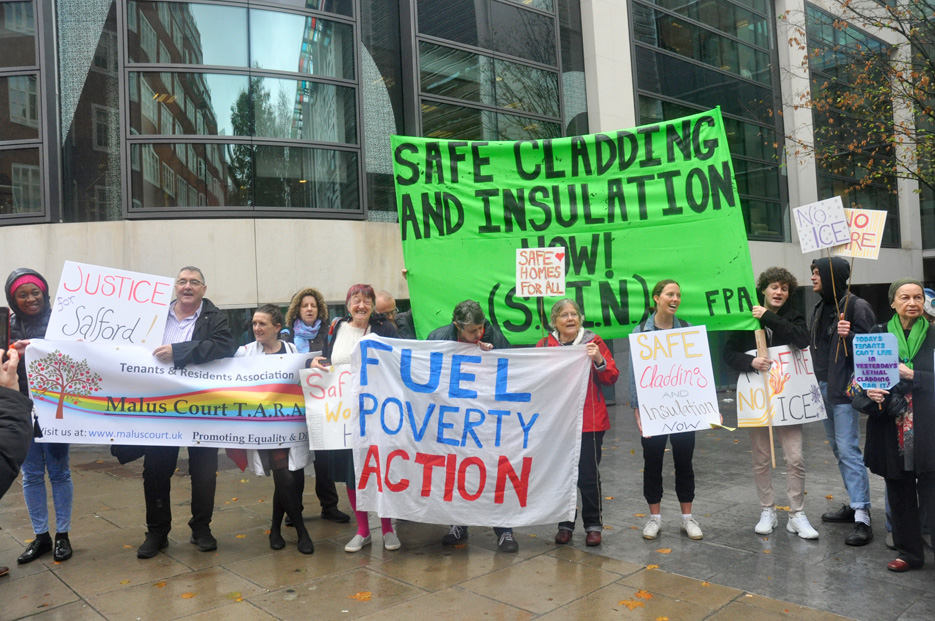 From daily News Line in England:
Over 2 Years Since Grenfell Inferno And Still 321 High-Rise Blocks Have Yet To Be Made Safe

14th October 2019

DESPITE it being well over two years since the horrific Grenfell Tower fire, which claimed the lives of 72 men, women and children, only one out of 158 social housing blocks wrapped in the same flammable cladding was made safe last month.

The shocking news comes as the deadline for works to strip all the towers of their flammable cladding and replace the cladding with a fire-proof alternative looms by the end of the year.

Of the 158 high-rise social housing blocks identified as having the Grenfell-style cladding, work to replace that cladding has completed on only 61 (39%), while work is yet to begin on 16 (10%).

The summary of the figures just released displaying progress up till the end of September 2019 states: 'Summary of latest figures:(as at 30th September 2019) – there are 114 high-rise residential and publicly owned buildings in England that have completed remediation works to remove and replace Aluminium Composite Material (ACM) cladding systems – an increase of three since the end of August.

'This leaves a total of 321 high-rise residential and publicly-owned buildings with ACM cladding systems unlikely to meet Building Regulations yet to be remediated in England.

'Of the 97 social sector residential buildings with ACM cladding systems unlikely to meet Building Regulations yet to be remediated:

81 have started remediation;
15 have a remediation plan in place but works have not started; and 1 building has reported an intent to remediate and is developing plans.'

A government spokesperson admitted: 'Progress has been far too slow and due to inaction from some building owners, we have committed £600m to speed up the pace of remediation.

'Building owners are responsible for making their buildings safe and inaction will not be accepted. If necessary, we will publicly name those who do not act during the course of the autumn.

'There is no excuse for further delay – and building owners who have not yet taken the necessary steps. They must take immediate action and apply for the remediation fund.'

What makes matters worse, the government has only banned flammable cladding on buildings built after December 21st last year, and only if they are higher than 18 metres tall!

The government placed a ban on combustible materials on new high-rise homes, implemented through the Building (Amendment) Regulations 2018 laid on 29th November 2018).

The regulations came into force on 21st December with a two-month transitional period.

This means that new blocks under 18 metres tall can still be wrapped in the same flammable cladding responsible for rapidly spreading the fire at the Grenfell Tower.

As a result a building in Coventry has been deemed 60 centimetres too short to have its flammable cladding stripped.

The building in Coventry will not be stripped of Grenfell-style cladding because it falls less than a metre outside of government fire regulations.

Aluminium Composite Material (ACM) cladding was found on student accommodation block Merlin Point, on Deasy Road, during an inspection by West Midlands Fire Service two years ago.

But current government legislation states it is only a requirement for the cladding to be removed from buildings 18 metres or higher – Merlin Point is 17.4 metres.

That means it is 60 centimetres (23 inches) too short.

Building owners Beechfield Estates Limited (BEL) said the fire office has told them the tower 'is in compliance with all fire safety regulations' and 'is safe', adding an external building engineering consultancy firms has further advised the small amount of partial cladding – which is on 'strips between the windows' – does not need to be removed, and that they have no plans to do so.

However, the fire service has said it 'remains disappointed' with the government's 18m ban and feels it 'should have gone further' while Coventry city councillor Ed Ruane, former cabinet member for housing, believes the ACM cladding should not be on any building regardless of height and has called for a change in legislation.

He said: 'The government has banned this type of cladding on buildings of 18 metres. This is 17.4 metres.

'They identified this material two years ago and still the material remains on the building.

'Whether it is 17.4 metres or not, to have dangerous materials on the exterior of the building should not be the case and they should be taking measures to remove it immediately.

'We should be at a point where we do not put any flammable material on buildings of this height.

'The idea that it is half a metre under the specified length is ridiculous.'

Meanwhile, A Bristol university accommodation block has failed fire safety tests following the Grenfell Tower Disaster.

Waverley House in Queen Charlotte Street is one of Bristol University's city centre halls of residence.

The building is one of six blocks owned by Unite Students – housing more than 2,500 students in total – which failed government combustibility tests on cladding.

Two others were in London, two in Leeds, and one in Portsmouth.

The Bristol building has accommodation for 208 students, with rooms costing between £134.32 per week to £208.37 per week.

All students have been informed by letter and reminded of emergency fire protocol.

A Unite Students spokeswoman claimed: 'Safety is our first priority. Based on the advice of experts from the relevant local fire authorities and bearing in mind the wide range of fire prevention measures we have in place, we believe our buildings are safe for occupation.

'Over the long term, we're committed to making sure all our buildings are as safe as possible and will continue working with the government, local fire authorities and other fire safety experts, particularly as the next phase of the government's testing scheme progresses.

'Based on the outcome of this testing and the advice we are given, we will do everything necessary to ensure our buildings remain safe.'

The company said local fire authorities had inspected each of the affected properties and were happy for them to remain occupied, some pending minor adjustments.

These adjustments will be implemented 'immediately' and include moving the communal smoking area from the ground floor and carrying out regular patrols to make sure areas are clear of rubbish or potentially combustible items.

The company, which houses around 50,000 students across 28 UK cities, is awaiting results from the second phase of testing announced by the Department for Communities and Local Government.