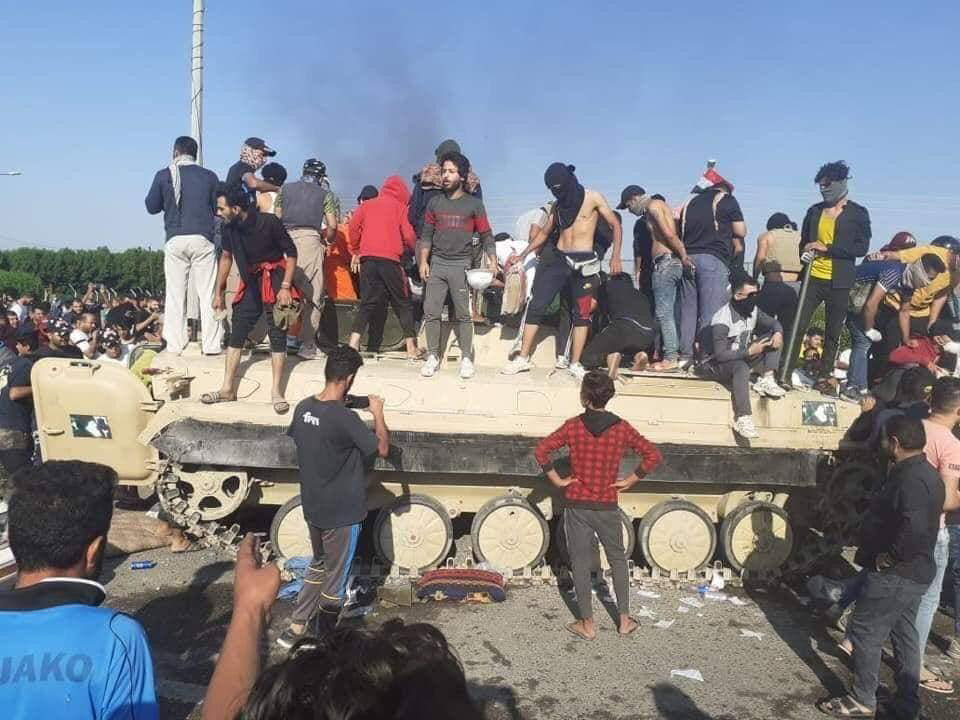 From daily News Line in Britain:
12th November 2019

At least four protesters were killed and scores injured in clashes with security forces in Baghdad on Saturday as demonstrations seriously escalated.

Three of the dead were shot, and the fourth died after being struck on the head with a tear gas canister.

Earlier on Saturday, security forces using live ammunition cleared demonstrators from three of the main bridges over the Tigris, pushing them further back from the Green Zone which has been a focal point of the unrest since it kicked off a month ago.

Security forces have fired teargas cartridges directly at protesters in Baghdad, Iraq on numerous occasions since protests resumed on October 25, 2019, killing at least 16, Human Rights Watch said on Sunday.

The dead are among the large number of protesters Iraqi forces have killed since daily protests began.

According to a November 5th United Nations Assistance Mission in Iraq (UNAMI) report, the nationwide death toll from October 25 through to November 4th has reached at least 97.

The Iraqi High Commission for Human Rights (IHCHR) tallied at least 105 dead and 5,655 injured during that same period.

'The high death toll includes people who took direct hits to the head from teargas cartridges, in numbers that suggest a gruesome pattern rather than isolated accidents,' said Sarah Leah Whitson, Middle East director at Human Rights Watch.

'With the death toll now at over 100, all of Iraq's global partners should be unequivocal in their condemnation.'

From October 25 to November 2nd, security forces' use of force in Baghdad alone led to the deaths of at least 64 people.

Human Rights Watch interviewed 24 people who have participated in protests in Baghdad, Karbala, Maysan, Nasriya and Basra.

The UNAMI report puts the death toll from teargas cartridges penetrating upper bodies at at least 16.

Human Rights Watch analysed Reuters footage taken on October 27 and 29, which it corroborated with witness interviews.

The footage shows security forces on Jumhuriya Bridge firing into the crowds at the foot of the bridge, which opens onto Tahrir Square.
This 31 October 2019 video says about itself:
Iraqi protesters pack Baghdad's Tahrir square

It happened shortly after another incident at the nearby Sinak Bridge. Witnesses say security forces shot at least one protester dead and injured dozens more.

Thousands of demonstrators are defying a curfew to continue anti-government protests. …

Al Jazeera's Laura Burdon-Manley has more.
The News Line article continues:
The October 27 clip shows one officer to the right firing teargas cartridges in an upward trajectory while on the left another officer is firing in a flat trajectory at crowds of protesters less than 100 metres away.

An analyst at the Omega Research Foundation, an independent research group focusing on the manufacture, trade, and use of military, security, and police equipment, reviewed this clip for Human Rights Watch and said that the man on the left is likely to be aiming directly at the people he is targeting and this carries a high risk of causing serious injury or death if teargas cartridges are being fired.

In the second clip, both people who are using launchers are firing on a flat trajectory. Again, this is an inappropriate and highly dangerous use of teargas cartridges.

The contrast in firing techniques raises the question of whether some forces are operating side-by-side under different orders, whether they all have orders to disperse the crowds in any way they see fit, or whether forces are disregarding their orders, Human Rights Watch said.

While relying increasingly on teargas in Baghdad, security forces are continuing to use live ammunition.

Between November 4th and 6th, live ammunition killed at least 14 more protesters in Baghdad.

Human Rights Watch reviewed three videos identifiably shot at Jumhuriya Bridge, and shared via social media between October 25 and November 5th, showing dead protesters with wounds to the head that do not appear to have been caused by teargas cartridges.

Allegations of excessive force outside of Baghdad also continue, particularly in Karbala, with witnesses, UNAMI, and media reports all saying that security forces killed at least 17 protesters between October 28 and November 3rd.

Since the protests began, senior government officials have forbidden medical staff from sharing information on the dead and injured with any sources outside the Health Ministry, and the ministry has been releasing minimal and incomplete information.

The IHCHR stopped updating its national tally as of October 31.

A doctor in a facility receiving the dead and wounded from the protests said he thought the actual death toll since October 25 was much higher than the one being reported by the IHCHR. A person with links to Iraq's morgues told Human Rights Watch she agreed with this assessment.

UNAMI recorded six abductions of protesters or volunteers providing assistance in the Baghdad demonstrations during the current wave of protests.

In one case, the sister of Saba Farhan Hameed, 36, who had been providing food, water, and first aid kits to protesters in Tahrir Square, said Hameed vanished around 11.15pm on November 2nd while en route home.

A colleague who had been on the phone with Hameed heard her scream and her phone went off. Her sister has since gone to several police stations to search for Hameed but has not been able to locate her.

The November 5th UNAMI report put the death toll from teargas cartridges to the head and chest at 16 at least.

The IHCHR reported that on October 25 alone, eight people were killed in this way.

Amnesty International reported that it had spoken to two protesters who had witnessed deaths on October 26 and 28 from teargas cartridges hitting people in the head.

Human Rights Watch interviewed a protester who said she saw another protester get hit in the head and killed by a teargas cartridge on October 29.

She said the victim was not trying to approach security forces at the time, but was just in the square, dancing and talking.

Another protester said he saw a man killed by a teargas cartridge that hit him in the head on October 28 on Jumhuriya Bridge.

Both witnesses said that they did not hear the security forces giving any oral warning before opening fire.

An activist shared a video clip that apparently showed officers opening fire with teargas cartridges on November 1st on protesters along the river, hitting a man in the head and killing him.

On November 1st, the IHCHR reported, security forces killed a woman with a teargas cartridge to her head on Jumhuriya Bridge.

Human Rights Watch has been unable to ascertain the rank and affiliation of the officers stationed on Jumhuriya Bridge since October 25 who were firing teargas.

An international military expert in Baghdad said that in his view, when the Iraqi security forces fired teargas cartridges directly at a crowd, it was 'not an issue of training, but a level of intention, showing that security forces are absolutely using these projectiles as a weapon as opposed to a dispersal mechanism.'

The standard practices and procedures used by security forces for riot control, as well as the instructions provided by manufacturers, dictate that tear gas cartridges should not be fired directly at people.

An international observer with crowd control experience in Baghdad also said that in her view the security forces were sometimes using teargas cartridges for the same purpose as they used live bullets.

On November 1st, two doctors separately told Human Rights Watch that on the evening of October 31, they received at least 10 protesters in their tent who showed a set of symptoms different from those experienced by earlier victims of teargas exposure.

They said the more recent victims went into spasms, shock, breathing difficulty, and paralysis for about 10 minutes before the symptoms started to pass.

They showed Human Rights Watch a video capturing the symptoms.

The IHCHR expressed concern about the apparent change in symptoms, though it remains unclear what may be causing them.

Reports emerged that on the night of October 28, armed forces opened fire on protesters in Karbala, killing between 14 and 18, according to several international media outlets that said they were able to verify the casualties with unnamed security sources, even though public officials denied the incident.

A local journalist there told Human Rights Watch that he saw security forces open fire on crowds of protesters that night and saw one protester he recognised dead from a gunshot wound in the morgue the next morning.

Human Rights Watch interviewed a doctor who was on his shift that night at the morgue and who said that he saw the bodies of seven protesters who had been shot and killed.

Another medical worker shared videos she said she filmed that night, showing four bodies.

UNAMI received what it viewed as credible allegations that security forces killed 18 protesters.

The Karbala doctor said he personally knows the family of one of the victims.

He said the family tried to retrieve their son's body, 'But the hospital refused to give it to them unless they signed a document that they would not bring a legal suit against the government or a tribal claim. The family refused to sign and so they still don't have the body back.'
This 9 November 2019 video is called Iraqi security forces use live gunfire to disperse protesters in Baghdad.
Lebanon's political and economic crisis has intensified as protests and strikes continue into their fifth week, encompassing wide layers of workers and poor farmers throughout the country, across the sectarian and national divide: here.
The death toll in the mass protests that have shaken Iraq for the last seven weeks has risen to over 330, with an estimated 15,000 wounded. Young Iraqis have continued to pour into the streets in defiance of fierce repression to press their demands for jobs, social equality and an end to the unspeakably corrupt political regime created by the US occupation that followed the criminal American invasion of 2003: here.
Iraqi Prime Minister Adel Abdul Mahdi declared on Friday that he will resign in the wake of the bloodiest day yet in two months of mass protests against social inequality, mass unemployment, the failure of basic public services and rampant corruption: here.
MOURNERS paid their respects to Iraqi communist poet Ali Najim al-Lami as he was laid to rest yesterday, a day after his assassination in Baghdad. The Iraqi Communist Party member was shot dead in the al-Shaab district as he made his way home from a protest in Tahrir Square. The Unions of Iraqi Writers condemned "this cowardly act", which took place as demonstrations against the Iraqi government continued, despite widespread repression. At least 450 people are believed to have been killed since protests began on October 1, with more than 20,000 injured, as security forces opened fire with live rounds: here.