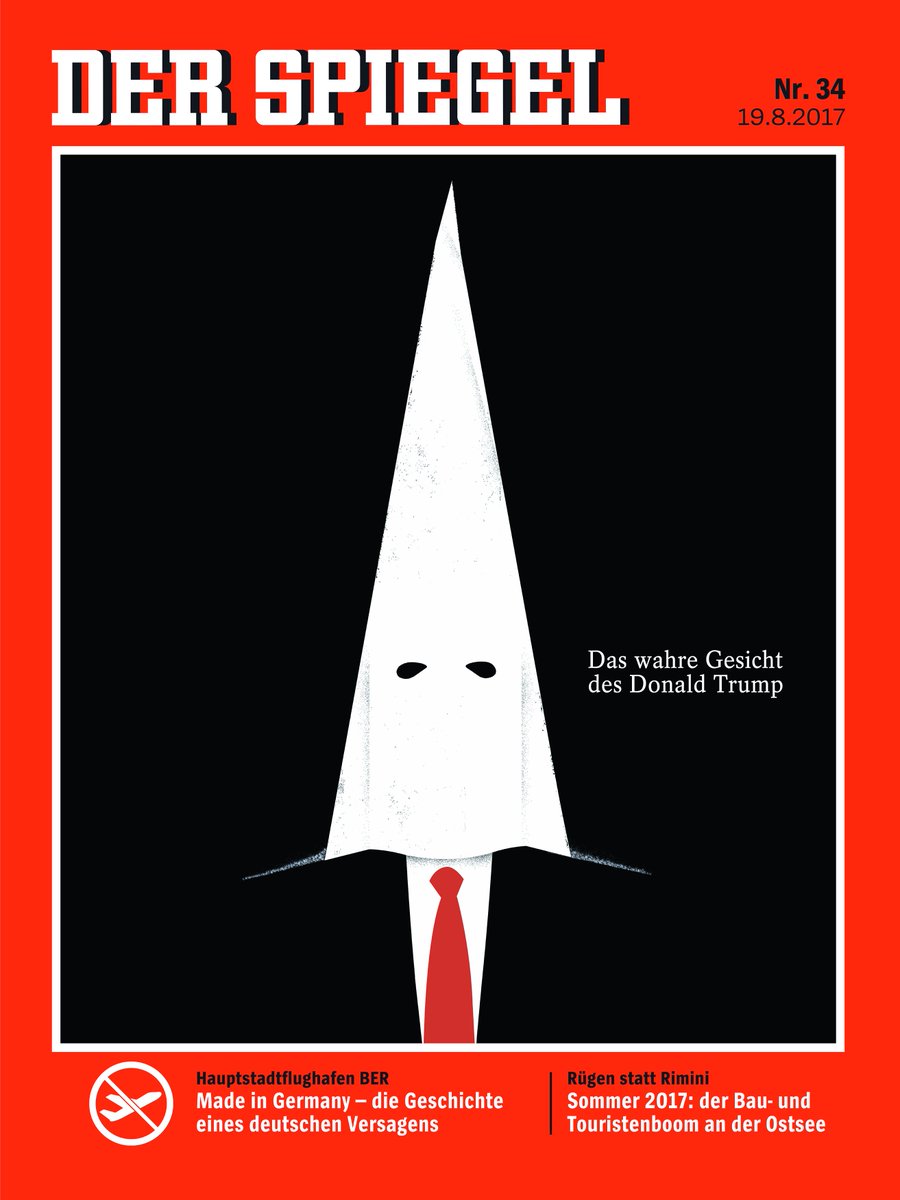 German weekly Der Spiegel writes on Twitter about their front page cartoon of this week's issue:
The true face of Donald Trump. The cover of our latest edition, again designed by @edelstudio.
The Ku Klux Klan hood cartoon reacts to Trump's comments about murderous racism in Charlottesville, Virginia, USA by the Ku Klux Klan and other white supremacists.
THE BURDEN OF HATE HuffPost examined the rise of modern white supremacy, from Charleston to Charlottesville. Follow our timeline and track hate. [HuffPost]
Singer Billy Joel wore a bright yellow Star of David on stage to let the president know that "Nazis are not good people".
Man Who Claimed He Was Stabbed After Being Mistaken For A Neo-Nazi Was Lying. He said a stranger came up to him and said "You one of them neo-Nazis?" before stabbing him: here.
ICAHN EXITS BEFORE CRITICAL NEW YORKER PIECE "Billionaire investor Carl Icahn, who resigned as President Donald Trump's special adviser on regulations on Friday, did so just hours before The New Yorker magazine published a critical article that detailed his potential conflict of interest and questioned whether he had acted illegally." [HuffPost]
A LOOK AT TRUMP'S CHIEF OF STAFF IN LIGHT OF STEVE BANNON'S DEPARTURE Three weeks into John Kelly's tenure, the question is: Has he gotten through to the president? [HuffPost]
INSIDE A WHITE SUPREMACIST MEETING IN TENNESSEE "Something old, something new, some neo-Nazis and some anti-fascists, too." [HuffPost]
Related articles