Today, the tournament for women starts at the Olympic golf links in Rio de Janeiro in Brasil.
Among the golfers is Ms Maha Haddioui from Morocco. As the photo at the top of this blog post shows, Maha Haddioui plays sometimes while wearing shorts. Like a Moroccan woman Olympic boxer did today as well. Though some people in Israel and in other countries would like to ban shorts.
Ms Haddoui plays today in Rio in a miniskirt.
Some people in Morocco (and in other countries) don't like miniskirts. However, recently a court in Morocco decided that women wearing miniskirts are not criminals.
That verdict in Morocco should be a signal for people, especially politicians, everywhere, to let women wear whatever they feel comfortable in.
However, Blairite prime minister Valls of France thinks differently about the right of women to choose their own clothes. He said today that the supports the bans in France of so called 'burkini' bathing gear.
Supposedly, full-body swimsuits are connected to terrorist violence.
That is moronic. Columnist Aleid Truijens writes today in Dutch daily De Volkskrant (print edition) that she personally hates 'burkini' swimwear; but that banning it is ridiculous: associating it with terrorism is as irrational as banning falafel food for some supposed association with terrorism. She also points out that less than a century ago, French and other European women used to be punished for 'indecency' for not wearing 'burkini'-like clothes on beaches.
Let us compare with Israel, where there are more violent attacks than in France. The Israeli government takes lots of 'anti-terrorism' measures. Many of them correctly criticized as spurious and/or oppressive. However, they don't include a 'burkini' ban. Swimming at beaches of Tel Aviv or elsewhere in full-body swimwear is legal. Women in Israel may wear 'burkinis' for being ultra-orthodox Islamic, ultra-orthodox Jewish, or other reasons, and nobody tries to stop them.
As for real reasons, Dutch NOS TV points out that there is an authoritarian tradition in France of dictating to women what they should wear. A tradition going back at least to the nineteenth century, when Algeria became a French colony. Thomas-Robert Bugeaud, marquis de la Piconnerie, duc d'Isly, general of the French occupation army in Algeria, complained in 1840 about Algerian women wearing too many clothes, which the French occupiers should change.
Let us go to the Rio Olympics again.
Two days ago, Dutch Ms Sharon van Rouwendaal won the gold medal in 10 kilometre swimming in Copacabana bay there.
What did she wear? What did the other Olympic swimmers there wear as well?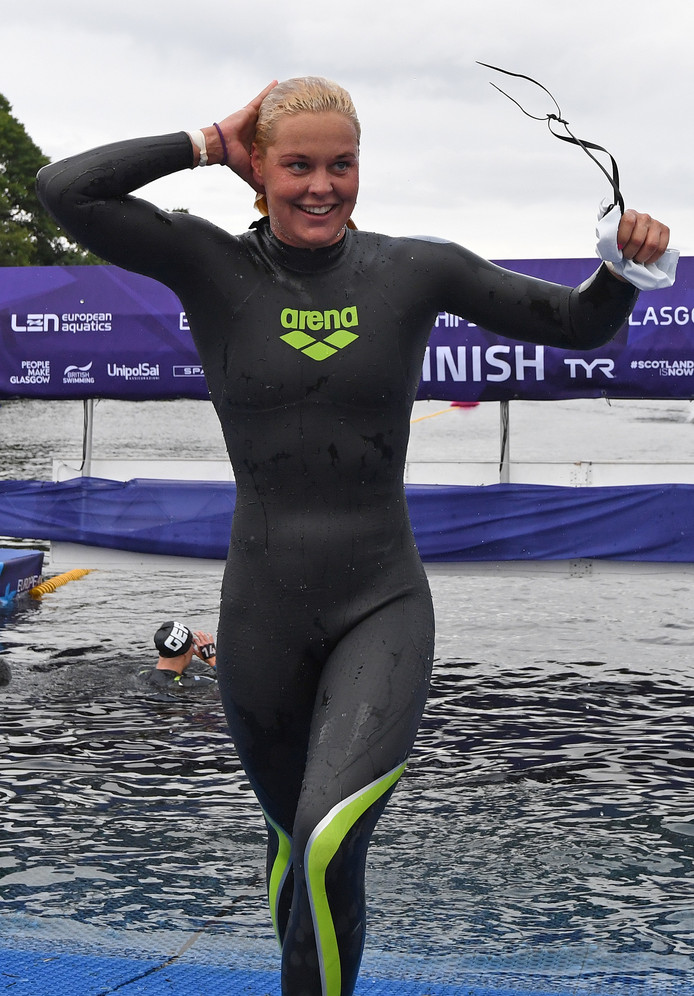 Ms Van Rouwendaal's swimsuit, like a 'burkini', covers her legs completely. Her swim cap usually covers her hair. Her arms are covered, like with some versions of the 'burkini' (in other versions of the 'burkini', arms are not covered, Dutch daily De Volkskrant, paper edition, writes today on page 3). The difference may be too subtle for bureaucratic right-wing policemen, like the ones who recently arrested 'burkini'-wearing women on the beach of Cannes. Sharon van Rouwendaal was born in the Netherlands, but trains in France. She should be careful that some stupid bureaucratic right-wing French policeman will not arrest her.
Still, the Rio games. The Egyptian women beach volleyball team wore 'burkinis' there. If the weather in Rio became cold, then other beach volleyball players also covered up more than when the weather was warm. Are these Olympic sports people 'terrorists', Mr Valls!? They are just as unconnected to terrorism as Moroccan golf player Maha Haddioui and other women wearing miniskirts are.
'Burkini conflict' in Corsica, pretext for burkini ban, was not about 'burkinis', but about beach space: here.
Britain, golf: Like every member of the LPGA Tour, Hull, the British No 1, recently received an email explaining that "as part of the new dress code, plunging neck lines, leggings and revealing skirts are now banned": here.
Related articles