This is another video about the Portland, Oregon, female house finch's appearance at the Bernie Sanders United States presidential election rally. Where one sees the bird at closer range than in the other videos in my earlier blog post.
This video says about itself:
Bird At Bernie Sanders Rally Feels The Bern

26 March 2016

Bernie Sanders was giving a speech at a rally when a bird flew on stage. Then onto his lectern. Cenk Uygur, Ana Kasparian, Jimmy Dore, and Jordan Chariton (TYT Politics), hosts of The Young Turks, break it down. Tell us what you think in the comment section below.

"Portland literally "put a bird on it" at a Bernie Sanders rally in Oregon … .

A bird landed on the Democratic presidential candidate's podium during his speech, and the crowd went wild.

"That bird really is a dove asking us for world peace," Sanders said.

The "put a bird on it" slogan was made famous by the sketch comedy show "Portlandia."

Read more here.
The Young Turks commenters mention that this songbird would have been received far less kindly at a Donald Trump rally, deducing from the habitual violence against interlopers at Trump meetings (and, one may say, the enmity between Trump and birds; especially between Trump and bald eagles).
The name of the bird at the Sanders rally is house finch in English. In Dutch, it is 'Mexicaanse roodmus'; literally, Mexican red sparrow. Their scientific name, Haemorhous mexicanus, means roughly the same. A name for it in Spanish is pinzón mexicano, Mexican finch.
The 'Mexican' provides another reason why this songbird would have been very unwelcome to Donald Trump. The 'red' is more ambiguous. Red is the colour of Trump's United States Republican Party. But red is also the colour of international socialism; so, an unwelcome reference to Trump's rival Sanders.
Bernie Sanders' Bird Shows Us How Great Our Politics Can Be. As Donald Trump gives us the bird, the Bern brings us a dove: here.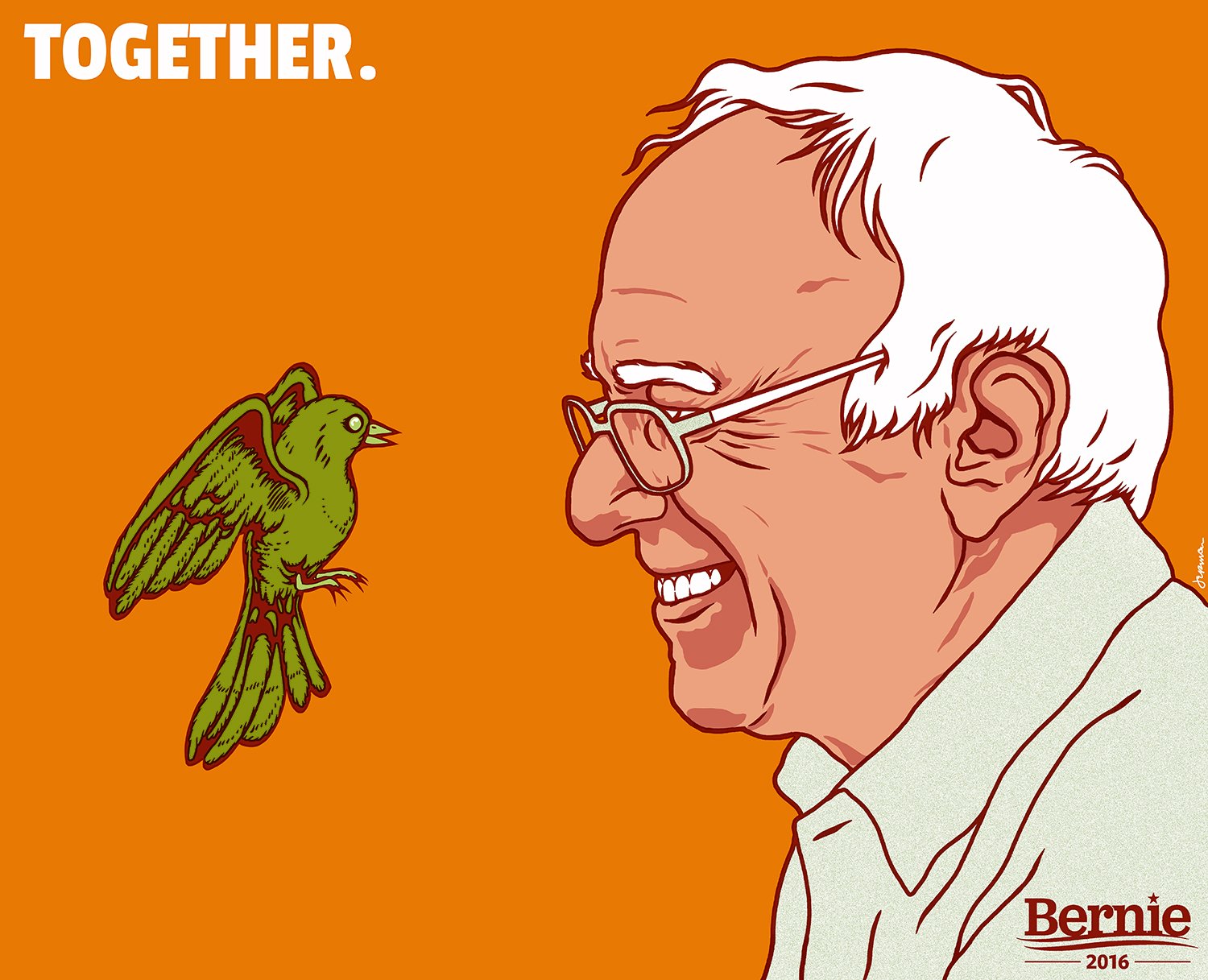 Today, there is news of big victories of Bernie Sanders over Hillary Clinton in Democratic party caucuses in Alaska, Washington state and Hawaii.
The Huffington Post in the USA reports that in Alaska Sanders won 81,6% of the vote with victories in all counties.
In Hawaii (most votes counted, but not all yet), Sanders had 70,6% of the vote. And in Washington state 72,7%; with victories in all counties.
Related articles