This 6 December 2019 video from the USA says about itself:
Federal agents are investigating the motive behind a shooting at a US naval base in Florida. A Saudi national who was being trained there opened fire in a classroom and killed three people. He was one of nearly 200 foreign nationals on a training course.
From the New York Times in the USA, 6 December 2019:
A member of the Saudi Air Force armed with a handgun fatally shot three people and injured eight others on Friday morning during a bloody rampage in a classroom building at the prestigious Naval Air Station in Pensacola, Fla., where he was training to become a pilot.
That Saudi military officer was training there to become a pilot in the bloody war of the Saudi regime on the people of Yemen. A war supported by President Trump of the USA, President Macron of France, Prime Minister Boris Johnson of Britain, etc.
Apparently, this Saudi lieutenant was so focused on killing people in Yemen that he already started practicing killing people in the USA.
The authorities, led by the F.B.I., were investigating to determine the gunman's motive and whether the shooting was an act of terrorism.
If mass killers are white and non-Muslim, then often the NATO countries establishment claims that they are not terrorists, just 'mentally ill' 'lone wolves'. While, if a killer is a Muslim, then one often hears instantly that he is a terrorist, part of a Muslim worldwide terrorist conspiracy, never mind that he may be obviously mentally ill, a drug addict, etc. In this case, though that Saudi military officer very probably was a Muslim, the authorities do not call him a terrorist instantly. Because of the warm friendship between Donald Trump and the Saudi bone saw killer crown prince?
By Bill Van Auken in the USA, 7 December 2019:
An attack carried out by a Saudi air force pilot early Friday morning at the US Navy's sprawling Pensacola, Florida Naval Air Station left at least four dead, including the shooter, and another eight wounded. …

He was identified by NBC News as Second Lieutenant Mohammed Saeed Alshamrani. …

The mass shooting at the base in Pensacola was the second such incident at a US Navy facility in the space of barely 48 hours. On Wednesday, a 22-year-old sailor from Texas, identified as Gabriel Antonio Romero, opened fire at Pearl Harbor's naval shipyard in Hawaii, killing two civilian workers and wounding a third, before shooting himself to death. …

US President Donald Trump struck a decidedly different tone, declining to answer if the attack was linked to terrorism. Instead, he cited a condolence call from Saudi Arabia's King Salman. …

Given Trump's demonization of Muslims, it is hard to imagine such a response if the shooter had come from any other country in the Middle East than Saudi Arabia, whose monarchical dictatorship serves a lynchpin for US imperialist policy in the region and, in particular, for its drive for regime change in Iran.

With its vast oil wealth, the Saudi monarchy has also acted in US interest in stabilizing the global oil market, while its military contracts have been the source of multi-billion-dollar profits for Raytheon, Lockheed Martin and other US arms manufacturers. The shooting in Pensacola also came just one day after Saudi Arabia's state-owned oil monopoly ARAMCO staged the biggest initial public offering ever, with some $25.6 billion going for shares in the company.

Trump's reaction to the Pensacola shooting was in line with his response to the grisly October 2018 assassination of dissident journalist and Washington Post columnist Jamal Khashoggi at the Saudi consulate in Istanbul, Turkey. Then he cited $450 billion in arms contracts, Saudi collaboration against Iran and its having been "very responsive to my requests to keep oil prices at reasonable levels" as justification for turning a blind eye to the international crime. …

According to US Defense Department reports, some 1,753 Saudi military personnel were trained at US military facilities in 2018 at a cost of $120,903,786. For fiscal year 2019, it was projected that 3,150 Saudi military personnel would receive training in the US.

Friday's shooting is not the first time that an act of terrorism by a Saudi national has been linked to the Pensacola Naval Air Base.

In the immediate aftermath of the September 11, 2001 attacks on New York City and Washington, in which 15 of the 19 men involved in the hijacking of three passenger planes were Saudis, a report in Newsweek magazine stated that Saeed Alghamdi was one of three hijackers who had taken flight training at the Pensacola Navy Air Station. It was also reported that three of the hijackers had listed Pensacola Naval Air Station as their address on their Florida driver's licenses.

The Pentagon responded by stating that, while the hijackers had "similar names to foreign alumni of US military courses", discrepancies in birth dates and other biographical information indicated that they were not the same people. A public affairs officer at Pensacola said that the base had trained more than 1,600 people with the first name Saeed, spelled in various ways, and more than 200 with the surname Alghamdi.

The Saudi pilots being trained at Pensacola and other US bases have been deployed for the most part in the near-genocidal, four-year-old Saudi war against Yemen. The US-backed war has created the worst humanitarian crisis on the planet in what was already the poorest country in the Arab world. Air strikes and other combat operations carried out by Saudi-led coalition forces with US support have caused the deaths of some 80,000 people.
The New York Times report continues:
A United States military official identified the suspect, who was killed by a sheriff's deputy during the attack, as Second Lt. Mohammed Saeed Alshamrani. He was one of hundreds of military trainees at the base, which is considered the home of naval aviation.

Six other Saudi nationals were detained for questioning near the scene of the shooting, including three who were seen filming the entire incident, according to a person briefed on the initial stages of the investigation.

The gunman was using a locally purchased Glock 45 9-millimeter handgun with an extended magazine and had four to six other magazines in his possession when he was taken down by a sheriff's deputy, the person said.

The shooting, the second at a Navy base this week, sent service members scrambling to lock the doors of their barracks or flee the base altogether.

The attack by a foreign national inside an American military installation raised questions about the vetting process for international students who are cleared by the Department of Defense and is likely to complicate military cooperation between the United States and Saudi Arabia.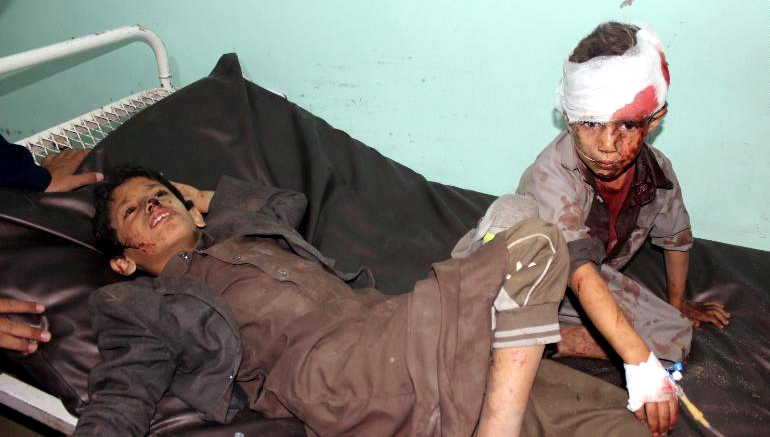 This photo shows child victims of the Saudi bombing war on Yemen.
From daily News Line in Britain, 5 December 2019:
Amnesty International has raised the alarm about the dire situation of millions of people with disabilities in Yemen, saying they are hit the hardest by a years-long Saudi-led military campaign against the impoverished state.

In a report, entitled 'Excluded: Living with disabilities in Yemen's armed conflict' and published on Tuesday, the London-based rights group called on international donors to address the suffering of at least 4.5 million disabled Yemenis amid the bloody Saudi-led war.

The report was published on Tuesday as the world marked the International Day of Disabled Persons.

'Yemen's war has been characterised by unlawful bombings, displacement and a dearth of basic services, leaving many struggling to survive. The humanitarian response is overstretched, but people with disabilities — who are already among those most at risk in armed conflict — should not face even greater challenges in accessing essential aid,' stated Rawya Rageh, senior Crisis Advisor at Amnesty International.

'International donors, the United Nations, and humanitarian organisations working with the Yemeni authorities must do more to overcome the barriers that prevent people with disabilities from meeting even their most basic needs,' she added.

The report is based on a six-month research, including visits to three Southern Yemeni provinces and interviews with nearly 100 people.

Many of those interviewed said they undertook exhausting displacement journeys without wheelchairs, crutches or other assistive devices, adding that such equipment is in very short supply.

Migdad Ali Abdullah, an 18-year-old with limited mobility and difficulties in communicating, described as 'torturous' his trip alongside his family from Hudaydah to Lahij in early 2018.

'I was transferred from bus to bus — in total four buses… My neighbour carried me,' he said.

Some of the disabled Yemenis also told Amnesty International that they had been left behind as their families fled.

Meanwhile, families announced that they had sold belongings or delayed rent to prioritise costs associated with supporting a loved one with a disability.

'I sold the furniture in my house and took her to Sana'a to get her treatment there. … Four months later, I could see she was not moving or laughing or playing. I took her up (to Sana'a) again.… The other day I even asked my friend about selling my kidney. I would sell my kidney and buy her a year's worth of medication, the shoes she needs and everything else,' noted the mother of a three-year-old girl with epilepsy and spinal muscular atrophy
.
According to the report, there is only one prosthetic centre in Southern Yemen, which has to send some types of prosthetics abroad for repairs.

Rasha Mohamed, Yemen Researcher at Amnesty International, urged donors to provide the disabled Yemenis with more and better-suited assistive devices.

'People with disabilities worldwide rightly demand that no decisions be made 'about us, without us' – and Yemen is no exception. International donors must step up to fully fund humanitarian pledges and do a better job of ensuring that people with disabilities in Yemen are not left behind,' she added.

Saudi Arabia and a coalition of its vassal states launched the war on Yemen in March 2015 in an attempt to reinstall a Riyadh-backed former regime.

The Western-backed military aggression, coupled with a naval blockade, has plunged Yemen into 'the world's worst humanitarian crisis', according to the United Nations.

The US-based Armed Conflict Location and Event Data Project (ACLED), a nonprofit conflict-research organisation, estimates that the Saudi war has claimed more than 100,000 lives so far.