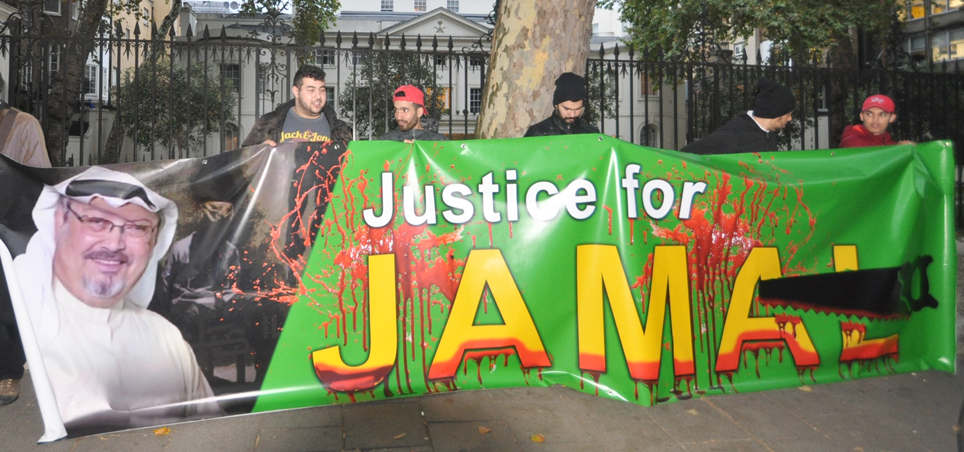 From daily News Line in Britain:
NUJ demand perpetrators of Khashoggi killing are 'put behind bars'

9th October 2019

ONE year on from the gruesome murder of Saudi journalist Jamal Khashoggi, who entered the Saudi embassy in Istanbul, Turkey but never came out again, the National Union of Journalists (NUJ) has called for justice.

On Tuesday 2nd October 2018 at 13:14, dissident Saudi journalist Jamal Khashoggi entered the Saudi consulate in Istanbul but that was the last that was seen of him.

It is held that he was brutally murdered by a Saudi hit squad and his body dismembered.

The union said: 'The National Union of Journalists (NUJ) in the UK and Ireland, and the International Federation of Journalists (IFJ) were quick to condemn the crime and today, one year on, we renew calls on the international community to launch an independent investigation to ensure all the intellectual and material perpetrators are put behind bars.

'Twelve months after Khashoggi's killing, there are plenty of unanswered questions. Where is his body? Who ordered his killing? Who sent up to 15 Saudi men – a hit squad including a forensic expert – to Istanbul? Why did the Saudi authorities, including the Crown Prince Mohammed bin Salman, consistently deny any knowledge of Khashoggi's fate and only acknowledged his murder a few weeks after?

'No light has been shed on any of these questions. On the contrary, the obscurantism and secrecy of the Saudi inquiry highlights even more the need for a transparent and independent international investigation into the case. There must be no impunity.

'Since the beginning, the Saudi authorities have given contradictory explanations of what happened. First, they claimed that Khashoggi left the consulate one hour after his arrival. Then they admitted his death saying he was killed by "rogue individuals" who exceeded their responsibilities.

'So far, the Saudi justice system has arrested 18 people
as fall guys for the crown prince
and five senior officials were fired as part of the investigation. On 3rd January, 11 individuals were sent to trial accused of being connected with the killing. However, the trial took place behind closed doors and details of the defendants' identities have not been made public.

'In addition to the secrecy and lack of transparency of the Saudi judicial proceedings, authorities are trying to buy the Khashoggi family's silence and cover up the truth, The Washington Post has reported.

'Considering the evident efforts of the Saudi authorities to prevent justice from being done, the IFJ has repeatedly called for an independent international investigation to shed light on this gruesome murder.'

Anthony Bellanger, IFJ general secretary, said: 'It's been a year since Khashoggi's murder and there's still no justice for those who ordered and executed his murder. We will continue demanding an international and independent investigation on this crime and rejecting any kind of political cover-up of it.

'If the perpetrators are not held to account, oppressive governments of the world will see it as a green light to commit crimes against journalists with impunity. We won't allow it.'

According to the IFJ, 95 journalists were killed in 2018 but only one out of 10 killings of journalists is ever resolved.