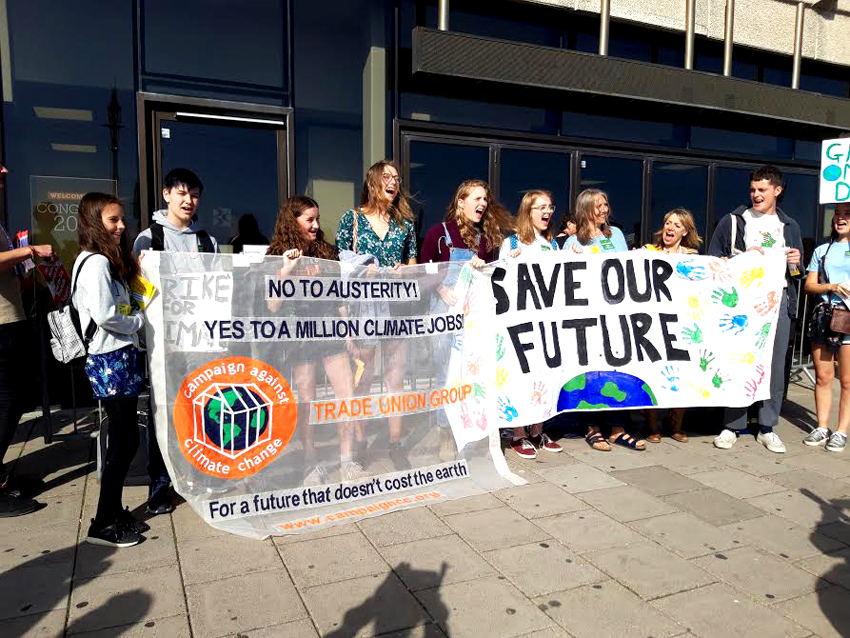 From daily News Line in Britain:
TUC backs September 20 global school strike – workers vote to join strike for 30 minutes

13th September 2019

THE TRADES Union Congress (TUC) has backed the global school strike on 20 September and pledged to support the efforts of school youth striking for climate justice.

They turned to the working class for support for their struggle, lobbying the first day of the annual Congress in Brighton last Sunday.

TUC Delegates on Tuesday backed a motion that warns 'the future of the planet is at risk if we don't force governments to cut emissions.'

The motion also called on workers to back the 20 September global walkouts and lend 30 minutes of their day to show support for school children taking part in the action. The TUC has said it also wanted to see unions playing a key role in a 'just transition' to a low-carbon greener economy.

The University and College Union (UCU) – who brought the original climate motion to the TUC – said that tackling climate change will be central to the development of the British economy in the 21st century and an essential way of improving the lives of working people.

The union is writing to Universities UK and the Association of Colleges seeking their support to allow university and college staff to participate in the actions on 20 September.

Local UCU branches are also asking their employers to back the action and some, such as the University of Bristol, have already signed up.

The TUC support comes as new analysis by a group led by former UN Secretary-General Ban Ki-Moon says the planet urgently needs to be made more climate change resilient, and richer countries need to invest in adaptation measures that will benefit the world.

UCU general secretary Jo Grady said: 'The trade union movement is sending a clear message today that it is up to the challenge of fighting the climate crisis and building a stronger and greener economy. Climate change is a trade union issue and our planet's future is at risk.

'The work done by Greta Thunberg and school students around the world has been inspirational and now it's time for the rest of us to catch up.'

Jake Woodier from the UK Student Climate Network said: 'We're delighted to see the trade union movement making big strides forward in its response to the climate crisis.

'We're calling for ambitious and bold solutions to the crisis like a Green New Deal to create millions of well-paid, secure and unionised jobs, massive investment in marginalised communities and a just transition for those in today's high emissions sectors. Working together, we can secure a just and prosperous world for all.'

Meanwhile, the UCU's Jo Grady said on Wednesday: 'The reintroduction of post-study work visas for international students is long overdue.'

She was responding to the Home Office announcement that International students will be allowed to stay in the UK for two years after graduation to find a job.

The move reverses a decision made in 2012 by then-Home Secretary Theresa May that forced overseas students to leave four months after finishing a degree.

'UCU and others across the sector have been calling for this for years,' Grady continued. 'Scrapping these visas in 2012 did untold damage to our international reputation and potentially deterred students from coming to study and work in the UK. The government must ensure that the UK remains an attractive place for people from across the globe to study and work.'

Meanwhile, the union said yesterday that action is needed to reduce the use of fixed-term contracts for researchers and to ensure they can access professional development opportunities.

Responding to the publication of a revised Researcher Development Concordat, the union said research staff should be employed on open-ended, rather than fixed-term contracts. Two-thirds (68%) of researchers are on fixed-term contracts, while many others on 'open-ended' contracts have a fixed-funding end date which leaves them at risk of dismissal.

The union said the huge levels of casualisation in universities is bad for staff and bad for students. A recent union report revealed the toll that a lack of job security has on staff with seven-in-10 saying insecure contracts had damaged their mental health and eight-in-10 researchers said their work had been negatively affected by being on a short-term contract.

The revised Concordat states that institutions must seek to improve job security for researchers, 'through more effective redeployment processes and greater use of open ended contracts'.

But the union said universities should be obliged to work with trade unions to reduce the use of fixed-term contracts, and it was disappointed that UCU-backed proposals to allow 20% of a researcher's time for professional development have been left out of the revised Concordat, which instead calls for 10 days pro rata, per year.

UCU head of higher education Paul Bridge said: 'Whilst we welcome the new Concordat as an improvement on previous versions, we feel an opportunity has been missed to tackle job insecurity and the continued use of fixed-term contracts.

The endemic use of precarious contracts in universities is damaging for staff and students and the overwhelming majority of researchers complain that their work has been impacted by being on short-term contracts. Institutions should be obliged to work with trade unions to reduce the use of fixed-term contracts.

'We are disappointed that the recommendations call for only 10 days of professional development time for researchers, instead of 20% as originally proposed. Professional development is an essential part of a researcher's career and benefits staff, students and the sector as a whole.'

As the new University year begins, fresh students who are studying at Bristol University have been told that they will have to live in Wales and commute everyday as there's no space in Bristol halls!

Students getting a place at the University of Bristol, and immediately looking forward to living in a vibrant city which regularly tops lists in national newspapers as one of the best places to live in Britain, were told the shocking news just weeks before they were due to start their courses.

A number of students arriving at the university later this month will have to unpack their bags in an entirely different country.

Due to an oversubscription of the university's city-based residences some students are being placed in properties 30 miles away in Newport in South Wales.

Compared to Bristol's population of 535,900 and lively student nightlife, Newport has a population of 145,700 and only a handful of late bars and nightclubs.

The campus in Newport is also almost an hour by car or public transport from the university's main campus.

Other students affected by the situation – described as 'extremely disappointing' by the Students' Union – have also been offered places at Bristol Veterinary School in Langford in North Somerset, 14 miles away.

George Bemrose, the University of Bristol's Student Unions' student living officer, said: 'It's extremely disappointing to see that a number of students are unable to be housed by the university and are facing having to find accommodation so close to the start of term.

'Each year there are a few students who do not get into university halls, but this year the number is much larger.

'Throughout the last few weeks I have been chatting with a number of the students in this situation and assisting where I can.

'From now onwards, I will be working closely with the university to make sure these students receive support in finding alternative accommodation.'
Millions of students, youth and their supporters in more than 150 countries will take part this Friday in a worldwide Global Climate Strike demanding immediate and far-reaching actions to abate and reverse climate change. The internationally coordinated protests are being organized in response to the growing realization among young people that the governments of the world are incapable of taking any significant measures to halt global warming: here.