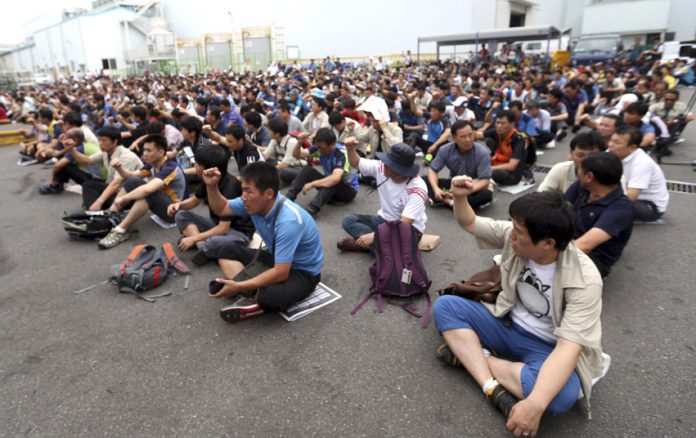 From daily News Line in Britain:
Thursday, 5 July 2018

Hyundai workers vote for strike action

Korean workers are rising up in militant struggles, with unions at the motoring giant Hyundai voting overwhelmingly to strike for a 5.3% pay increase. The Korean Confederation of Trade Unions (KCTU) organised a national workers' rally for the abolition of irregular jobs on Saturday 30th June.

Police spying on trade unions at the Samsung IT giant has also come under judicial investigation and the strike at Oracle Systems Korea, the Korean unit of the US-based IT giant Oracle Corp, is approaching its 50th day.

About 80,000 workers participated in last Saturday's rally under the banner of: 'The abrogation of the revised Minimum Wage Act and the declaration of a general strike and all-out struggle in the second half of the year'. The rally was the biggest one since President Moon Jae-in took office in May 2017.

The demonstrators denounced the slow and lukewarm attitude of the Moon Jae-in administration in the conversion policy of irregular jobs into permanent positions. KCTU president Kim Myung-hwan told the rally: 'The pledges made at the Square ("candlelight revolution") have faded away and our waiting (for a society where labour is respected) also came to an end.'

Hyundai shares slid to eight-year lows after the union said on Monday that nearly three-quarters of its 44,782 voters voted in favour of the strike action. 'We have not been able to narrow differences in key issues, making it difficult to reach a preliminary (wage) deal easily', the union said in a statement.

Union negotiators later on Tuesday decided to hold off on starting the strike until July 10, when they will discuss a strike plan again, a union spokesman said. The union walked out of the wage negotiations in late June, after Hyundai Motor proposed wage increases and bonuses which the union said fell short of expectations. The union is demanding a 5.3% increase in the basic monthly wage and it also wants performance pay totalling 30 per cent of the automaker's 2017 net profit.

The demands come at a time when South Korea's vehicle production fell 3% in 2017, its lowest level since the 2009 global economic downturn. Hyundai shares fell 3.2% on Tuesday to their lowest level since April 2010, before ending down 1.2% in a flat wider market. Hyundai Motor executives said over the weekend that recently-announced 25% US tariffs 'would be devastating'.

Prosecutors raided the intelligence office of the National Police Agency last Wednesday as part of a probe into allegations that a high ranking officer worked with Samsung Electronics to hamper trade union activities at one of its subsidiaries.

The Seoul Central District Prosecutors' Office sent investigators to search for evidence related to the officer's involvement in the alleged sabotaging. The officer, identified by his family name, Kim, who has long been in charge of gathering labour-related information, is suspected of tipping Samsung Electronics Service officials off about trade union movements among its employees.

Prosecutors suspect Kim was bribed by Samsung's after-sales service unit in return for such information. Prosecutors are widening the probe into the alleged systematic sabotaging of labour union activities by Samsung as there is suspicion that some ranking public officials were involved.

They raided Samsung Electronics' headquarters in Suwon on Sunday and arrested a former aide to the labour minister early last Wednesday for being involved in the alleged scheme.

When Jo Jang-hee, a restaurant manager at a Samsung amusement park, tried to set up a trade union in 2011, human resources managers gathered him and some 60 colleagues into a basement seminar room. Showing pictures of Detroit's foreclosed houses and rusted car plants on a big screen, the officials had a message to deliver – unions were to blame for the downfall of the US car industry.

'Everyone: Decide whether it is better to have a union or not', one of officials said, according to a transcript provided by Jo, a 22-year veteran at Samsung's Everland theme park. 'Then managers offered to give me anything I want – better pay, promotion, you name it', Jo said.

Jo says he was fired days after he went on to start a union in July that year. Samsung said his repeated violation of company rules was the reason for the layoff, according to court documents.

But five years later, the Supreme Court ruled the sacking was retaliation against Jo's union activities and the company reinstated him.

'The company has respected the Supreme Court's ruling that the layoff was excessive although some grounds of its disciplinary action were accepted and the company has completed measures such as reinstatement', Samsung C&T Corp, the unit that runs Everland, said in a statement. It denied Jo's claim that he was offered better pay or a promotion.

Samsung's union tactics are now being investigated after prosecutors obtained company documents in April allegedly showing another Samsung Electronics unit discriminated against subcontracted workers for joining a union. Samsung Electronics, the flagship company of the sprawling group, said in a statement that its repair unit was fully cooperating with the investigation.

The firm declined to comment further as the probe was still underway.

The scrutiny is the latest setback for Samsung, which has faced allegations of bribery and corruption in addition to its activities against unions. Some Samsung employees say there is too much risk in joining a union. Some evidence in Jo's case showed Samsung was countering attempts to organise a trade union.

A document, which the court said was written by Samsung Group, details plans for managers to profile potential 'troublemakers' who are likely to try to set up unions.

Samsung claimed the document should be excluded from evidence because it did not specify the author, but courts overruled that argument. Once such workers were identified, managers were advised to make them 'allies' by offering a promotion or pay rises, or prepare severance packages if they violated company rules or performance was poor.

Samsung also set up 'paper unions' led by pro-management employees, before independent unions could be established, according to the document tendered in court.

Until 2011, only one union was allowed for each company under Korean law. Park Jong-tae, a former Samsung Electronics employee, recalled a session where a human resources official claimed Hyundai Motors powerful union was on strike for more than half of every year and was trying to bring down the company.

'The message was – union activity is bad and globally successful companies don't have unions', Park said. Samsung Electronics said around 2010 it provided education about major companies' organisational cultures, including some content on labour relations.

In a rare move, Samsung Electronics Service in April pledged to turn about 8,000 subcontracted workers into regular staff, and recognise their 1,000-strong union, in the wake of prosecutors' probe into the unit. The deal has yet to be finalised. The union of Oracle Systems Korea, the Korean unit of the US-based IT giant Oracle Corp., has been on strike for the longest number of days in the history of foreign IT companies operating in South Korea, in protest against low wages and too much pressure on individual performance.

The workers have been striking since May 16 arguing that their basic salary has been frozen for the last decade and they are under too much stress to achieve excessive targets as almost half of their payment is tied to individual performance. Among the company's 1,200 workers, 500 are unionised. The union said that they failed to reach an agreement with the management despite several negotiations.

The workers recently filed for a petition with the Ministry of Employment and Labour for investigation into unfair labour practices. Oracle has been dominating the nation's corporate database market with almost 90% of Korean firms using Oracle products.

The company has been in a legal battle after the National Tax Service slapped a corporate tax of 315.7 billion won ($281 million) in 2016 for alleged tax evasion. The tax authority suspected the company avoided corporate taxes of about two trillion won through a tax haven in Ireland.
South Korean unions angry at the death of a young worker: here.