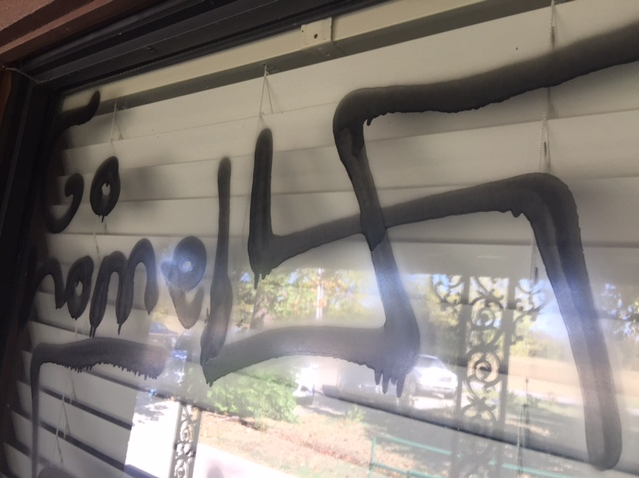 From daily The Independent in Britain:
Mosque pay fines of man who graffitied its doors with swastika to keep him out of jail

He could have faced six years in jail if he failed to pay the fine

Clark Mindock, New York

Tuesday 2 January 2018 16:34 GMT

An American mosque took the road of mercy over the holidays, and helped keep a man who once vandalized their place of worship with a swastika from facing potential jail time over missed fines.

The Masjid Al Salam mosque in Fort Smith, Alabama, filled out a check for $1,700 to cover what was left of the fines picked up by Abraham Davis after he painted the symbol of hate and the message "go home" on the front of their building in October 2016.

Davis had been convicted of a felony for the vandalism, which required community service and a hefty fine.

"We heard that he was having financial problems," Louay Nassri, the president of Al Salam, told NBC. "Now if you don't pay your fine, that's an automatic six years in jail. Well, we didn't want him to go to jail for six years."

The funds were originally allocated for renovations to the mosque, but Mr Nassri said that he believes paying the fines was a better choice.

"It shouldn't be hanging over him for the rest of his life," Mr Nassri said. " We knew this person did a bad thing, and there has to be consequences for their actions. But we didn't have any ill feelings toward anybody."

Davis was convicted of the 2016 crime after a security camera for the mosque caught him in the act. Mr Nassri said that forgiving Davis for the crime just felt natural after they received an apology for the action.

"We thought this was the right thing to do," Mr Nassri said. "We thought if someone does something bad and came and apologized, you just forgive them. That should be the natural thing. We had no idea that this forgiveness would be an international story."

The United States saw a spike in hate crimes in 2016, as the nation grappled with a contentious presidential campaign that frequently cast Muslims as dangerous threats to America. Data collected by the Center for the Study of Hate and Extremism at California State University in San Bernardino found that hate crimes in the US rose by about 5 per cent from 2015 to 2016.
Related articles