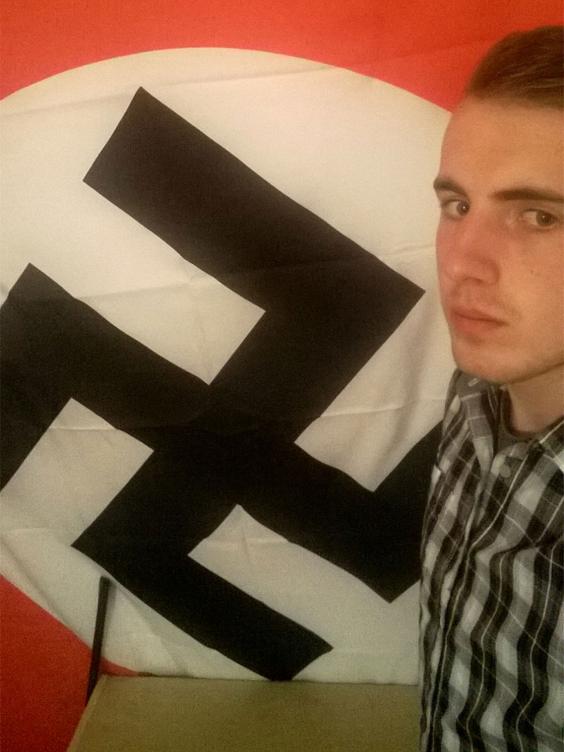 From daily The Independent in Britain today:
Ethan Stables trial: Neo-Nazi convicted of planning terror attack at gay pride event

Police found machete and axe at 20-year-old's home after he said he was 'going to war'

Lizzie Dearden, Home Affairs Correspondent

A neo-Nazi has been convicted of planning a terror attack at a gay pride event after posting violent homophobic rants online.

Armed police stopped Ethan Stables as he was travelling to the celebration at a pub in Cumbria, finding weapons including a machete and axe at his home.

They had been tipped off by a member of a far-right Facebook group who saw the unemployed 20-year-old post a message saying he was "going to war" and planned to "slaughter every single one of the gay bastards".

Leeds Crown Court was shown footage of Stables saying "gays look nicer on fire" and burning a rainbow flag before his arrest on 23 June.

Prosecutor Jonathan Sandiford said Stables espoused homophobic, racist and Nazi views online, taking a selfie with a swastika flag hanging on his bedroom wall.

The defendant searched online for information on joining neo-Nazi groups Combat 18 and National Action – a banned terrorist organisation – while researching how to prepare for a "race war".

The jury was told Stables, who was expelled from school after putting another pupil in a headlock, was interested in the Columbine High School massacre and viewed graphic footage of terror attacks, torture, massacres, executions and extreme violence.

Evidence presented in court showed he made a series of Google searches on a prospective attack, including one reading "I want to go on a killing spree" and another on "how to be a terrorist".

Police examination of his devices showed he also searched "how to make chemical poison", "what is prison like for a murderer" and "do you get haircuts in prison".

Stables had also researched how to make a bomb at home, with investigators finding a collection of match heads in his flat.

While swapping messages with fellow extremists, he blamed the fact that he was unemployed on "faggots, n******, spastics" and the Equalities Act.

Stables also expressed hatred of Muslims and Jews, claiming in a WhatApp message a month before his arrest: "My country is being raped. I might just become a skinhead and kill people." …

Prosecutors said he became aware the venue was to host a LGBT+ pride night and travelled there to "take photographs [and do] reconnaissance of that public house with a view to launching an attack later that evening". …

His mother told the court he became radicalised after a trip to Germany to see a young woman, while Stables said he had been "brainwashed" by right-wing extremists he met while living in hostels.

The verdict came after another far-right extremist, Darren Osborne, was jailed for life for launching the Finsbury Park terror attack.

The father-of-four killed one man and injured several others when he ploughed a van into Muslim worshippers leaving Ramadan prayers in June.
USA: Growing number of killings tied to young white supremacists. A new report shines a light on the transition from online hate to real world ramifications: here.
Related articles