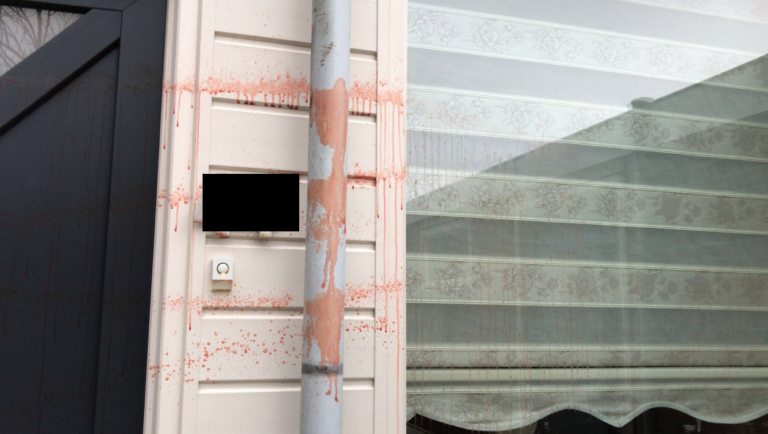 Translated from the site De Orkaan in Zaanstad, the Netherlands:
January 10, 2018

Threatening letter with swastika and 'blood' splashes

When Aysel and her husband arrived home late in De Weer neighbourhood in Zaandam, there was still nothing to see. They both had worked an evening shift and her husband goes to bed, Aysel stays up for a while.

When Aysel also wanted to sleep, she walked to the front door to lock it. Through the window she sees red splashes. She thinks that her husband may have spilled something and opens the door.

She is shocked: it is everywhere. On the door, on the rain pipe and on the kitchen window. She thinks it's blood. There is a note on the door. It has a swastika with the text:

Aysel takes the note from the door, wakes up her husband and calls the police. The police arrive quickly, and then they see that there is also something written on the back:

"If you will visit the mosque once more, you are going to be killed".

The 'blood' turned out to be red paint.

There is fear today, one day later, for Aysel, her husband and her children. But they are also surprised. They have lived there for years, and have never felt discriminated against. A month or two ago there was spitting on their front door, but they did not make much of it. Today Aysel heard from a Turkish woman neighbour that they too had a letter.
Related articles