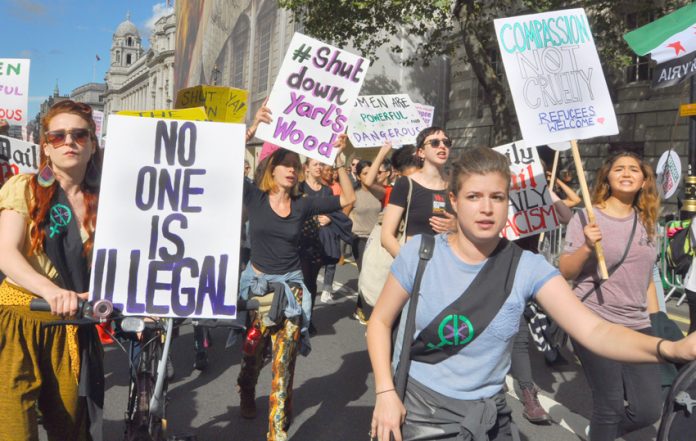 From daily News Line in Britain:
Monday, 5 October 2015

GERMAN 'ESCAPE HELPERS' RISKING JAIL TO HELP REFUGEES

GERMAN 'escape helpers' are driving to Hungary with cars and vans to collect refugees and ferry them across European borders, and back into Germany to start a new life.

Volunteers are with an activist group called 'The Peng Collective', they have helped organise and coordinate more than 100 volunteers. The 100 Germans call themselves 'Fluchthelfer', which roughly translates as 'escape helpers'. The term has a unique historical significance in this country. During World War II, German Fluchthelfer helped Jews escape and hide from the Nazis.

The heroic actions, though carried out by volunteers and unpaid, are still considered 'human smuggling' under European law, meaning that 'escape helpers', if caught, can face jail. 'Peng Collective' movement has arisen in reaction to a controversial European Union law called the Dublin Regulation. It states that asylum seekers must be processed in the countries in which they first arrive in Europe.

On September 2, when Ole Seidenberg flicked on the morning news in Berlin and saw an image of a 3-year-old Syrian refugee who had washed up on a Turkish beach, he decided to become a 'Fluchthelfer'. Seidenberg cancelled a holiday in the countryside that he and his wife had planned.

Instead, the 32-year-old drove out of Germany, through Austria, and into Hungary to pick up refugees and ferry them back to his home country, a move that would help them gain asylum.

Modern-day Fluchthelfer, for their part, are creating an underground ferrying service to sneak people from Hungary into Germany, so that the asylum seekers could have a better chance at gaining refugee status in Europe. 'At the moment, there's a lot of acceptance in society for Fluchthelfer,' said Max a volunteer with the Peng Collective. 'All the escape-helping movements in the past have been illegal,' he said. 'But they were justified in the books of history afterward.'

Ole Seidenberg's first 'escape helper' journey began in early September. With a friend, he rented a silver Volkswagen Sharan, and left Berlin at night, driving through the Czech Republic and Slovakia to reach Hungary by Saturday morning. They heard that an area about 31 miles from the Austrian-Hungarian border had become a hotspot, and that if they drove through the countryside toward the border from Budapest, they would find refugees looking for a ride.

The group drove their two cars through Budapest's streets and on to the refugee hotspot. As they neared the border, they saw hundreds of refugees, along with a handful of cars opening their doors. When Seidenberg opened the doors of his Volkswagen, a family from Iraq immediately got in. The car was so full that Seidenberg's friend had to get out and wait while Seidenberg drove the family to the border.

By 1am, after ferrying several groups of refugees back and forth, Seidenberg and his friend reunited at a gas station on the Austrian side of the Hungarian border. They spotted a family carrying a bunch of plastic bags, seemingly left behind. The family, originally from Syria, was hesitant to accept a lift. They had just paid 500 euros to traffickers who left them at the gas station in the middle of the night, and were wary of strangers.

'They thought we must be traffickers ourselves,' said Seidenberg. 'Why would we appear in the middle of the night in the gas station?' After a tense negotiation, Seidenberg and his friend agreed to drive three men and three children to Frankfurt. Alex and his driving partner took another three adults who were headed to northern Germany. In Seidenberg's car, the refugees fell asleep within 10 minutes.

'They were completely exhausted,' Seidenberg said. They were on their feet for 17 days. They had lived in Turkey in a refugee camp for 10 months.' From Turkey, they had travelled by boat to Greece and from Greece to Macedonia, Serbia, then Hungary. We drove through the night, scared, because there were so many police at every gas station,' Seidenberg said.

The 'escape helpers' risk serious consequences. In Austria, they could be fined for smuggling people in this fashion. In Hungary, they could face up to four years in jail. In Germany, they were risking up to 10 years of prison time under trafficking laws. 'Hungary is closing their borders more and more; there are more controls on the Austrian-Hungarian border,' said Seidenberg.

But the 'escape helpers' adapt to these changes, often communicating with encrypted messages. 'As the refugees' routes change, so do the routes of the escape helpers. They are not going to stop us,' Seidenberg said. The situation will only become more dire during the winter, worsening what is already Europe's most urgent refugee emergency since World War II.

Meanwhile, the UN refugee agency (UNHCR) said on Friday that refugee and migrant arrivals in Greece are expected to hit the 400,000 mark soon, despite adverse weather conditions. Greece remains by far the largest single entry point for new sea arrivals in the Mediterranean, followed by Italy with 131,000 arrivals so far in 2015. In September, 168,000 people crossed the Mediterranean, the highest monthly figure ever recorded and almost five times the number in September 2014.|

As of Friday morning, a total of 396,500 people have entered Greece by sea since the beginning of the year, more than 153,000 of them in September alone. The nine-month 2015 total compares to 43,500 such arrivals in Greece in all of 2014. Ninety-seven per cent are from the world's top 10 refugee-producing countries, led by Syria (70 per cent), Afghanistan (18 per cent) and Iraq (4 per cent). All three are countries that imperialism has attacked and bombed.

UNHCR spokesman Adrian Edwards said: 'There was a noticeable drop in sea arrivals this week, along with the change in the weather.' Edwards said that on Sept 25th, for example, there were some 6,600 arrivals. The next day, it dropped to around 2,200. From an average of around 5,000 arrivals per day recently, it has fallen to some 3,300 over the past six days with just 1,500 yesterday.

'Nevertheless, any improvement in the weather is likely to bring another surge in sea arrivals.'

The current cooler, windy weather has made the crossing from Turkey to Greece even more perilous.

Last Thursday, there were at least two rescue operations in waters off Lesvos. On Wednesday, there were four separate rescue operations on Lesvos in which 283 people were recovered. But the death of a woman and a young boy brought the total toll of dead and missing in Greek waters to at least 102 this year.

In all, nearly 3,000 people have died or gone missing this year crossing the Mediterranean Sea. Despite daily ferry departures carrying between 3,000 and 6,000 refugees and migrants from the islands to Athens, new arrivals continue and island ports can still be crowded with some 10,000-14,000 people on any given day awaiting transfer. UNHCR said it is concerned that the lack of reception capacity in Greece could seriously jeopardise the relocation programme agreed upon by the European Council, as eligible refugees have nowhere to stay while awaiting relocation.

Greece's Prime Minister told the United Nations on Thursday that Athens was doing all it could to help the refugee and migrant crisis, and criticised the building of walls to keep them out. In cooperation with the EU and other international organisations, we are doing all we can to manage these flows in an effective and humane way,' Alexis Tsipras told the General Assembly.

Greece is 'improving reception facilities and identification procedures' and setting up hot spots to facilitate relocation, Tsipras said, criticising European countries trying to keep them out. On Thursday, Hungary attached razor wire to a fence erected at its border with Croatia and last month sealed its border with Serbia, cutting off the main entry point for tens of thousands of migrants. 'We do not believe that the future of Europe or our world can be built on ever higher walls, or children dying at our doorstep,' said Tsipras.

'We cannot allow racism and xenophobia to destroy our common principles,' he added.

Some 500,000 people have come to Europe so far this year, the International Organisation for Migration says, many of them taking perilous journeys across the Mediterranean on inflatable dinghies.
The bodies of at least 95 refugees have been found washed ashore in Libya over the past week according to the country's Red Crescent charity, in the latest tragedies stemming from the region's unprecedented refugee crisis: here.
Related articles