This video says about itself:
Refugees break through newly-built border fence in Hungary

12 September 2015

A refugee family breaks through a hole in the wire fence on Hungary's border with Serbia. Report by Sarah Kerr.
Translated from NOS TV in the Netherlands:
Hungary sends arrested Croat police officers back

Today, 09:41

Hungary has returned to their own country 36 Croatian police officers who were arrested yesterday for accompanying refugees in Hungary. The Croats were arrested because they were armed and because they had brought refugees 'illegally' into Hungary.

Also the driver of the train bringing more than a thousand refugees on their way to Austria was arrested.

Agreed

The majority of the approximately 14,000 refugees who yesterday were left by Croatia at the border with Hungary, has arrived in Austria, says correspondent Marcel van der Steen from Croatia. Last night the first buses with refugees arrived in Austria.

Hungary on Monday closed its borders to refugees, but now they seem to work with Croatia to make travel for the continued flow of asylum seekers to Austria possible. Croatia speaks of a coordinated approach with Hungary, where people at the Croatian border may change from Croatian buses to Hungarian buses and are brought directly to Austria.

But the Hungarian authorities call that a "lie" and announce that they will vote against Croatia's accession to the Schengen area.

The fuss about the refugee train with Croatian supervisors should be seen according to Van der Steen as a political statement by Budapest underscoring their harsh clampdown on the refugee crisis.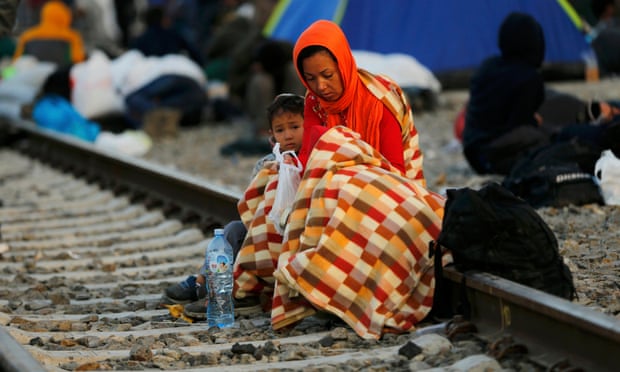 Slovenian police said on Saturday that 1,287 had arrived as of midnight Friday, of which 483 were from Afghanistan, 470 from Syria and 126 from Iraq: here.
Good refugee news, from The Bike Comes First:
Marco Polo Cycling Team to relaunch as a team for refugees

Sep 17, 2015

The Marco Polo Cycling Team issued a press release today stating their intention to start racing again next year, with a team comprised of refugees, mainly from Eritrea.
NEW EU figures on asylum have spectacularly exploded the lies perpetuated by the Tories and the right-wing media that Britain is being besieged by "swarms" of refugees. Statistics published yesterday by the EU data agency Eurostat show that Britain received just one in 30 of the total number of the asylum claims made by new applicants in EU countries between April and June: here.
Related articles