This 6 October 2015 video from England is called Stand Up To Racism – protest at the Conservative Party Conference, Manchester.
By Peter Lazenby and Luke James in Manchester, England:
Campaigners vow to fight for refugees' rights

Wednesday 7th October 2015

May faces wave of protests after 'chilling' speech

PRO-REFUGEE campaigners staged a lively demonstration at the Tory Conference in Manchester last night telling Home Secretary Theresa May: "Refugees Welcome Here!"

Stand Up To Racism organised the event to highlight the "abdication of responsibility by the Conservative government regarding refugees."

The anti-racist group's organiser Sabby Dhalu condemned the government's "inhumane and inadequate" response to the global refugee crisis.

She said: "There has been a public outcry about the drowning of refugees which needs an effective response.

"Their proposal to take in 20,000 refugees over four years pales into insignificance given Austria took that amount in one day."

The demonstration came hours after Ms May launched a "crackdown" on refugees. She said asylum-seekers could be booted out of Britain if the government deems that their home country is safe.

"If there is a clear improvement in the conditions of their own country, we will review their need for protection," she said.

And in a bid to deter Syrian refugees in Europe from coming to Britain, Ms May said refugees who have travelled through safe countries will be offered only "the minimum stay of protection."

…

Her tough-talking speech was seen as a political pitch signalling her intention to replace David Cameron. But Britain's Refugee Council described her speech as "chilling."

Chief executive Maurice Wren said: "The Home Secretary's clear intention to close Britain's border to refugees fleeing for their lives is thoroughly chilling, as is her bitter attack on the fundamental principle enshrined in international law that people fleeing persecution should be able to claim asylum in Britain.

"The Home Secretary's idea that the few refugees who reach Britain's shores under their own steam are not in need of protection is fundamentally flawed."

Even the Institute of Directors accused Ms May of "irresponsible rhetoric and pandering to anti-immigration sentiment."

Labour shadow home secretary Andy Burnham criticised her "narrow-minded" speech for failing "to provide any real answers."
From daily The Independent in Britain:
Boris Johnson's sister has said she was "depressed" by Theresa May's speech claiming mass migration to the UK was harming social cohesion.

Rachel Johnson explained how an MP had told her not to worry about her hard-line speech because Tuesday at the conference was "always National Front day".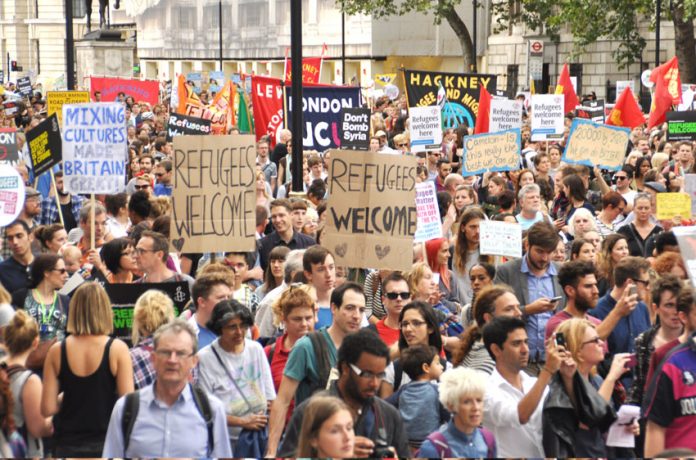 HOME Secretary Theresa May has called for an overhaul in the EU asylum rules saying the bloc must speed up deportation of 'economic migrants' and 'crack down' on abuse of its asylum system: here.
This video from England says about itself:
Charlotte Church talks Corbyn & Cameron's "severed" pig's head at Manchester rally

4 October 2015

Famous British singer turned activist Charlotte Church addressed thousands of anti-Tory, anti-austerity protesters in Manchester, Sunday. "The government are firmly and unashamedly in the pockets of energy companies, big corporations and media moguls. Our democracy is under threat from all sides," she said.
By Lamiat Sabin in Britain:
Pro-third runway Tories get a very early wake-up call at plush hotel

Wednesday 7th October 2015

TORY conference delegates were given a rude awakening yesterday by anti-Heathrow expansion campaigners who blasted loud aircraft noises through their hotel room windows.

At 4.30am — to coincide with the time flights begin taking off at Heathrow airport — conference delegates in Manchester were subjected to noise from a sound system hidden in a wheelie bin.

Campaign group Plane Stupid said the Midland Hotel action was in protest against plans for a third runway, which would be a "huge step in the wrong direction."

Neil Keveren, who lives near the airport, played the noise to demonstrate the daily reality of 725,000 people who live under flight paths.Around 250,000 extra flights are expected to take off from the third runway.

Plane Stupid also unfurled a large banner on Manchester Central Library yesterday, opposite the hotel, which read: "No ifs, no buts — no new runways" as promised by David Cameron in his 2010 manifesto.

Heathrow resident Sandra Davis said: "We want to send a clear message to Tory MPs, staying just over the road, that giving the green light to a third runway will be met with fierce resistance to save the future of our homes, communities and environment.

"The air my family are breathing is already over the legal pollution limit with two runways."

And another Heathrow resident, Emily Beeson, claimed that children living and studying in schools under the flight path can be as much as six months behind in school due to the deafening sounds from aircraft.

Plane Stupid spokesperson Sheila Menon said: "There is already more than enough aviation capacity."

"Last year more than half the UK population did not fly at all, but the long-term negative impacts of airport expansion will mean everybody pays the price," she added.
'Poisoned' air killing residents near Heathrow, says John McDonnell. Shadow chancellor tells rally to oppose third runway at UK's largest airport that aviation industry has 'consistently lied to us': here.
HUNDREDS of protesters clattered through Manchester city centre yesterday in an NHS "wall of sound" demonstration. Activists blew whistles, banged pots and pans and chanted "Save our NHS" as they made their way to the Manchester Central centre where they continued their noisy protest outside the Tory Party conference: here.
THE angry scenes that unfolded during the mass protest in Manchester at the Tory conference were but child's play compared to the brutal lived reality of the government's austerity programme, which has been and continues to be akin to a mass experiment in human despair. In a country in which two million pensioners and four million children are now living in poverty, in which the disabled, unemployed and vulnerable of every stripe have not only been subjected to a withering assault on their ability to survive but have been demonised, dehumanised and stigmatised in the process, rage is an entirely natural response: here.
By Steve Sweeney in Manchester:
Words fail me … they are killing us

Tuesday 6th October 2015

People protest against 'dangerous policies harming disabled'

CAMPAIGNERS fighting for disabled people's rights were faced with a heavy police presence yesterday as they protested at the Tory Party conference.

Tory delegates were shielded by lines of police who tried to block activists from view as they chanted: "Murderers" and "Shame on you" in a lively demonstration which drew in large numbers of supporters from across the country.

One protester described being threatened by police after he tried to speak to Tory conference delegates saying that he was part of "conscience security."

As he approached passing delegates he asked to "check their bags to see if they had a conscience."

He claimed that police grabbed his arm and threatened him with a section 34 dispersal order' if he continued.

Activists with Disabled People Against Cuts (DPAC) said that police threatened to confiscate balls they had been carrying.

One protester said that others had thrown them and London Mayor Boris Johnson was hit on the head.

She said that activists were angry as the Tories had "caused the deaths of disabled people who have had their benefits cut and support networks destroyed."

DPAC London activist Micheline said she was at the protest because "I think we have to redefine what it means to be human.
"That's what we are doing, reclaiming our humanity."

On the Tories, she said: "Words fail me. They are dehumanising us and creating a world we don't want and a world that is dangerous."

Another activist said: "It is frightening to be a disabled person in Tory Britain. They are literally killing us with their policies.

"In over 40 years in the movement I have never known it to be this bad."

He went on to stress the importance of uniting with the entire labour movement which is under attack.
NEVER in our worst nightmares did we imagine that the government would behave so shamefully it would be investigated by the UN because of its actions towards disabled people. But that is exactly what is happening now: here.
Related articles