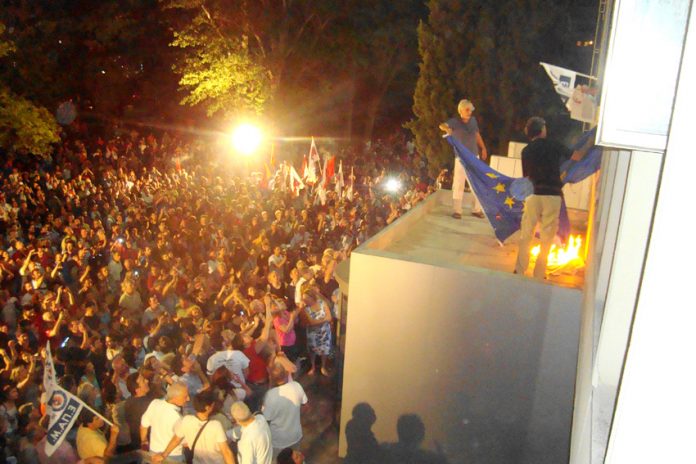 From daily News Line in Britain:
Thursday, 13 June 2013

GREEK RADIO & TV HAS BEEN OCCUPIED – General strike called and Greek riot squads massing

TENS of thousands of Greek workers and youth rushed to the state Greek TV and Radio corporation (ERT) building on Tuesday afternoon following the government spokeperson's announcement that ERT is to be completely shut down immediately and all 2,850 personnel sacked.

The Greek tripartite government was ordered by the troika of EU-IMF-ECB on Monday to shut down ERT at once.

The Greek government of Prime Minister Antonis Samaras has decided to issue yet another dictatorial edict, a so-called 'Lawful Order', which will give full powers to Ministers to close down state organisations at will.

The Greek government's spokesperson said that ERT will be scrapped and a 'new ERT' is to be established in the next months but with less than 1,000 personnel and at the new 'flexible' wages of about 600 euros per month.

ERT workers met just after lunchtime on Tuesday and decided to fight against the government's decision. All ERT radio stations and the three TV channels started transmitting a special programme, with interviews of workers and trade unionists, against the closure.

On the grounds around the ERT building a public forum was set up where everyone was invited to speak up on the issue. Literally hundreds of speakers attacked the government's decisions and its policies and many called for a fight to overthrow this parliamentary junta.

…

Thousands started congregating in the ERT grounds along with actors, musicians and singers who performed throughout the night. By midnight on Tuesday over 20,000 people were at the ERT grounds.

In all Greek cities, workers and youth held rallies outside the buildings of local radio and TV stations occupying the premises.

Late on Tuesday night, the Greek media trade unions held a joint meeting at ERT and decided on an indefinite strike of all radio and TV stations and from today of all newspaper printers and workers. Media trade union leaders have called on the GSEE (Greek TUC) to call a one-day general strike for today.

The government have sent several squads of armed riot police to the ERT building and to other state TV and radio buildings in Greek provincial cities. The head of the riot police has ordered ERT workers to leave the building but they refused to do so, along with thousands still on the grounds by 3am on Wednesday. But the riot police are massing forces to storm the building if they see fit.

About 1,000 Greek workers and youth joined Turkish political refugees on a march on Tuesday evening in Athens calling for the release of Turkish left-wing activist Bullut Yayla from the Turkish jail and for solidarity with the Turkish workers' uprising.

Bullut Yayla was abducted in the centre of Athens by a car bearing Greek police number plates. Marchers chanted solidarity slogans between the Greek and Turkish peoples and for the overthrow of both governments.
The Greek prime minister's decision to shut down the public television station ERT has led to a one day general strike in the country. Journalists across all media have called an indefinite strike.The prime minister's move has also stoked anger within the coalition government. People have gathered already in Agia Paraskevi in front of the building and the main square of the neighbourhood after a call by trade unions (GSEE – ADEDY) and the communist party (PAME): here.
Update 14 June 2013: here. And here. And here.
European Broadcasting Union (EBU) president Jean-Paul Philippot arrived in Greece today to add his voice to the clamour calling for public broadcaster ERT to reopen.
Turkish security forces cleared Istanbul's Taksim Square of demonstrators in a brutal crackdown in the early hours today – but protests continued to mushroom as thousands of lawyers walked out: here.
Related articles