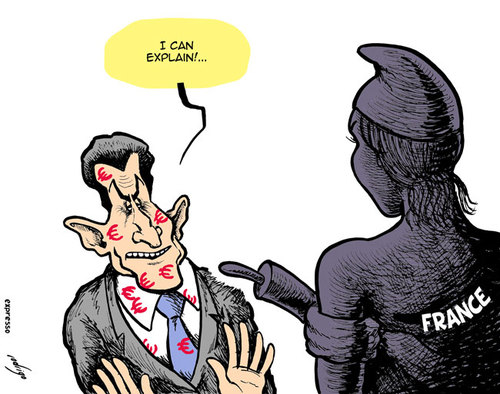 From daily The Morning Star in Britain:
France: Sarkozy to stand trial for campaign 'cover-up'

Wednesday 8th February 2017

FORMER French president Nicolas Sarkozy was ordered to stand trial yesterday over alleged campaign finance fraud during his failed 2012 re-election bid.

The Paris prosecutor's office said Mr Sarkozy and 13 other "protagonists" will go to court on the order of a magistrate to answer allegations that his presidential campaign spent well above the legal ceiling of €22.5 million (£19 million) and tried to cover it up fraudulently.

The claims centre on whether the former Republicans party president was aware of alleged false billing and fraud linked to PR company Bygmalion, where some executives have acknowledged false accounting.

Mr Sarkozy denies any wrongdoing and his camp says it will appeal the decision.

The presidential bid of Mr Sarkozy's former deputy Francois Fillon has been thrown into doubt by revelations that he employed his wife and children as parliamentary assistants.
Related articles