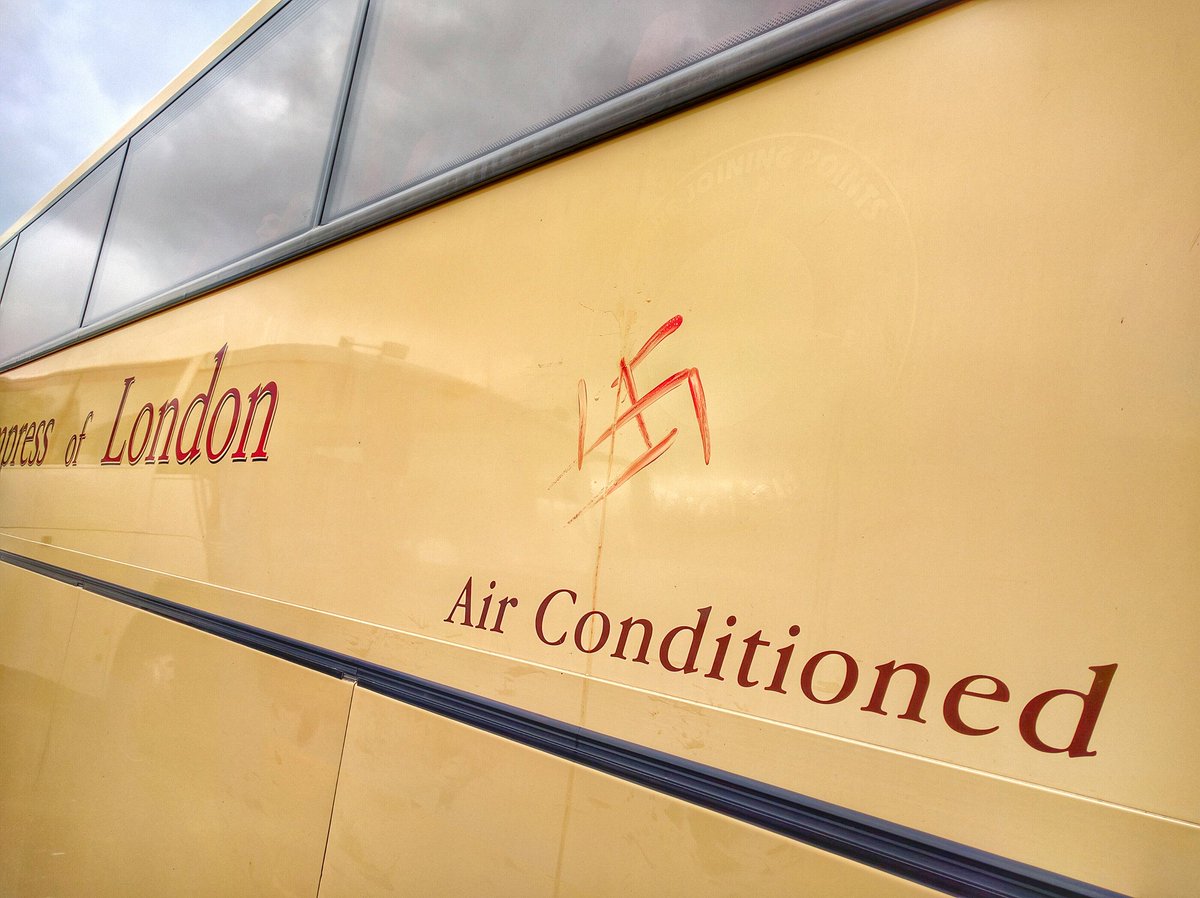 By Joana Ramiro in Britain:
Police hunt fascist who daubed bloody swastika

Tuesday 2nd February 2016

Forensic clues examined to trace man who attacked Dover protest activists

DETECTIVES are using forensic evidence to hunt neonazis who daubed a swastika in blood on a coach taking activists to Saturday's anti-fascist protest in Dover, Kent Police revealed yesterday.

A spokesman for the force told the Star that "forensic examinations" are taking place to help identify the perpetrators of a a violent far-right attack that took place at Maidstone service station before the planned fascist march and counterdemonstration.

It is part of investigations following the arrest of 17 people during the far-right protests in Dover that ended in clashes with police and anti-racist demonstrators.

Anti-fascist group Hope Not Hate suggested more detentions were bound to take place in the weeks to come after pictures appeared to show members of fascist street gang Combat 18
The '18' in that name stands for 'Adolf Hitler', as A and H are the first, respectively eighth, letters of the alphabet.
armed with weapons at the scene.

Hope not Hate spokesman Matthew Collins told the Star the group was surprised by "how underprepared the police were.

"Quite clearly neonazis and their followers went to Dover looking for trouble.

"It's beyond comprehension how police lost control and allowed innocent demonstrators to be attacked.

"We have got photographs of far-right activists brandishing sticks and bricks and bottles."

Among those arrested at the Dover rally was 35 year-old Craig Knott, who was charged with possession of a locking knife.

Another man was arrested on the scene after being suspected on holding an "offensive weapon."

Mr Collins said the Maidstone attack, at which 10 people were arrested, "was a pre-planned attack by neonazis, to injure people who were exercising their democratic right to hold a peaceful protest."

All of those arrested were released on bail until April.

Hope Not Hate warned that far-right activity is increasingly returning to violence and potentially armed organising, with groups such as Combat 18 re-emerging on the streets.

"There are a lot of people now on the far right who realise and believe that electorally they are finished, completely finished", said Mr Collins.

"Some of these people now identify themselves with the imagery and the personality associated with Combat 18.

"A lot of this is rebrand — people associating themselves with the idea that only a violent movement can now work for them."
Related articles