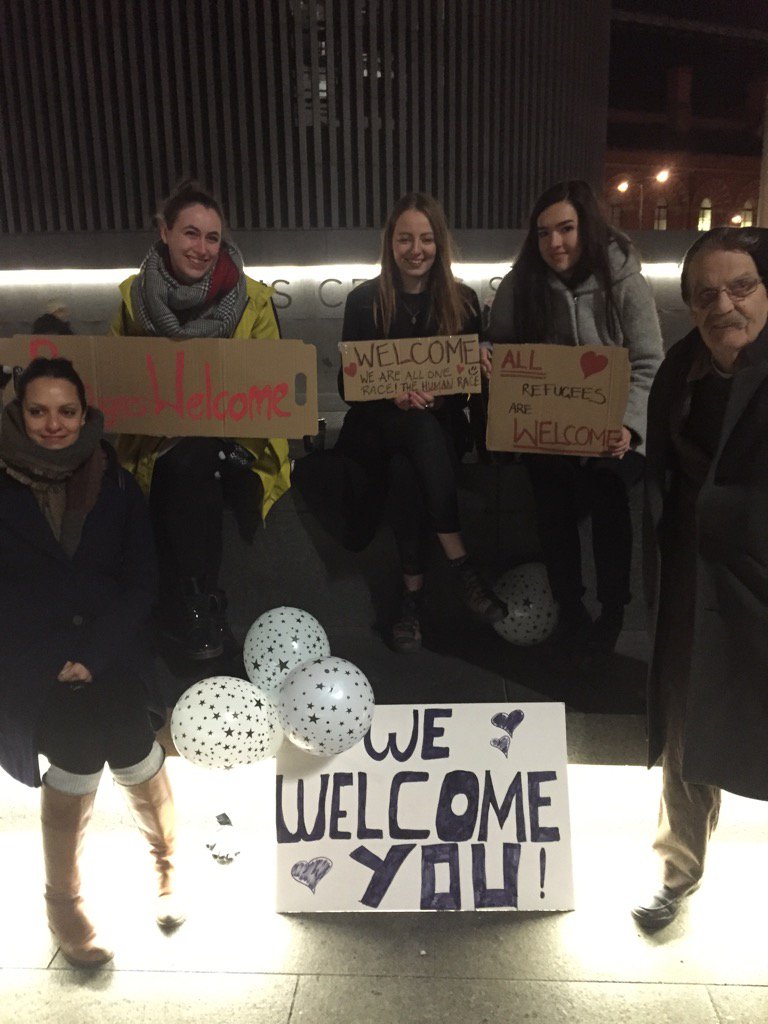 From the Bailiwick Express in Jersey, Channel islands today:
Syrian refugees reunited with families in London after landmark legal case

9 hours ago

Four Syrian refugees who won a landmark legal case to come to Britain from "The Jungle" in Calais have been reunited with their families in London.

Relatives, some carrying babies and young children, smiled as they were let through to greet their loved ones for the first time in months behind closed doors at King's Cross station.

Around 100 people, many holding home-made banners or balloons with the words "refugees welcome" scrawled on them, descended on the station to welcome the arrivals.

The refugees – three teenagers and a 26-year-old man with severe mental health issues – travelled to the UK after a British court ruled on Wednesday that they should be immediately brought across the Channel from the makeshift refugee camp in northern France.

Before they arrived, the brother of one of the refugees told the Press Association he could not wait to be reunited with his younger sibling, who he has not seen for nearly two years.

Ahmed, who is not using his real name in order to protect his brother's identity, said: "The first thing I'm going to do is hug him and not let him go.

"He is the youngest in my family and I haven't seen him in a long time.

"It is hard to describe how happy I felt when I heard the court's ruling yesterday. It was really, really amazing. It was everything I was waiting for."

Their arrival follows a pioneering legal case in which lawyers used human rights legislation to argue the four refugees should be immediately brought to Britain and their asylum claims processed here – effectively bypassing the French authorities.

They argued that conditions in the sprawling camp were "intolerable" and that bureaucratic delays in France meant their cases should be handed over to the UK, where they all have relatives legally living.

Ahmed said his brother, who has seen other refugees die trying to make the perilous journey from Calais to Britain, was so bowled over by the court's decision he was in disbelief.

He said: "He was in huge disbelief. He could not believe it was actually going to happen.

"A lot of people in Calais said 'this is not going to work'. He just felt like he was in a dream. He couldn't believe what he was hearing. He is in shock – but in a good way."

After enduring years of fighting and bombs, Ahmed, 26, fled his hometown of Daraa in 2014 and travelled across Europe to Britain.

He hid in the back of a freezing cold lorry carrying tomatoes to make the final leg of the journey from Calais to Dover.

He left his brother with his parents, but as the fighting intensified his brother also decided to make the dangerous journey across Europe and to be reunited with his brother in Britain.

Arriving first in Turkey and then crossing through European countries he did not even know the name of, his brother eventually ended up in Calais last October.

But conditions at "The Jungle" were so bad he considered turning back to Syria.

Ahmed, who now lives in London with his wife, two year-old daughter and newborn son, was sporadically in touch with his brother by phone.

He told the Press Association: "There were times when he would say 'I want to go back to Syria'.

"My brother didn't imagine he would be living in such conditions in a European country. He was shocked.

"He thought he would find safety.

"That was how desperate he got, it was so unbearable in Calais. But I told him to be patient."

Ahmed, who was a driver in Syria, said he is grateful to be in Britain and ecstatic his brother will be reunited with him here.

He said his brother hopes to return to the studies which the war in Syria so brutally interrupted.

Ahmed said: "He wants to be a lawyer so he can help people like the way people helped him."

Oona Chaplin, who stars in Game Of Thrones and is Charlie Chaplin's granddaughter, has been to Calais several times and thrown her support behind the campaign to bring the Syrians to Britain.

She said: "My heart swells at the thought of these three families coming together again after all they have been through.

"These kids are now our precious teachers, we must all learn with them the art of compassion, kindness and forgiveness, so that we can heal these wounds together.

"May all children everywhere in the world feel the spark of hope that has been ignited with this reunion."
From daily The Morning Star in Britain:
Young Syria refugees given warm welcome

Friday 22nd January 2016

THREE children and a teenager from Syria whom a court ordered be brought to Britain from Calais's refugee camp arrived last night in London to a welcome rally from supporters.

Refugees Welcome campaigners assembled on Kings Cross Square in the late afternoon to cheer on the boys and the 19-year-old man.

"The current situation, in which refugees are relying on the help of thousands of volunteers from the UK, is intolerable," London2Calais spokesman Syed Bokhari told the Star.

"By refusing to offer a proper procedure to apply for asylum in the UK, the British government is directly responsible for the refugee crisis in Calais and the deaths of people like 15-year-old Masud, who died just last week.

"Masud was on our list of contacts and would have had the right to apply for asylum in the UK.

"It is time to hold the government accountable for its human rights violations."
Britain 'poised to open door to thousands of migrant children'. David Cameron considering calls by charities as Jeremy Corbyn, who on Saturday visited refugee camps in Calais and Dunkirk, urges emergency steps: here.
Related articles