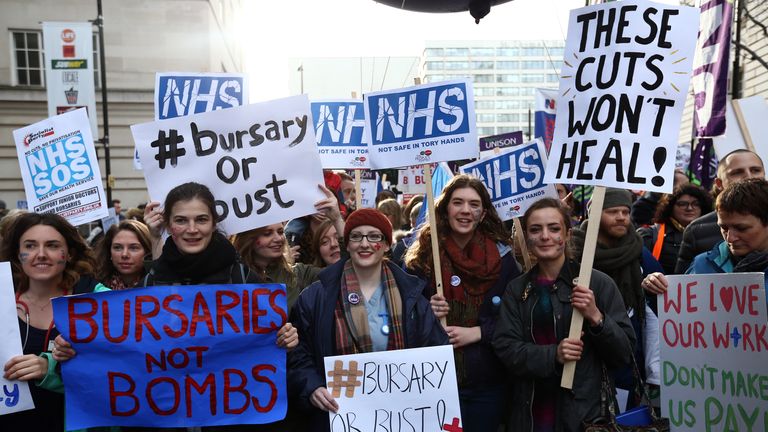 This photo shows demonstrating junior doctors in England; joining forces with student nurses who are determined to defend bursaries and defeat tuition fees.
The 24-hour strike by junior doctors across England today is part of a wider movement in opposition to austerity-based attacks on the National Health Service (NHS). Last Saturday thousands demonstrated in London against the Conservative government's plans to scrap bursaries by 2017 for nurses and midwives: here.
STUDENT nurses and midwives marched through London and other cities over the weekend in protest against government plans to replace their bursaries with loans: here.
By Conrad Landin in Britain:
Patients Rally Behind Junior Doctors' Strike

Tuesday 12th January 2016

Public refuse to join PM's smear campaign

TORIES joined forces with bosses last night in a desperate attempt to smear heroic striking doctors, but patients are laying the blame squarely at the PM's door.

Press officials briefed that 4,000 operations would be cancelled as a result of the walk-out by junior doctors, in spite of emergency procedures still going ahead. And Mr Cameron smarmed: "This strike is not necessary, it will be damaging.

"We are doing everything we can to mitigate its effects but you can't have a strike on this scale in our NHS without there being some real difficulties for patients and potentially worse."

His intervention came after London Mayor Boris Johnson attempted to blame the action on Jeremy Corbyn.

The buffoon claimed that social media posts from British Medical Association council members David Wrigley and Jacky Davies welcoming the Labour leader's election in September were evidence that doctors were in the grip of "advanced Corbynitis."

Medics are resisting plans to heavily cut back on unsocial hours payments they receive for working weekends and nights.

Talks with NHS bosses broke down last week just an hour after they had begun.

And the ultra-right Bow Group issued a report yesterday saying the strike would "cause hundreds of deaths" and "cost millions."

The Tory think tank, whose trustees include racist historian David Starkey and "on yer bike!" Thatcher cabinet minister Norman Tebbit, described the action as "a ploy by the BMA to distract the public and politicians from the real harms to the medical profession."

The report's author Dr Jonathan Stanley said: "The balloting of members for a mandate to strike, before negotiations were complete, can only be seen to have been made in poor faith by negotiators out of their depth."

But striking doctors at five major London hospitals will today be greeted by a "flying picket" of over 40 cycling supporters, who describe themselves as "patients — past, present and future."

And the medics have received a flurry of support from fellow trade unionists and Labour Party frontbenchers.

Labour Treasury spokesman Richard Burgon said the doctors had "no other option" but to go on strike.

"I believe Jeremy Hunt and the Conservatives have treated them appallingly," he told the BBC's Daily Politics programme.

"If I was in my constituency rather than having to be in Parliament tomorrow I would be on the picket line.

"Nothing at all is going to change if Hunt and the Conservative government are acting like dictators to junior doctors who go into that job to try to help people."

Britain's largest union Unite said its 100,000 members in the health service would give doctors "maximum support" and join doctors on picket lines before and after working today.

"The fact that Hunt has allowed matters reach this stage is a disgrace, and he needs to enter into meaningful and constructive talks with the junior doctors as a matter of urgency," the union's head of health Barrie Brown said.

Members from other unions including GMB, Unison and rail union RMT will also join this morning's pickets.
TRADE unionists are flocking to the junior doctors' picket lines this morning. Matt Wrack, general secretary at the Fire Brigades Union, said: 'Our people who have the day off work will go along to the pickets in support of junior doctors': here.
THE British Medical Association has rebuked the NHS National Medical Director Sir Bruce Keogh for breaking an agreement with it in an attempt to organise strike breaking: here.
Related articles