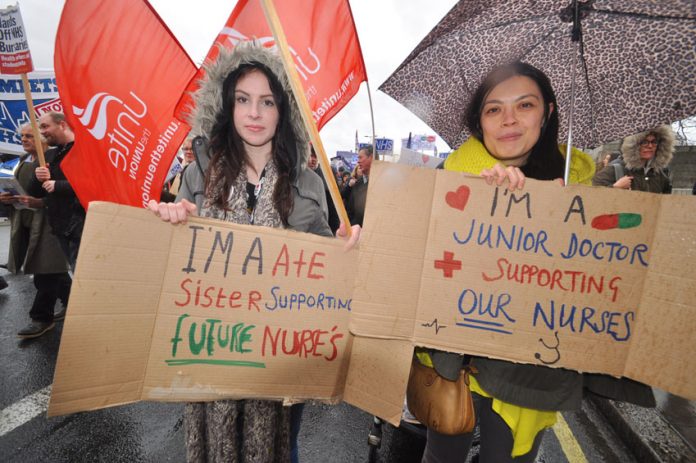 By Conrad Landin in Britain:
Doctors stand firm in face of Hunt's threats

Wednesday 13th January 2016

HEALTH bosses stood accused of bullying striking junior doctors yesterday after they demanded a last-minute scabbing spree on the back of a "major incident."

Bosses at Sandwell General Hospital in the West Midlands declared a "level four major incident" and ordered doctors back to work to relieve the pressure.

But the British Medical Association, which called the strikes, urged its undaunted strikers to stand firm.

BMA junior doctors chairman Johann Malawana said there had been "last minute, inept and heavy-handed attempts to bully junior doctors."

The desperation came amid a groundswell of public support for yesterday's historic strike, with picket lines across Britain swelled by trade union activists and well-wishers showing their solidarity.

Villainous Tory Health Secretary Jeremy Hunt was on the run, with government press officials even telling a reporter that he should not ask questions as to Mr Hunt's whereabouts.

He did not appear on broadcast media yesterday until midday, when his ministry released a pooled clip in which he smarmed: "This is a completely unnecessary dispute. We have some disagreements with the BMA over pay."

But on Monday evening a Department of Health spinner attempted to stop a Sky News journalist from asking Mr Hunt's sidekick Norman Williams where his boss was.

At the Royal London Hospital, paediatrician Sunayna Best told the Star there had been "so much misrepresentation" of the doctors' dispute, which centres around Mr Hunt's attempts to introduce new rosters and strip down extra payments for unsocial hours.

"The buzzwords [used by ministers] are really irritating," she said. "They're saying 'seven-day NHS' over and over.

"But we already work seven days."

Labour frontbenchers John McDonnell and Tom Watson, TUC general secretary Frances O'Grady and socialist legend MP Dennis Skinner were among those showing their support at St Thomas's Hospital in south London.

Nearby at Guy's Hospital dentists, who announced last week they would join the strike, strengthened the picket lines.

"We're outraged because the way we've been presented is unfair. We're all there doing our jobs to do the best for patients," said junior dentist Imogen Bexfield.

"We think the new contract won't bring the best for patients and won't bring the results that everybody wants and yet they're trying to portray it like it's a positive thing and really hiding the truth."
This video, from the British parliament in London, says about itself:
Dennis Skinner: You don't know who the enemy is, Keep out of Syria

26 November 2015

Dennis Skinner MP to David Cameron.
From daily The Morning Star in Britain:
Dennis Skinner: Doctors saved my life twice, now I'm here for them

Wednesday 13th January 2016

"I WENT to the picket line at St Thomas's Hospital. I thought there'd be four or five of them but the whole area around Westminster Bridge was packed with people.

When in my hour of need, when I had cancer, doctors saved my life.

And then when I was on the seventh floor of St Thomas's, having heart treatment, they saved my life again.

So I said, now you're in your hour of need, that's why I'm here.

The Tories attacking the doctors need to understand that they're battling against a 98 per cent vote.

I worked in the pits for 20-odd years, and we never got anywhere near that figure.

If any Tories think this is a man-and-his-dog job they're heading for a big disappointment.

When people saw me there with my badge on they said: "Well done!" They probably thought I was a consultant.

There'll be literally millions of people in Britain who have lived long enough to have NHS treatment, and people understand doctors are being picked on by the government.

But the Tories haven't lost any desire to privatise it, believe me.

Dr Jane Thomas in Halifax:

I work with the psychiatric part of the hospital and have been here for two and a half years.

"I'm old enough to remember the old days when we did 80 to 120 hours a week, when I first qualified, and it was a long process of negotiation to get safer working hours.

"Bear in mind that even under the current contract most of us have to sign out of the European directive on working hours. We are not asking for more pay. We are not asking for better conditions. We are asking for things not to be worse.

"We are already working with extreme staff shortages across the board, not just doctors, but nurses as well.

Doctor Zahra Hessain in Halifax:

We are all out here today against our will. We would like to be inside treating patients, but unfortunately, for the long-term safety of patients, we have to be out here to secure safe working conditions for our patients.

"Nobody wants to be treated by a tired, exhausted doctor when they are ill. They want to feel they are in safe hands.

"There have been a lot of positive responses from the public.

Know the Facts

1. There are 53,000 junior doctors in England
2. Junior doctors work seven days a week
3. The term "junior doctor" is misleading. Most are in their late 20s and their 30s, and are fully qualified professionals who are the backbone of the National Health Service. They are trained for up to 15 years, and become general practitioners, consultants, medical researchers and lecturers.
Junior docs strike blow against the Tories' plan to wreck the NHS: here.
Junior doctors strike – photos from the picket lines here.
This music video from London, England says about itself:
Junior doctors strike through song outside Great Ormond Street Hospital

12 January 2016

The National Health Singers perform outside London's Great Ormond Street Hospital as junior doctors strike over contracts. Report by Conor Mcnally.
Also from daily The Morning Star:
NHS choir sing their support for junior doctors

Wednesday 13th January 2016

NHS choirs are not just for Christmas number ones, as a doctors' and nurses' choir found success on the picket lines yesterday.

The National Health Singers gathered outside Great Ormond Street Hospital in support of striking junior doctors.

The ensemble wore "Support junior doctors" T-shirts and stethoscopes around their necks and sang their own song against NHS privatisation.

Co-founder Georgina Wood, a junior doctor herself, said: "We founded the choir in light of the position we have been put in.

"So the words of our song reflect how we feel about the state of the NHS but it needs to survive and hopefully we can help to do that.

"The proposed contract for us stands to put that in a position of jeopardy. That is something that none of us can stand for.

"Today is a position that junior doctors have been forced into after many months of anguish. This is the first time that doctors have gone on strike in 40 years, and that reflects the crisis that we've met."

Back in December, the Lewisham and Greenwich NHS Choir made it to Christmas number one single, beating teen heartthrob Justin Bieber.
This video says about itself:
12 January 2016

Here's what it was like in Tooting, South London on the 1st day of the Junior Doctors' strike. The public understand what's happening and we're right behind our wonderful junior doctors standing up for a safe and sustainable NHS.
Also by Conrad Landin in Britain:
Docs supporting cyclists lead the way

Wednesday 13th January 2016

A "BIKE GANG" of flying pickets zipped between central London hospitals yesterday supplying junior doctors with snacks and solidarity.

The activists, who described themselves as "patients — past, present and future," congregated at the Royal London Hospital in Whitechapel before cycling to Guy's Hospital south of the river.

Placards strapped to the cyclists' backs bore slogans such as "Bikers for Strikers" and "Freewheelin' for Freehealin'."

They then took their supplies of bananas, clementines, flapjacks and brownies to nearby St Thomas's before heading north to famous children's hospital Great Ormond Street and University College Hospital.

Emma Taylor, a 29-year-old with diabetes who joined the convoy, said: "We are all past, present, and future patients of the NHS — it is there for us, our families and our friends at our darkest, most frightening moments.

"Our lives and our health literally depend on a well-resourced, free public health service and the dedicated and highly skilled staff who make it work.

Jeremy Hunt and the Tories are holding a gun to the head of our National Health Service. That's why we are here today as patients supporting the striking junior doctors — to show that their struggle is our struggle. It is up to all of us to save our NHS."
ENGLAND'S junior doctors refuse to play Jeremy Hunt's game by calling off justified strike action in favour of a return to the negotiating table. The Health Secretary has had years to play fair by the junior doctors and to negotiate honestly with the British Medical Association (BMA) but has chosen not to do so. He has misrepresented their case and his own, portraying junior doctors as pursuing increased pay and pretending that he is offering an improved contract. Even Hunt must be capable of understanding that no workforce rejects a package by 98 per cent unless it is toxic: here.
By Will Stone in Britain:
14 January 2016

PALESTINIAN doctors in the besieged Gaza strip sent messages of solidarity to Britain's striking junior medics yesterday.

Shifa hospital staff in Gaza pictured themselves holding signs that read: "Doctors of Gaza support NHS UK doctors."

Posting a selfie in doctor's garb, Dr-Abu Rayan Ziara said he stands "in solidarity" with British doctors to "save the NHS."

He added: "Peace and love for you all my friends from me personally."

The gesture of solidarity highlights how strongly felt the fight by NHS junior doctors has been worldwide, including in some of the most vulnerable and war-torn regions on Earth.

Junior doctors returned to work yesterday after a historic 24-hour walkout over a new contract that cuts overtime pay, which will see many forced to work even longer hours.

Desperate to avert further crippling strike action, the government is entering talks with doctors tomorrow and Friday at conciliation service Acas.

Two further strikes are planned — a 48-hour walkout with only emergency care provided from 8am on January 26 and full withdrawal of labour including emergency care on February 10 between 8am and 5pm.

Junior doctors' union the British Medical Association (BMA) said it was ready for talks "at any time."

BMA council chairman Dr Mark Porter said there were still "some serious issues about patient safety and recognition of junior doctors' contributions" that need to be addressed.

Responding to accusations that the strike was putting lives at risk, Dr Porter said: "What I can say is that the NHS is very good at putting emergency planning in place and dealing with emergencies like this.

"The NHS faces pressures similar to this every day."

Some junior doctors in the West Midlands refused to return to work yesterday following what they called "bullying" tactics from managers at Sandwell General Hospital in West Bromwich, which declared a "level four major incident" in a memo dated the day before the strike.

Health Secretary Jeremy Hunt, NHS trust bosses and business leaders have tried to smear strikers, accusing them of putting patients' lives at risk.

On Tuesday night, Channel 4 News presenter Krishnan Guru-Murthy told one junior doctor defending the strike: "You don't look like Arthur Scargill."
STUDENT nurses demanded action to defend their bursaries at a Unison student nursing summit held at the union's headquarters in Euston, central London, yesterday: here.
Related articles