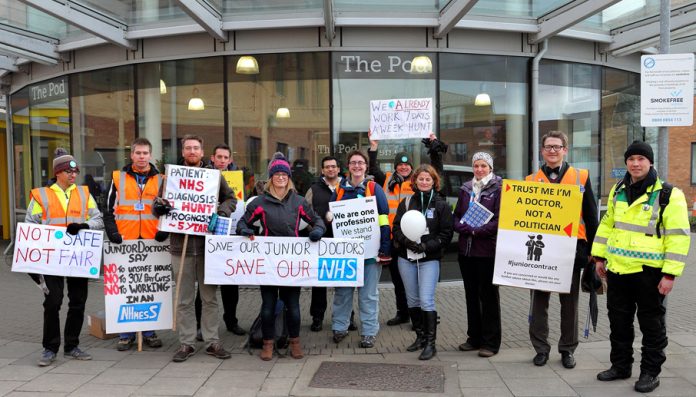 From daily News Line in Britain:
Saturday, 6 February 2016

Junior doctors march today

TODAY thousands of junior doctors, health workers, student nurses, march through central London demanding 'Victory to the junior doctors!'

At 8am next Wednesday morning (February 10) the junior doctors launch a 24-hour strike. They will be joined on their picket lines by masses of supporters.

'All the unions should take action – it's everybody's NHS. The more support we get, the better,' Hammersmith Hospital junior doctor James Glanville told News Line yesterday. Dr Glanville continued: 'The key issue for all the professions and specialities is that we stand together in a united front. Junior doctors are out on strike this Wednesday.

'We have been reassured by the overwhelming public support. People have understood the strike is in support of patient safety. We have to emphasise we are fighting for the survival of the NHS and the future of junior doctors.

'(NHS Health Executive) Sir David Dalton's letter to junior doctors is just more spin and skirts around the issues, mainly with the safeguard for working hours. It still doesn't acknowledge the fact that Saturday is not a normal working day.

'The attack on us is the beginning of the end. The government has already begun to attack nurses with its planned removal of bursaries for student nurses. So the nursing unions should prepare to take action as well.'

'We need a national show of support from everyone that values the NHS,' Dr Shiv Vohra from Kingston Hospital told News Line. He said: 'I feel very passionate about keeping the NHS in public hands. The way this government is going about trying to privatise the NHS is an absolute travesty.

'There are several reasons we are concerned about the proposed new junior doctors' contract. First is the way the government is trying to impose it and they are trying to remove safeguards on the working hours, which poses a threat to patient safety.

'No patient wants to be treated by overworked, tired doctors looking after them. Secondly, it's about treating doctors unfairly. Saturday isn't classified as unsocial hours the way it is for other workers. So why should junior doctors be subject to unfair working conditions?

'The frustration shared by junior doctors is all to do with patient safety and a safe and fair contract. At no point have we ever asked for an increase in our pay. I'm very touched by the support that other unions have shown, including the FBU firefighters' union's open letter.

'My personal opinion is this is a matter of national concern for each and every member of this country. So given the threat the NHS is facing from the government, we need a national show of support from everyone that values the NHS.'

Junior doctor Joban Sehmi from Hammersmith Hospital told News Line: 'People realise that we are not fighting for a pay rise but against an attempt to take away the safeguards which are there to prevent doctors being made to work unsafe long hours.

'The NHS is under threat in this struggle and everybody who uses the NHS must support us. My view is that junior doctors are the first target and after us Health Secretary Hunt is planning to attack the contracts of consultants, GPs and nurses.

'The attack on student nurses' bursaries is a terrible message to young people. Rather than encouraging them to enter nursing as a career it's utterly demotivating. It's truly appalling. I will be on the picket line at Hammersmith Hospital on Wednesday – we must win for the sake of the whole NHS.'
Junior doctors throughout England ended a 48-hour strike Thursday. The strike was the latest in the doctors' ongoing dispute with the government, which last month imposed an inferior contract on them. Thousands of doctors participated in picket lines in many towns and cities, despite continuous heavy rain and wind: here.
Related articles