This 11 February 2020 satiric music video from Britain is called Theresa May – After the Windrush (lyric video).
It is a parody of the song After the Goldrush by Neil Young.
It says about itself:
Theresa May's take on a classic Neil Young song.

LYRICS:

Well, I dreamed I saw the Empire Windrush sail
From Jamaica to Tilbury
There were migrants arriving
In hope of thriving
Quite frankly it sickened me
There was a law passed protecting folks
Coming from Commonwealth countries
Immigration Act came into force
In the nineteen seventies

I was drafting a Home Office statement
About amendments to the act
I was hoping for displacement
Of these people who were black
There was a speech playing in my head
Warning of rivers of blood
I was thinking about what Enoch Powell said
Then I shared it with Amber Rudd

Well, I dreamed I saw the immigration vans
Saying "go home or face arrest"
There were children crying
And parents flying
Away at my behest
It wasn't a dream, it was not a dream
The process had begun
They were flying those illegal SOBs
To a new home in the sun
Flying those illegal SOBs
To a new home in the sun
The British Conservative government has enforced the cruel deportation of around 20 people to Jamaica. The flight had originally been specified to deport up to 56 people but late Monday night the Court of Appeal ordered the halting of deportations to some of those on board—after ruling that their democratic rights, including their right to access legal advice, had been flagrantly breached: here.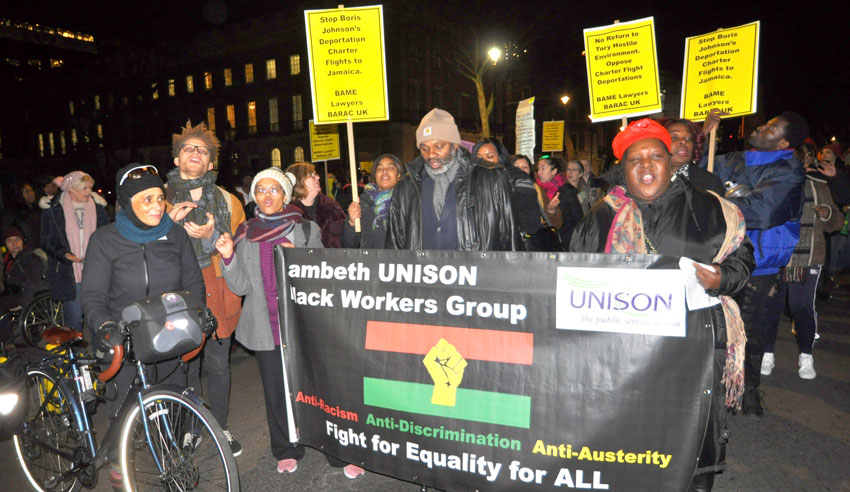 THE MASS deportation flight due to leave today with 50 people on board who came to the UK as children must be stopped! over 150 MPs and members of the House of Lords have said in an open letter: here.
End the 'torture' of Home Office deportations. Campaigners fear that the government was prepared to break the law in its bid to deport the detainees: here.
"I fear for the future of democracy in Britain". Protesters speak out at demonstration against Tory government deportation plans: here.
A TOTAL of 17 people were deported on a chartered flight by the Johnson government to Jamaica early on Tuesday morning. The action was condemned by campaigners, including 170 cross-party MPs, as 'forcing families apart': here.
UK government spearheads anti-migrant crackdown with deportation of Jamaican nationals: here.
Editorial: On Windrush Day, let's vow to end the hostile environment for good: here.