This video from Britain says about itself:
Windrush generation being subjected to 'cruel and inhumane treatment by UK government' | ITV News

16 April 2018

The Government has been accused of being "cruel and inhumane" over its treatment of the Windrush generation, who came to the UK from the Commonwealth 70 years ago.

Labour MP David Lammy gave a passionate speech in the House of Commons defending their rights.
From daily The Independent in Britain today:
Amber Rudd has resigned as home secretary amid anger over her handling of immigration policy

The home secretary said she would quit for having inadvertently misled a Commons committee over deportation targets

by Joe Watts

Amber Rudd has resigned as home secretary following growing pressure over the Home Office's use of deportation targets for immigrants and the wider Windrush scandal.

The cabinet minister finally quit on Sunday after yet another leaked document cast doubt on her claims that she was unaware of targets her officers were using in throwing increasing numbers of people out of the country.

Downing Street confirmed the prime minister had accepted her resignation, with Ms Rudd otherwise having to face a potentially catastrophic appearance in the Commons on Monday.

But as well as the immediate fallout, Ms Rudd's departure creates a series of other headaches for Number 10, including whether criticism of immigration policy will focus on Ms May's own tenure at the Home Office and how the Cabinet's "Brexit balance" will be affected.

Ms Rudd telephoned Theresa May to tell her of her decision …

At the end of last week it had been thought that Ms Rudd would tough it out, but the growing file of evidence against her saw calls for her to go become ever stronger.

On Sunday morning, shadow home secretary Diane Abbott said: "Amber Rudd knew of the targets she pretended didn't exist. It's time for Rudd to go."

The senior Conservative had already been in trouble over the Windrush scandal when she told the Home Affairs Committee last Wednesday that the Home Office did not use targets for the number of illegal immigrants who should be deported.

But the following day, she returned to the House of Commons and admitted in an embarrassing U-turn that immigration officers did indeed use "local targets", though she said they were "not published targets against which performance was assessed" and – critically – she claimed not to have been aware of them.

Her account was thrown into doubt with the leak of a Home Office memo referring to a target of 2,800 enforced returns for 2017/18 and progress made towards a "10 per cent increased performance on enforced returns, which we promised the home secretary earlier this year".

In a desperate attempt to rescue the situation Ms Rudd issued a series of late-night tweets, claiming she had not seen the memo though it was copied to her office, but admitted that she should have been aware of the targets.

As she moved into a political damage limitation exercise, she promised to again come to the Commons on Monday to answer MPs' "legitimate questions" about what had been taking place.

Her position was further weakened over the weekend when former immigration minister Brandon Lewis – now the Conservative Party chairman – disclosed they had held weekly meetings to discuss her plans to increase removals, although he insisted they did not discuss detailed targets or numbers.

Then came a further leak on Sunday – a letter Ms Rudd herself had sent to Ms May, in which she set out how she would allocate more resources to immigration enforcement teams to boost deportation rates by 10 per cent. She said the target was "ambitious but deliverable".

This came after Ms Rudd was forced to apologise to members of the Windrush generation, who arrived in the UK between the late 1940s and early 1970s from the Caribbean.

Despite living here legally and for decades in most cases, people were facing deportation, losing their jobs or homes and being denied access to healthcare, simply because they did not have the right paperwork, as officials sought to root out illegal immigration.

Labour said Ms Rudd was effectively acting as a "human shield" for Ms May whose policy when she home secretary of creating a "hostile environment" for illegal immigrants, was blamed for causing the problems some people now face in proving their British citizenship.

David Lammy, Labour MP for Tottenham, tweeted in reaction to Ms Rudd's resignation: "Amber Rudd resigned because she didn't know what was going on in her own department and she had clearly lost the confidence of her own civil servants.

"The real issue is the hostile environment policy that caused this crisis in the first place."

Liberal Democrat home affairs spokesman Sir Ed Davey said: "It's clear that Amber Rudd has ended up, at least partly, being the fall guy to protect the prime minister.

"Theresa May must face questions now given these dreadful failures largely took place under her watch as home secretary."

Ms Rudd, alongside chancellor Philip Hammond, had been one of the most prominent members of the Cabinet backing a softer Brexit that entails close relations with the EU after Britain's withdrawal.

But with her now vacating a great office of state, Ms May must decide whether to replace her with another 'remain-minded' individual.

Environment secretary Michael Gove, a leading Brexiteer, and communities secretary Sajid Javid, a close ally of George Osborne, have both been talked of as potential replacements.
UK: Rudd resigns as home secretary after lying to Parliament over migrant deportation targets: here.
Prime Minister Theresa May is as least as guilty as Ms Rudd in this scandal. She and her whole Conservative government should resign.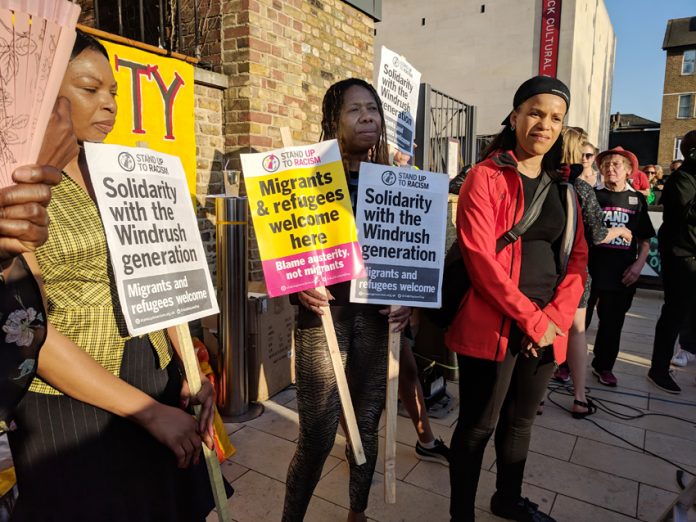 MORE than 200 MPs have signed a letter to the prime minister calling for government promises to Windrush migrants to be written into law. The letter, co-ordinated by Labour MP David Lammy, said concerns over compensation, housing and legal rights had not been settled: here.
Related articles