From daily The Morning Star in Britain:
Thursday, January 9, 2020

Teachers, nurses and public-sector workers join pension strikes across France

President Emmanuel Macron's political crisis continues to deepen

TEACHERS, nurses and other public-sector workers joined pension strikes in France today as President Emmanuel Macron's political crisis continues to deepen.

Despite the government claiming earlier this week that "a compromise has never looked closer", the industrial action shows no sign of ending soon.

Leader of the moderate
originally Roman Catholic
CFDT union Laurent Berger contradicted the statement, saying on Wednesday night: "We are far from a deal."

Talks are set to resume again on Friday as Mr Macron seeks "a quick compromise" to bring an end to the longest strike in French history.

Workers are angered over Mr Macron's plan to merge France's 42 pension schemes into one single pot.

Unions warn that it would see people forced to work longer and receive less when they retire.

The reforms come with France under pressure from the European Union to curb public spending.

New structural deficit reduction plans of 0.1 per cent of gross domestic product (GDP) sit below previous targets and are out of line with the EU's Stability and Growth Pact.

France's deficit sits at 3.1 per cent of GDP, slightly higher than the EU limit of 3 per cent.

Pensions are under attack as the country's publicly owned rail and transport industry must be offered to the private sector as open access arrives in 2020.

Mr Macron wants to loosen labour laws as he attempts to take apart Frances's social model and welfare system.

But latest figures from an Odoxa poll for
'center right'
Le Figaro newspaper found that 61 per cent of the French public support the strike.

CGT union general secretary Philippe Martinez hit out at the government's "provocative attitude" to the strikes and cast doubt on its willingness to engage in discussions.

Speaking to Europe 1 radio, he said: "You stop a protest movement when workers feel their demands are on the table.

"We've had no response from the government."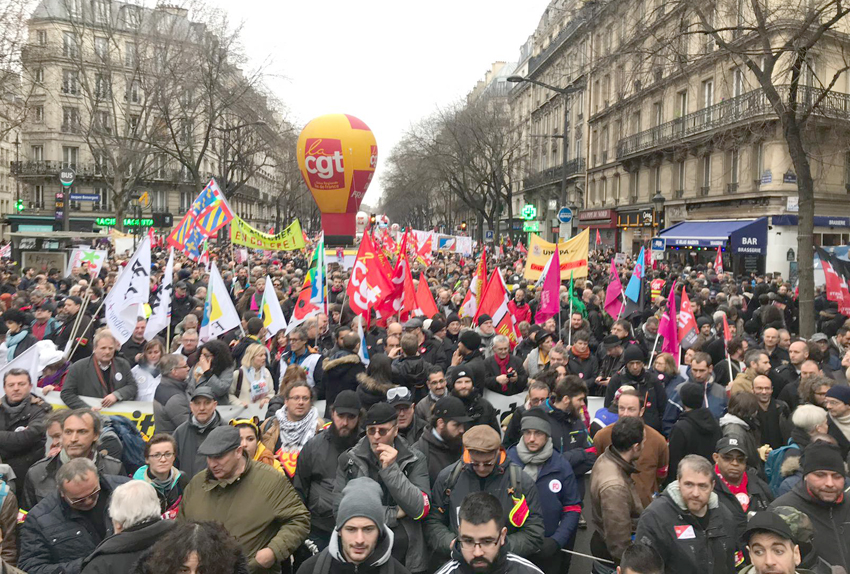 France rises up against Macron – Doctors, nurses, lawyers and teachers join 36th strike day: here.