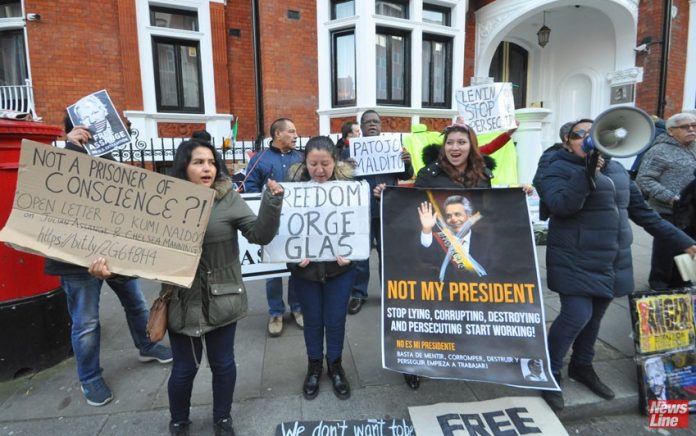 From daily News Line in Britain:
Saturday, 13 April 2019

ASSANGE ECUADOR PROTESTS

ECUADORIANS have taken to the streets in the capital Quito against the arrest of WikiLeaks founder Julian Assange in the country's embassy in London.

The arrest came after Quito suddenly revoked his seven-year asylum and handed him over to British authorities. Police were invited into the embassy by Ecuador's ambassador on Thursday, dragging Assange out of the building, where he had been holed up for years in fear of extradition to the US.

Protesters gathered outside Ecuador's foreign ministry building on Thursday, chanting against President Lenin Moreno and calling for Assange's release. "As Ecuadorian citizens we support Julian Assange, a man who has given his life to the truth, a man who has sacrificed himself and his family to tell the truth to the world. It was a source of pride that he was Ecuadorian', said a protester.

Assange was granted asylum by Ecuador's former president Rafael Correa, after he took refuge in the country's embassy in 2012. President Moreno, however, revoked the asylum and allowed police to arrest him. Moreno on Thursday called Assange a 'spoiled brat' and 'miserable hacker', saying that his country 'will be more careful in giving asylum to people who are really worth it'.

Shortly after the arrest, Correa took to Twitter and slammed his successor for 'betraying' a higher order. 'Moreno is a corrupt man, but what he has done is a crime that humanity will never forget,' said Correa.

Correa also described Moreno's decision as a 'scoundrelly, cowardly and heinous' act which is the 'fruit of servility, vileness and vengeance'.

'The greatest traitor in Ecuadorian and Latin American history, Lenin Moreno, allowed the British police to enter our embassy in London to arrest Assange. Moreno is a corrupt man, but what he has done is a crime that humanity will never forget. — Rafael Correa (@MashiRafael) April 11, 2019'

'From now on worldwide the scoundrel and betrayal can be summarized in two words: Lenin Moreno,' said Correa. Ecuador's Interior Minister Maria Paula Romo said authorities had also arrested a 'collaborator' of Assange in Quito's airport as he prepared to board a flight for Japan. Citing a senior Ecuadorian official, the Washington Times identified the person as Ola Bini, a Swedish software developer, who was living in Quito.
British veterans urge government to 'respect the rights of journalists and whistleblowers'. Veterans For Peace says it is opposed to the extradition of Julian Assange to the United States: here.
Australian journalists' union condemns Assange's extradition to the United States: here.