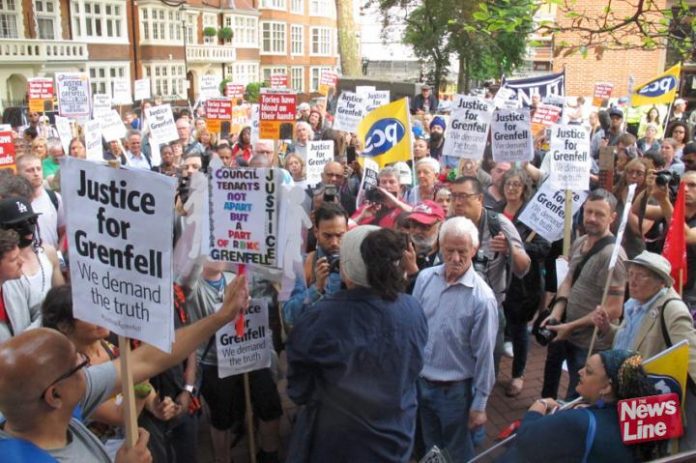 From daily News Line in Britain:
Saturday, 23 September 2017

GRENFELL INFERNO! – unprecedented trauma

THE GRENFELL Tower disaster triggered a mental health crisis of an 'unprecedented' scale, a leading doctor has said 100 days on from the fire.

NHS data shows 457 adults have been flagged as being in 'urgent need' of treatment for post-traumatic stress disorder, while 39 children are also receiving specialist mental health care.

Survivors and nearby witnesses of the June 14 inferno, which left so many dead, are considered to have a 50% chance of developing the disorder, according to health service modelling. Those mentally scarred by the tragedy report suffering from flashbacks and sleeplessness, which can be triggered by the sight of the tower's wreckage, clinicians say.

Dr Alastair Bailey, the clinical psychological lead at the NHS Grenfell Tower Trauma Service, said the impact of the fire is unlike anything seen before by the health service. He said: 'It is unprecedented, I don't think we have experienced anything like it. We had similar events that have been large-scale, traumatic events that have occurred in the UK.

'We think about the London bombings, the terror attack in Tunisia which affected British nationals and other events over the years, but nothing has affected a community like this for a number of years.

'Similar events have occurred that have affected one community, things like the Hillsborough football disaster, the Aberfan disaster in Wales, similar in that they affected one community a number of years ago.

'In terms of a trauma response, managing an NHS response to trauma, we are using ideas and protocols and procedures that were developed after London bombings and other similar events, which are quite different.'

A staff of around 170 mental health workers, soon to be more than 200, have been tasked with supporting the west London community, holding specialist surgeries and knocking on doors to ensure support is given to those affected.

Currently, 201 patients are receiving treatment from mental health services in the area and eight people have completed treatment, said the Central and North West London NHS Trust (CNWL). But, with more than 150 families from Grenfell Tower or Grenfell Walk still in hotels, many people grappling with trauma are reluctant to begin receiving treatment. CNWL, the main service responding to the disaster, said 20% of patients referred to them decline further treatment, often citing their living arrangements as the problem.

As the neighbourhood marks another grim milestone since the country's most costly tragedy in a generation, just five households left destitute by the blaze have found permanent accommodation.
See also here.
Diane Abbott: Grenfell Tower fire 'direct consequence of deregulation, privatisation and outsourcing'. Shadow Home Secretary calls for immigration amnesty for survivors, and says Labour would recruit 3,000 firefighters: here.
DEREGULATION and privatisation are to blame for the Grenfell Tower inferno and justice must be served for the victims and survivors, Diane Abbott said at the Labour conference yesterday. The shadow home secretary insisted the fire, which was fuelled by combustible cladding installed on the exterior of the 24-storey west London housing block, was a direct result of Tory-led deregulation of fire standards and inspection, privatisation and outsourcing: here.
Kensington and Chelsea council terminates contract with Grenfell Tower landlord. Body 'no longer has the trust of residents,' says deputy council leader: here.
Related articles