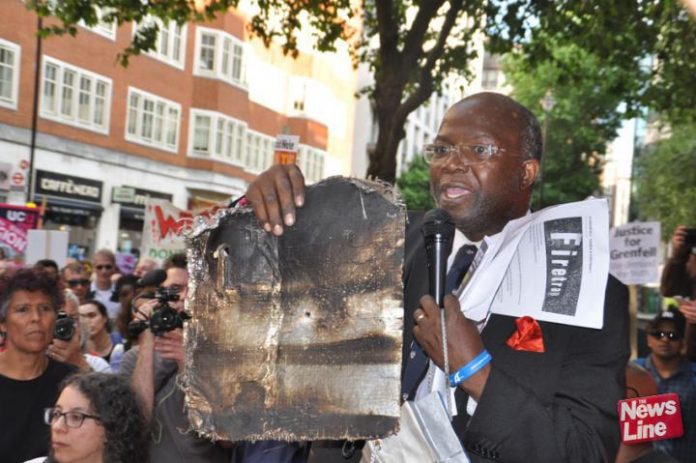 This photo shows a march in London, England demanding Justice for Grenfell, where a local resident holds a piece of the cladding which contributed to the deaths in North Kensington.
From daily News Line in Britain:
Saturday, 14 October 2017

ALMOST A THIRD OF FIRE SAFETY INSPECTORS HAVE BEEN CUT

ALMOST a third of fire safety inspectors have been cut by this Tory government, a new report revealed, leaving buildings which are potential fire traps unchecked, putting the general public's lives in jeopardy.

The Fire Brigades Union (FBU), who compiled the figures from a series of Freedom of Information requests, says the staggering 28% drop in inspector numbers across the UK is a 'risk to public safety'.

The union warns that the real figure could be much higher as some fire and rescue services do not know how many inspectors they employed in 2010. West Yorkshire Fire and Rescue, which covers England's third biggest city, Leeds, was hardest hit, losing 70% of its inspectors. Fire services in Gloucestershire, Durham, Cumbria, Norfolk and Avon all lost more than half of their fire safety specialists.

Fire safety inspectors are responsible for ensuring that communal buildings and public spaces meet fire safety standards. An essential part of fire prevention, the inspectors have played an important role in the long term reduction of serious fires – a trend that is under threat if the cuts continue, the FBU has warned.

Matt Wrack, general secretary of the FBU, said: 'Fire safety specialists play an essential role in the fire service. They help to enforce fire safety regulations that save lives and prevent damage to property. Fire services need proper funding, more inspectors and greater support if they are to continue keeping people safe.

'Grenfell Tower has underlined the importance of fire safety in buildings. The drastic cut in fire safety inspectors makes it much more difficult for those remaining to do their job effectively. The government needs to wake up to what endless budget cuts have done to the lifesaving fire service.'

The impact of the reduction could be worse than feared as 16 fire and rescue services could not provide data on the number of fire safety inspectors they employed in 2010. The union says this is proof that the government's 'laissez-faire' approach to regulating fire services, leaving the responsibility to local authorities, has backfired.

HM Inspector of Fire Services in England and Wales, the organisation that had been recording these figures, was scrapped in 2000. Since then, data on inspector numbers has been patchy with some fire services unable to produce figures when asked. The FBU's October parliamentary briefing paper entitled Fire and Rescue Service Matters states: 'Cuts to the number of fire safety inspectors, who are responsible for vital statutory fire safety inspections and audits, are putting the public at risk.

'These are the inspectors who audit hospitals, schools, offices, shops as well as other communal and public spaces to check the owners are complying with safety law. Under the Fire Safety Order 2005, or similar legislation in the devolved administrations, fire and rescue authorities have important duties to enforce fire safety law.

'Yet the number of professional, specially-trained fire safety inspectors who carry out this irreplaceable work has been cut for the past two decades. Since 2010, the number of fire safety inspectors has fallen by 28%. This is greater than the drastic fall in staffing right across the fire and rescue service, which is approximately 20%.

'Since 2013, the number of fire safety inspectors has fallen by 13%. Four fifths of fire and rescue services provided data, indicating that a significant minority are not even in a position to quantify their inspectors at present. The Grenfell Tower fire has underlined the importance of the work of fire safety inspectors.

'The London Fire Brigade was able to provide detailed figures for our request – a decade ago the LFB had over 200 fire safety inspectors, but this has been reduced to just over 150 in 2017. There are currently 1,169 fire safety inspectors across the UK. The Westminster government does not routinely publish figures on the number of these inspectors.

'The old HM inspector of fire services in England and Wales, scrapped at the turn of the century, reported these figures annually. In 1996-97, it estimated there were 1,724 fire safety inspectors in England and Wales. Today there are 1,041 indicating a 40% fall in the number of inspectors over the last twenty years.'

• A Glasgow tower block with 'Grenfell-style' cladding is being checked by firefighters every four hours. Residents of Castlebank Drive in the Glasgow Harbour development also have two 24-hour fire wardens on the site. However, this is cold comfort to all those who live in these blocks who remain in fear for their lives.

Firefighters are so worried about the building found to have Grenfell-style cladding that they are checking on it at least three times a day and three times every night. Homeowners received letters telling them cladding in lift areas and the roof could be similar to that used in Grenfell Tower in London, where so many men, women and children burnt to death in the inferno in June.

Council contractors last week removed samples of cladding for testing. One resident of the flats said they have now been told the cladding in their property has been identified as 'high risk'. They said: 'The cladding in my block and one other has no fire resistance at all.

'We now have two 24-hour fire wardens, four-hourly visits from the fire brigade and a huge amount of parking attendants ensuring that access is clear. I would've thought the emergency should have been immediately after Grenfell – not four months later.'

David McGown, of the Scottish Fire and Rescue Service said two properties had been identified by Glasgow City Council as raising concerns. He added: 'As part of a package of reassurance measures, firefighters are conducting regular site visits at both these properties. Our community action teams are also offering residents free home fire safety visits.'

Aluminium composite material (ACM) cladding became notorious after the Grenfell fire on June 14. It was thought to have played a part in the rapid spread of the blaze. Last month, a senior Glasgow City Council official revealed that a survey done in the aftermath of the Grenfell fire identified combustible cladding on privately owned flats in the city.
Related articles