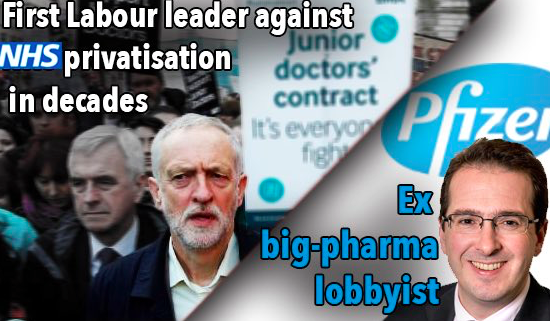 By Peter Lazenby in Britain:
What did you do Mister radical?

Thursday 28th July 2016

Justice for Orgreave campaigner confronts Owen Smith over miner solidarity talk

AN EX-MINER confronted Labour leadership pretender Owen Smith yesterday and accused him of exploiting the tragedy of Orgreave by choosing to stage a media conference there in his bid to oust Jeremy Corbyn.

Orgreave campaigner John Dunn also accused Mr Smith of shamelessly copying policies put forward by Jeremy Corbyn and claiming them as his own.

The event included an announcement by Mr Smith that he would introduce a Ministry of Labour if he led a Labour government — a proposal put forward by Jeremy Corbyn and reported in the Morning Star last year.

Orgreave, where the police brutally attacked miners during the 1984-5 strike against pit closures, is now an industrial estate.

But as Mr Smith left Mr Dunn confronted him and scolded him for using the tragedy as part of his leadership bid.

Mr Dunn worked at Markham colliery in Derbyshire before being sacked in 1990.

He told the Morning Star: "Owen Smith was staging a publicity stunt.

"I went up as an individual and politely asked him as a former striking miner to stop exploiting our struggle.

"He talked about his own mining heritage and tried to pass that off on me, so I told him that while he was making a pharmaceutical company rich we were struggling after the strike."

Mr Dunn said he also asked Mr Smith why he had not signed a Commons early day motion calling for a public inquiry into what happened at Orgreave.

"His aides hustled him into his car and he wound the window up," said Mr Dunn.

Earlier, in his address, Mr Smith shamelessly copied a series of policies which had been declared months earlier by Jeremy Corbyn and his team — and others from progressive group the Institute of Employment Rights (IER).

Mr Corbyn's office graciously welcomed Mr Smith's conversion to the Labour leader's socialist policies.

A spokesperson said: "We are delighted that he has echoed John McDonnell's call for the reinstatement of a Ministry of Labour, made last month at the IER, and Jeremy Corbyn's call for a ban on exclusive workforce recruitment from abroad, made during the referendum campaign, among other policies.

"Owen's speech shows the leadership that Jeremy Corbyn has demonstrated in placing economic justice and fairness back at the heart of Labour politics."

IER director Carolyn Jones said: "We are pleased yet another Labour MP has adopted some of our ideas."

IER chairman John Hendy QC added: "Our proposals for a Ministry of Labour will provide a voice for 31 million workers at the heart of government."

When challenged, Mr Smith said that Mr McDonnell's call for a Ministry of Labour had "passed [him] by."

Fire Brigades Union general secretary Matt Wrack said: "We welcome Owen Smith's decision to speak out for working people, but this Damascene conversion must be greeted with caution given that just one year ago he supported the public-sector pay freeze, which is now affecting our firefighter members for the sixth consecutive year."
Jeremy Corbyn can stay on Labour leadership ballot, High Court rules. Corbyn: 'This has been a waste of time and resources when our party should be focused on holding the Government to account': here.
The articles on Orgreave and the government's reasons for refusing a public inquiry over the last week or so have been among the most widely read in this blog's history. As a result of them, a number of people have contacted the author with their own accounts bearing directly on the official portrayal of events, with a particular focus on the involvement of armed forces personnel illegally masquerading as police officers: here.
The Orgreave Truth and Justice Campaign continues to seek to expose those responsible for a brutal state attack on workers. Kate Flannery brings us up to date: here.
Case for inquiry into police violence at Orgreave stronger than ever, GMB general secretary says: here.
THOUSANDS of trade unionists and their families will today mark the 1984/85 Miners' Strike 35th Anniversary at the Annual Orgreave Rally in Sheffield. June 18 1984 saw the second battle of Orgreave, when 10,000 pickets, seeking to prevent lorries leaving the coking plant near Sheffield, were met by a 6,000-strong contingent of police drafted in from all over the country. Striking miners in jeans, T-shirts and pumps were met with a massive force of uniformed, mounted police and riot police with batons and shields, and police with dogs. Some described the scene as being like a medieval battle, others said it had echoes of the Peterloo Massacre when the hussars brandishing swords weighed into an unarmed pro-democracy protest in Manchester: here.
Related articles