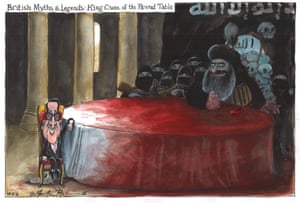 There is ISIS terrorism now; to a very large extent because of the Iraq war started by George W Bush and Britain's Tony Blair. Then, ISIS became worse because of the NATO governments' covert regime change war in Syria; which in 2013 almost escalated into open war with the US, British and other NATO governments as allies of ISIS; until pressure by the peace movement made the British parliament stop these plans.
When Jeremy Corbyn was a candidate for the British Labour party leadership in 2015, the Blairite right wing of the party smeared Corbyn, associating him with ISIS terror.
So did then Conservative prime Minister David Cameron, after Corbyn had won the Labour leadership election.
Now, today, from daily The Morning Star in Britain, on Blairite Labour leadership Owen Smith:
Gaffe-prone Smith ridiculed over 'Isis talks'

Thursday 18th August 2016

Labour leadership contender forced to backtrack on negotiating-with-terrorists comments

by Luke James, Parliamentary Reporter

OWEN SMITH was mired in controversy yesterday after suggesting that Isis should be invited to peace talks aimed at ending the Syrian civil war.

The Labour leadership contender said that "all the actors" must be brought round the table to end the brutal conflict, including the notorious terror group.

Mr Smith rapidly rowed back on the comments, which he made during a televised hustings with Jeremy Corbyn, after being condemned by figures from the left and right of politics.

Asked by host Victoria Derbyshire whether Isis should be involved in negotiations, Mr Smith referred to his time as a special adviser to former Northern Ireland secretary Paul Murphy.

He said: "Ultimately all solutions to these sorts of international crises do come about through dialogue so eventually, if we are to try to solve this, all of the actors do need to be involved.

"But at the moment Isil are clearly not interested in negotiating." Asked the same question, Mr Corbyn said: "They are not going to be round the table. No."

A spokesman for the Jeremy For Labour campaign said later that Mr Smith's comments were "hasty and ill-considered."

"Jeremy has always argued that there must be a negotiated political solution to the war in Syria and the wider Middle East, and that maintaining lines of communication during conflicts is essential," said the spokesperson.

"But Isis cannot be part of those negotiations. Instead, its sources of funding and supplies must be cut off."

Tory MP Johnny Mercer MP, a member of the defence select committee, said the comment "demonstrates his unfitness for leadership.

"His desperate attempts to out-Corbyn Jeremy Corbyn have led him to the view that barbaric murderers who behead journalists and lynch homosexuals are now the sort of people that we should negotiate with," he added.

A spokesman for Mr Smith later sought to clarify his comments, saying he believed there could be no negotiation with Isis unless they "renounce violence, cease all acts of terror and commit themselves to a peaceful settlement."

One Labour source told the International Business Times that Mr Smith makes "more gaffes than Frank Spencer."
Also from daily The Morning Star in Britain:
Smith's parody of the left

Thursday 18th August 2016

ONCE again, Owen Smith's campaign team has had to intervene to save its candidate from an ill-thought-out political position — his call to involve Islamic State (Isis) in peace negotiations.

Team Smith explained that he meant an Isis that agrees to "renounce violence, cease all acts of terror and commit themselves to a peaceful settlement," which is really likely.

The problem is not, as Smith claimed, that the death cult is not interested in negotiating "at the moment." It is that there is no basis to justify negotiations with this murderous bunch of cut-throats who set their face against the modern world and want to impose a present-day caricature of a caliphate that ended over 800 years ago.

Jeremy Corbyn was right to declare that there is no place for this terror group at the negotiating table. What aspects of Isis rule would Smith be prepared to debate with its apologists — public beheadings, sadistic ritual murder, child rape, slave markets for captured women, mutilation as punishment?

The only responses to Isis are to defeat it comprehensively and to prevail upon Western states not to act in a way that exacerbates resentment among Muslims and encourages a tiny minority to seek vengeance through this cult of violence and pseudo-religious obscurantism.

The only forces with a track record of inflicting military defeats on Isis have been the national armies of Iraq and Syria and the independent Kurdish forces in both countries. …

This is not the same as sending foreign air forces over Syria to bomb targets of their own choice without agreement from Damascus in an exercise that is illegal, provocative and, at the same time, militarily ineffective.

Corbyn voted against this Tory proposal, which owes more to imperial nostalgia for British military involvement in this region-wide conflict. Smith did likewise last December, as a shadow cabinet member who hadn't yet joined his colleagues' rolling campaign to undermine the party leader. However, Corbyn's challenger contradicted this peace stance by declaring that he would order the use of nuclear weapons — condemning millions of people to death — because, "If you don't, then you don't have a nuclear deterrent."

While Smith may believe that having nuclear weapons and threatening to use them adds up to a deterrent, it isn't really. No British PM could unleash a nuclear holocaust without Washington's permission and, even if that were possible, other countries doubt that nuclear-armed powers will deploy them.

The Argentinian junta didn't let Britain's nuclear deterrent stop it from trying to regain the Falklands/Malvinas by force any more than US nukes deterred Saddam Hussein from invading Kuwait or Israel's nuclear weaponry prevented Lebanese resistance forces from liberating much of their country from military occupation. …

Smith's underlying problem, as ever, is to reformulate himself as a man of the left because a challenge from the right would, in present circumstances, be crushed. …

It was all very unconvincing, which explains perhaps why the vast majority of audience members identified as undecided at the start of yesterday's debate lined up behind Corbyn supporters at the end.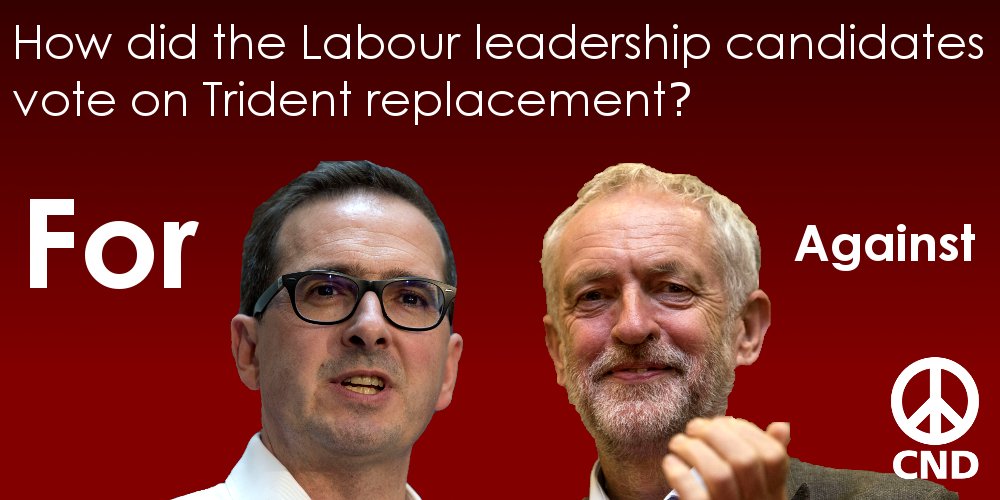 Related articles