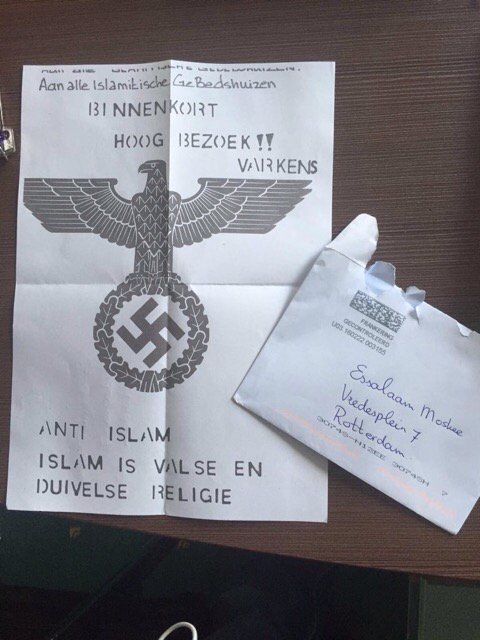 Translated from Dutch daily Provinciale Zeeuwse Courant, 28 February 2016:
The Dutch Union for Progressive Judaism wishes the Muslim community strength required after threatening letters last week have been delivered to various mosques. 'We need each other'.

In the letters are depicted a swastika and the eagle of Nazi Germany, accompanied by the text 'Soon, you will get important visitors!! Pigs. Anti-Islam. Islam is a false and diabolical religion.'

Solidarity

'The Jewish community knows where this may ultimately lead to. It again shows how Muslims and Jews need each other,' the progressive Jews write in a letter to Muslim communities and mosques. 'The threats with swastikas and pigs are offensive, insulting and lead to feelings of solidarity among Jews.'

In the letter the Jews show solidarity with the Muslims. 'We wish the Muslims in our country strength and resistance against these unacceptable attacks,' they write.

The Union for Progressive Judaism is a denomination in which ten progressive Jewish communities are united. It was established in 1931.
Translated from Dutch NOS TV today:
The Central Jewish Board strongly condemns the recent threats and physical violence against Dutch mosques. 'This will create a climate in which freedom of ideas of personal belief is becoming increasingly difficult,' according to a statement.
Translated from daily De Gelderlander in the Netherlands, 27 February 2016:
The Council of Churches of Nijmegen and the Council for Values and Religion Nijmegen are shocked by the threatening letters received by several mosques. 'We immediately expressed our solidarity to known contacts in the mosques in Nijmegen' Paul Oosterhoff, diaconal minister in Nijmegen, said.
Jews Are The Least Islamophobic Religious Group In America, Survey Finds: here.
We Muslims Must Fight Anti-Semitism In Our Own Communities: here.
Related articles