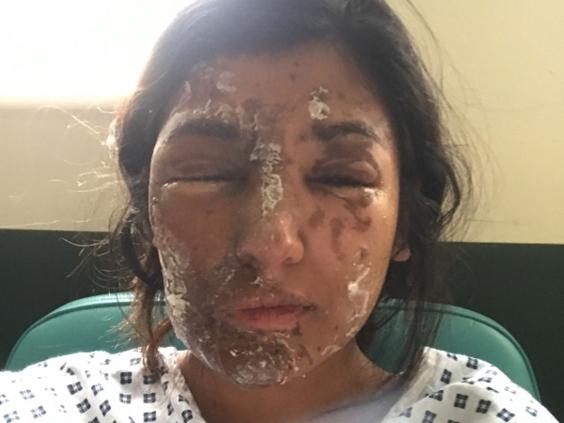 From daily The Independent in Britain today:
Arrest made over acid attack on aspiring model and cousin in east London

'I'm devastated. I keep wondering if my life will ever be the same,' says victim

Ian Johnston, Agencies

A man has been arrested in connection with an acid attack on an aspiring model and her cousin.

John Tomlin was held on suspicion of grievous bodily harm with intent over the alleged attack in Beckton, east London, on 21 June. …

Resham Khan and Jameel Muhktar, 37, were attacked by a man throwing acid through their car window on Ms Khan's 21st birthday.

Both suffered life-changing injuries in the attack that took place just after 9.10am on Tollgate Road.

In the days afterwards, Ms Khan said: "I'm devastated. I keep wondering if my life will ever be the same."

In a Facebook post, she stressed he did not want the incident to "fuel a division among people".

"There will always be a sick and twisted minority … make peace with each other and the world," she said.

Mr Mukhtar has said he feels "emotionally wrecked" and "in continuous pain".

In an emotional interview with Channel 4 News, Mr Mukhtar described the feeling as "like somebody's ironing me 24/7".

Scotland Yard said their investigation into the incident was continuing.
ATTACKS and threats of violence directed at mosques have more than doubled since last year, damning figures show today. Police forces recorded 110 hate crimes against Muslim places of worship across Britain between March and July this year, up from 47 over the same period in 2016: here.