This photo shows dockworkers and other trade unionists marching in Marseille, France against the Macron government.
By Ceren Sagir:
Tuesday, December 17, 2019

Hundreds of thousands march in France against Macron's pensions raid

HUNDREDS of thousands of people took to the streets in France to protest against pension "reforms" today, with large numbers of workers downing tools.

Union members cut electricity to nearly 100,000 homes and offices, and Eiffel Tower staff and Paris opera workers joined in the nationwide protests against the government's plans to raise the retirement age from 62 to 64.

The country has been experiencing two weeks of … train and subway strikes, while President Emmanuel Macron refuses to back down from the pensions grab.

Protesters, including hospital workers in scrubs, Air France staff in uniform and lawyers in black robes, marched in cities across the country under a blanket of red and yellow flares.

Teachers and students also joined the protests, cancelling exams. Nurses, doctors and pharmacists went on strike to make their point about France's public health system, struggling after years of cuts.

Protesting firefighters sounded sirens as demonstrators cheered them on.

Union leaders demanded that Mr Macron drop his plans to raise the retirement age in their opening speeches to crowds gathered in Paris. General Confederation of Labour (CGT) union leader Philippe Martinez said: "They [the government] should open their eyes."

CGT members carried out what they called "targeted" blackouts on electricity networks in Lyon and Bordeaux to call attention to their leverage.

About 350,000 protesters took part in the Paris demonstration, according to CGT, up from 250,000 when the strikes first started on December 5.

Police in the capital barricaded off the presidential Elysee Palace on the grounds they feared violence from yellow vest or "other radical" demonstrators.

Officers fired tear gas and stun grenades in the central Place de la Nation …

Unions say people will have to work longer for lower pensions, and polls suggest that more than 60 per cent of French people support the strike.

Workers at the SNCF rail company want to keep the strike going through the Christmas holidays. More than 75 per cent of train conductors walked out of their workplaces today.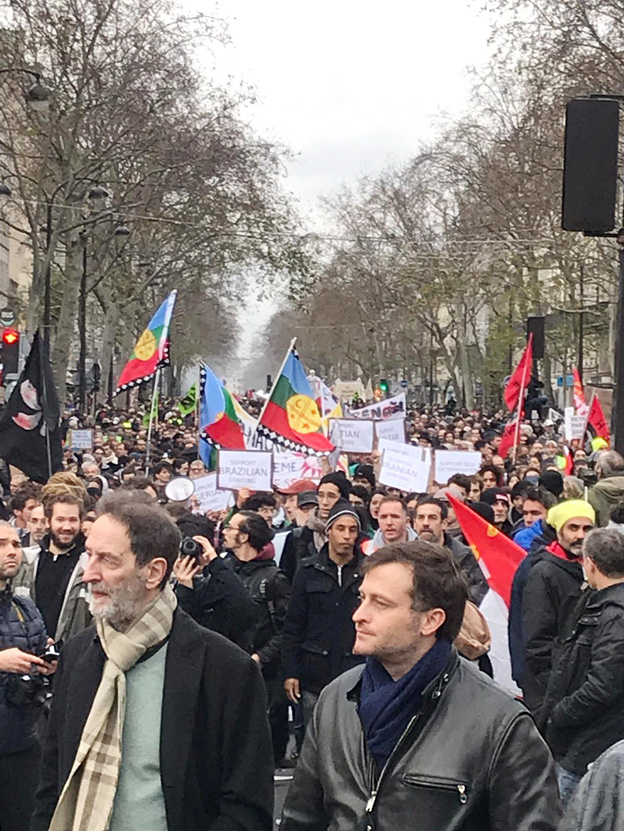 This photo shows striking French workers marching through the Bastille district of Paris on 17 December 2019. On the left of the photo are signs about the struggle against right-wing Brazilian President Bolsonaro. And flags of the Mapuche indigenous people in Chile.
See also here.