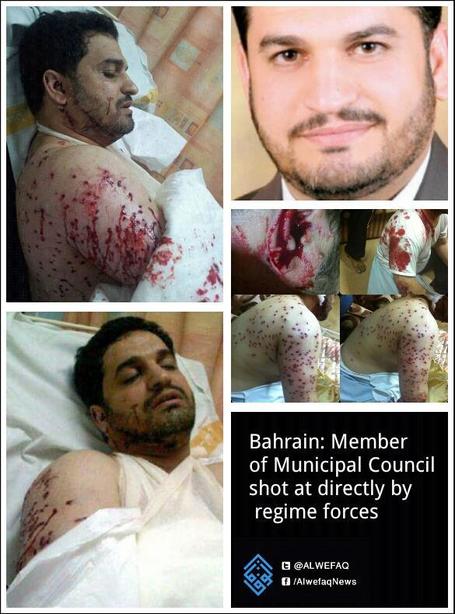 From AFP news agency today:
Bahrain police shoot Shiite protester: opposition

3 hours ago

DUBAI — Bahraini security forces opened fire on protesters in a Shiite village, wounding and later arresting a member of its municipal council, the opposition group Al-Wefaq said.

Police fired shotguns to disperse a "peaceful demonstration" late on Sunday in the village of Sitra, south of Manama, Al-Wefaq said, adding that Sadiq Rabie, who represents the group in the council, was hit in the back.

The opposition group said in a statement that Rabie was led away by police from a private hospital.

A picture it provided showed the right arm and shoulder of Rabie covered with bloody marks from shotgun pellets, as well as blood in his ear.

The Sunni-ruled kingdom, home to the US Fifth Fleet and strategically situated across the Gulf from Iran, has continued to witness sporadic Shiite-led demonstrations, mostly outside the capital, since it crushed a protest movement in a bloody crackdown in March of last year.
UK-made spy software found in Bahrain: here.
Related articles