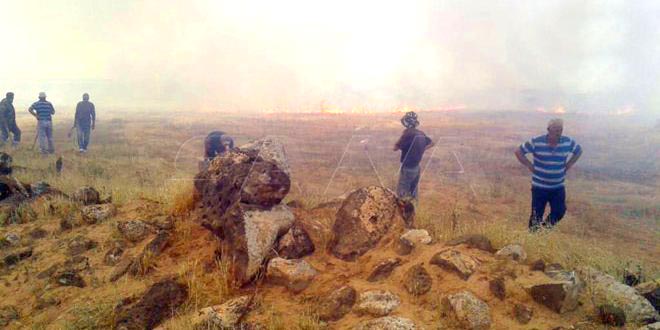 This photo shows a barley crop ablaze in Sweida province in Syria – US forces are using Apache helicopters to drop 'thermal balloons' to set the crops alight.
From daily News Line in Britain, 30 May 2020:
SYRIAN VILLAGERS DRIVE OUT US MILITARY VEHICLES – as US planes drop 'thermal balloons' to set grain fields ablaze

SYRIANS in the villages of al-Qahira and al-Dushaisha – in Tal Tamir in Hasaka northern countryside – have intercepted US occupation force vehicles and driven them back to another of their illegitimate bases in the region.

(Syrian Arab News Agency) SANA's reporter in Hasaka said that a number of US occupation armoured vehicles had tried to cross the road that passes through the lands of the villages of al-Qahira and al-Dushaisha, in the Tal Tamir.

But locals intercepted them, threw stones, chanted slogans against the occupation and forced them to return back where they came from. …

Meanwhile the Western military coalition, purportedly fighting the Daesh [ISIS] Takfiri terrorist group,
United States President Donald Trump, in moments of honesty between his many lies, has repeatedly admitted that United States soldiers in Syria are in fact waging a war for oil.
has according to reports deployed three Patriot missile batteries at a US base in Syria's eastern province of Dayr al-Zawr.

The Arabic-language al-Alam television news network, citing local sources, reported on Wednesday that the batteries were deployed to the base set up at the Koniko gas field – which is located about 20 kilometres (12.4 miles) east of the provincial capital city of Dayr al-Zawr – during the past few days.

Koniko is one of the largest gas plants in Syria. The sources added that the US-led coalition forces are working to install similar batteries in several other locations in the province. …

Since late October 2019, the United States has been redeploying troops to the oil fields … in eastern Syria, in a reversal of President Donald Trump's earlier order to withdraw all troops from the Arab country.

The Pentagon claims that move aims 'to protect' the fields and facilities from Daesh attacks. That claim came although Trump had suggested that Washington sought economic interests in controlling the oil fields – and Syria, which hasn't authorised the presence of US military in its territory, says Washington is 'plundering' the country's oil.

In fact, the presence of US forces in eastern Syria has particularly irked the civilians, and local residents have on several occasions stopped American military convoys entering the region.

Burning agricultural crops in the Syrian al-Jazeera region, especially wheat, to empty the Syrian basket of its bounties is another goal that unites the American and Turkish occupation forces in aggressive behaviour and a violation of international laws that amounts to a war crime – added to other crimes committed by those occupying forces against the Syrians …

'Deliberately setting fire to the strategic wheat crop through which the Syrians have achieved over dozens of years of self-sufficiency (and which) has constituted a major pillar of food security in the country, nowadays . . . has become a clear target in the context of an economic war and unjust starvation policy practised by the US and the new Ottoman Turkish regime against the Syrian people'. …

'The crime of burning wheat crop in Syria comes in the context of the American and Western terrorist and economic war against the Syrian people, and it is an American plan prepared in advance in implementation of direct orders from US President Donald Trump – according to an international media report published by the "International Business Times" news website in its version issued in Singapore a few days ago.

'This indicated that: "The US occupation forces were carrying out orders approved by the White House and that Trump signed orders to burn agricultural lands in Syria." And the fires which have erupted in the fields in southern Syria may be part of that plan as observers say.

'The vandalism and destruction agendas prepared by the US administration integrate with the aggressive behaviour of its regional client in the region, namely Erdogan and his terrorist mercenaries.

In light of the spread of the coronavirus pandemic, they make US-Turkish practices rise to the level of war crimes as they expose hundreds of thousands of people to the risk of falling into poverty and famine.'